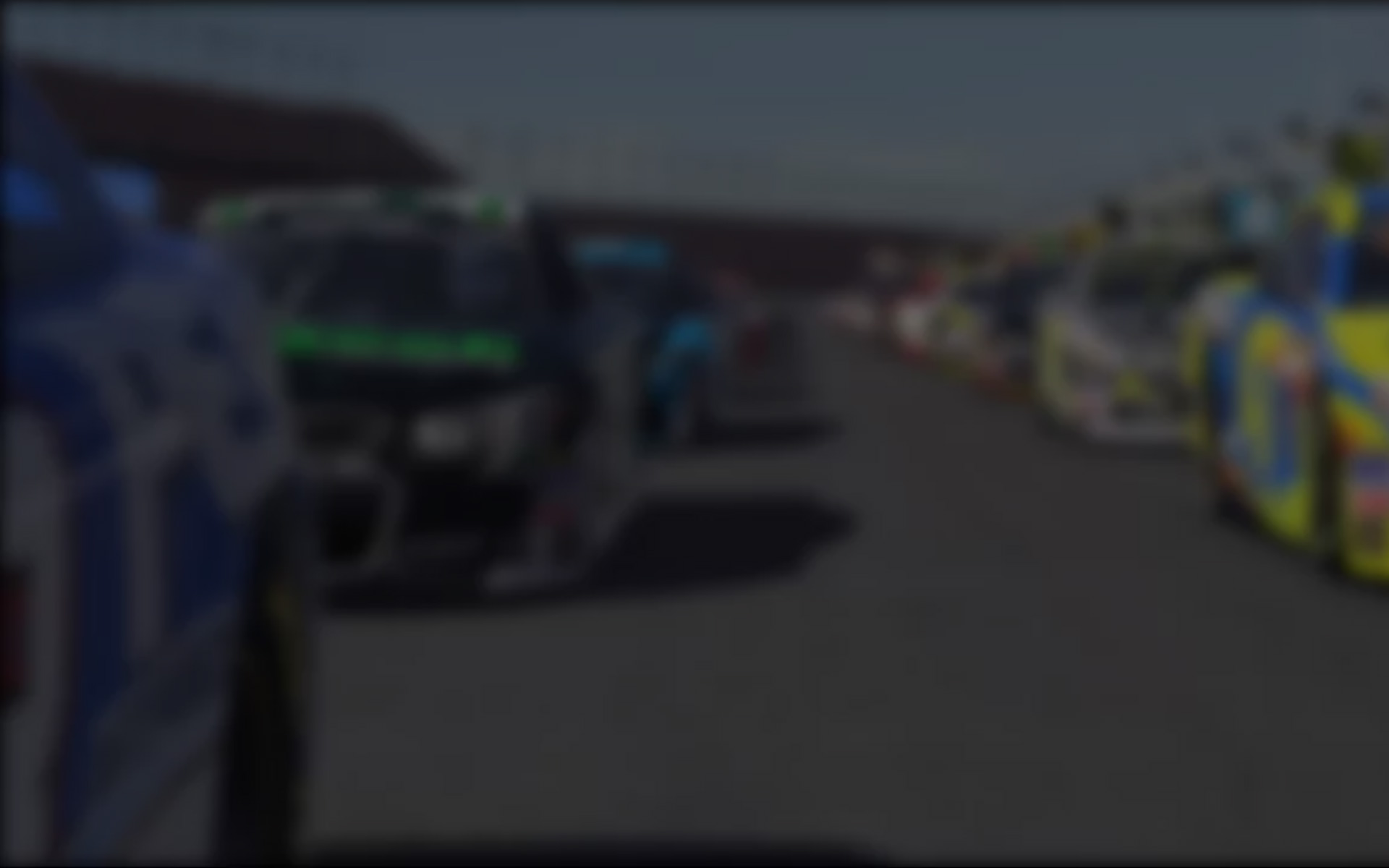 The iamINDY.de Michigan INDY 560K delivered everything it promised before the race: lots of side-by-side racing, a 128 green flag lap part (which are 248 miles!), just one caution, eleven lead changes and the closest finish in iamINDY.de history only tell part of the story of this impressive race.  What's more, the race ended with a surprising winner.  Calvin Whillier, in 21st position and almost lapped when a timely yellow came out, made a great comeback drive to the narrowest of victories from Daniel Olszewski. What an exciting race!
Race  Recap
After the standard two lap single car qualification runs it was last season's Indy 500 champion Sean Graham who captures the pole position with an average speed of 225.529 mph (31.925 sec.). On the outside of row one it was Ralph Krause, who won the last race at Sebring two weeks ago, now showing that he also knows what it takes to be fast on a two mile superspeedway. How close it can be on such a track is shown by the fact that positions six to twelve qualified within .1s of one another, with Joey Schmidt and David Johns separated by .001s.  Those qualification results indicated the race would be anything but a boring single-file, fuel-saving contest for 174 laps.
On the start Graham kept the nose of his blue and white Dallara in the lead while some of the sim racers further worked hard to stay in the big draft of the lead pack. However, once the cars were up to speed the field still divided into several groups. The early attempts to make a second line working were spearheaded by Salvatore Lombardo together with Schmidt which was great luck for the following cars of Mark Schutte, Johns and Matthew Jessick who already had lost the pull of the draft.  As a result, they were able to catch back up to the leaders. Besides the great and very entertaining side-by-side racing at the front, there was also plenty of action among the dicing cars further back in the field.
With an estimated fuel window of 42-45 laps it was the leader Graham, who of course burnedt the most fuel, and Jay McFarland who opened up the first round of pit stops (under green flag conditions) on Lap 43. After this first round of pit stops the field shrunk by three cars: Lee Walker took off his gloves ahd his helmet after some contact getting too close while running side-by-side and Ralph Krause finished also his Sunday way before the checkered flag dropped as did Michael Colombo due to technical problems.  Meanwhile, around Lap 50 Joey Schmidt looked for some fresh air and went by Graham to take a lead he would hold until the next round of pit stops.
With no caution in sight and just four cars out of the race after Jessick's retirement on Lap 65, David Spitler was the first driver to make his second pit stop on Lap 81. After all services were finished the championship points leader Henrik Müller emerged in the lead, the the fifth driver to do so at that time. Despite two green flag pit stops the lead pack still consisted of six cars which were on the way to set a new record race pace.
Just as the leaders were preparing for the third round of pit stops they caught a big pack of lapped traffic, together with a handful of cars struggling to stay on the lead lap.  Ted Severns, Mark Schutte and Calvin Whillier (who started from eleventh) now hastened their fate to get lapped. The timing and scoring pylon at Michigan International Speedway showed the end of the 129th lap when three cars dropped down to the apron and slowed down to dive into the pits triggering a chain reaction accident.  Graham was one of the first who had no chance to avoid contact as one of the biggest and most spectacular crashes unfolded at almost 230 mph.
"I knew some cars were pitting, but I'm not quite sure what happened," Graham explained.  "Cars checked-up in front of me and I had nowhere to go. It's a shame because I was saving a ton of fuel and I was all set to just pit one more time and I was good on fuel after that. Oh well that's racing."
Six cars were immediately eliminated and several others more or less damaged. The biggest loser of that caution certainly was erstwhile leader Müller.  About to run dry, he had no choice but to make his pit stop with the pits closed, take the resulting penalty and go to the end of the longest line. Those who got taken-out would certainly exchange their fate against a penalty.  The unhappy Graham, Johns, Severns, Schmidt, Spitler and Michael DePuy climbed out of their wrecks. And the biggest winners? Certainly those who were about to lose a lap, including Whillier.
Whillier now took the lead after the pit stops and defended it well.  Having lost contact with the lead cars on the restart, Müller gambled by making a short splash-and-dash stop because the fuel was very tight.  Thus it was now left to Olszewski, Dan Lee Ensch, Gary Borkenhagen and Schutte to the track leader down in the last laps, as there was no way Whillier could pull a solo show and escape from the field.  Olszewski positioned himself well behind the leader, who responded by trying to close the inside line.
For a while it was not certain if all the cars could finish without a last short fuel stop.  Having told their drivers to save as much fuel as possible, the strategists breathed a collective sigh of relief with ten laps to go  when they realized their drivers had enough fuel to go the distabnce.  On the last lap Olszewski positioned himself well and tried tobeat Whillier to the line. Off of Turn Four he pulled out of the draft and showed a great run to pull even with Whillier on the high side. As they crossed the line everybody was very uncertain who won the race and immediately looked at the scoring boards: Calvin Whillier was now the luckiest man of the day as he won a great race by just 0.003 seconds. The closest finish in iamINDY.de history! If… the line would have been just a few yards further towards Turn One, it perhaps would have been a different winner. But that doesn't matter anymore on the next day because a win, is a win, is a win.
Voices after the race
Calvin Whillier (P1): "I will start off and say that there is no way that I should've won that race. My setup sucked big time. It was O.K. to push with, but to lead a pack it just wasn't there. At best I should of been in 10th-15th spot.  But I would like to thank everyone that came out and raced, there was so much give and take on the track today. And to go 130 laps without a caution everyone should get a pat on the back."
Dan Lee Ensch (P3): "This was a great race! Kudos to all for one yellow! After starting third I decided to tuck in and conserve fuel as this was a good field, and I guessed there wouldn't be many yellows. I faded to eighth before the first stop, then surprised myself with the best green flag stop I've ever had and jumped to second behind Sean Graham on Lap 42. I and Bill Krause were the last to stop, and it paid off. I again went into conservation mode and saved another lap on the rest of the field by the time I took my second stop on Lap 88. The stop was not as good as the first however, and I lost the draft and began fading quickly (while staying in seventh). But the two lap advantage on fuel played out on the one and only caution as most others had either pitted or were in the process when the yellow came out. I had time to pit and still come out in the lead once Dan O [Daniel Olszeski] and Gary Borkenhagen decided to top off their tanks. I decided I had fuel but realized I was going to be cutting it very close, so I let Calvin Whillier take the lead on Lap 149. I tucked in behind him as three more cars caught up, led by Dan O. It was shaping up to be a great five car battle in the last few laps but a lapped car became a factor and gave Dan O and Calvin some separation. I was shuffled back to fifth with five laps to go but managed to battle past Gary, Mark Schutte and the lapper for a podium (third place) finish.  All-in-all a fun day and one of the better races I've been a part of!"
Joachim Politzer (P8): "Great green flag racing. Thumbs up for this. Congrats to the podium, all finishers, and to all drivers out there for running so long under green conditions. My set (up) should (have) allowed me to qualify with a time good enough for fifth place in the row, but unfortunately I made a little mistake in my second timed lap, so I was "only" 10th. Start was good, but in the middle of the first stint I missed the entry of a corner what took me outside and also I had to go off the throttle not to hit the wall. So I have to let pass all drivers behind me.  From position 10 to position 21 in one corner. I've decided to stay behind the drivers in front of me, because there still was a long way to go and you never know what will happen.
"After my first pit stop I haven't found a draft partner, so that I lost much time while driving alone. (…) I didn't really know if I'm good on fuel, so I tried to safe it, driving the whole course only in sixth gear. At the end in the last lap I run out of fuel coming out of Turn Four. Finished in eighth position, better than my performance in the race was. But also a lot of laps practice for me, preparing for the next season."
Salvatore Lombardo (P10): "Yea that was a lot of fun! I think you need at least three committed to the top to make it work on this track. A few stuck with it for a while, but bailed out on me! I wish the spotter was a little more on his game because he said "clear" and I came close to taking out both Daniel Olszewski and myself (and probably half the field) around Lap 30. Good thing he made an evasive maneuver to avoid it. Sorry Daniel. (…) All in all it was a good race for me."
Championship & Outlook
With this race eleven of thirteen races in the iamINDY.de championship are now finished. Henrik Müller keeps the points lead and also expands his gap to second-placed Yang Ou who wasn't able to participate. Both are now separated by 55 points which is more than a driver can earn on a weekend. If Ou can't close in to at least 53 points on the next race Müller becomes the next iamINDY.de champion. The rest of the top five also remains unchanged: Dan Lee Ensch keeps third, Daniel Oslzewski fourth and outgoing champion Tim Doyle is tied for fifth together with Andrew Aitken. With his first win in his first iamINDY.de start Calvin Whillier leaps from zero up to position 29 out of 79 drivers.
In two weeks the series will make its next stop at Elkhart Lake's world renowned road course.   Road America welcomes the iamINDY.de drivers with its very fast and long straightaways and its famous turns like the Canada Corner. Race start will be at 17:30 GMT on 23rd January 2011.
---
You may also like...
---