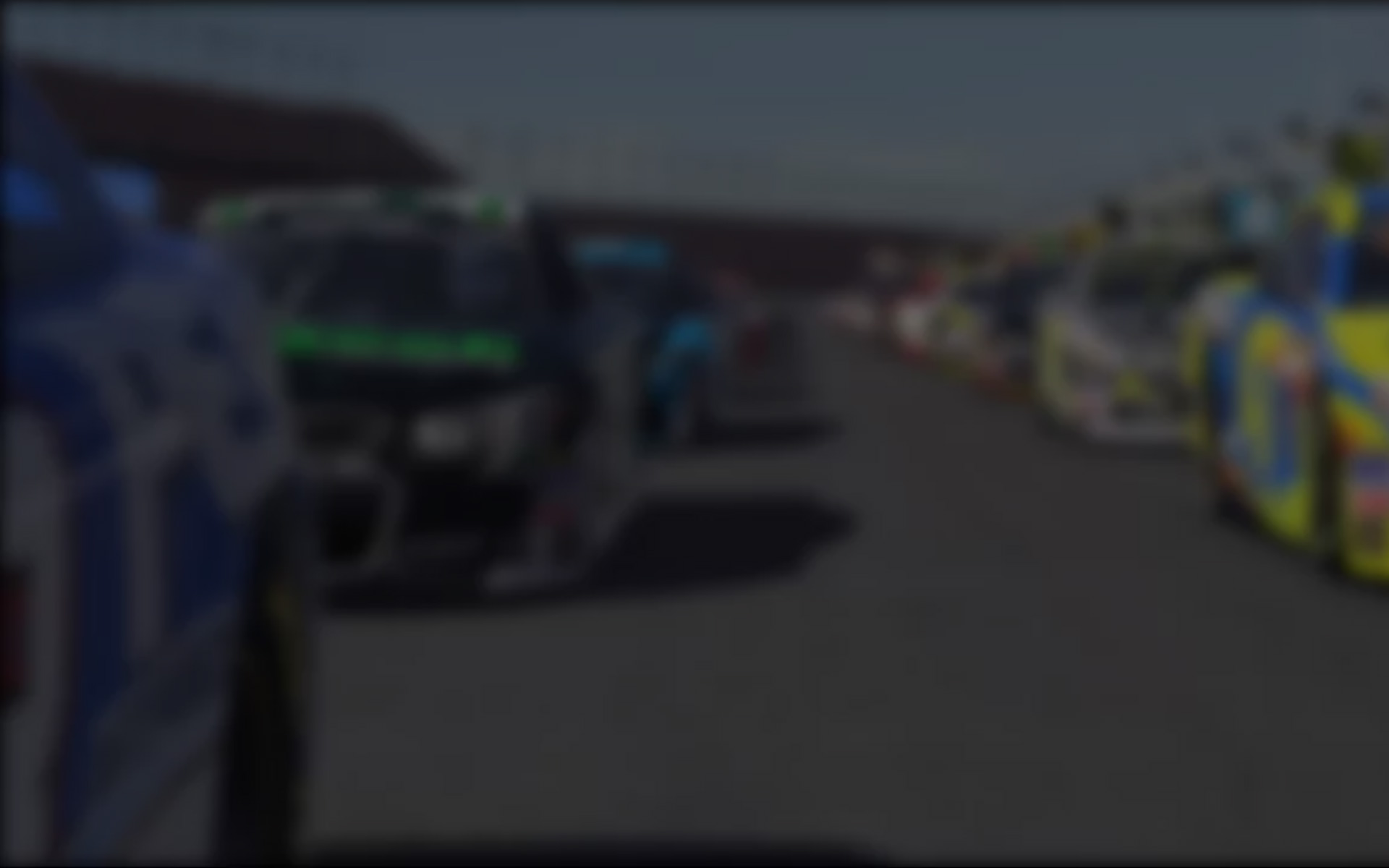 Jesse Atchison, aka JA28, is one of iRacing's top oval competitors.   Champion of 2009 Season One Legends Cup and Season 4 Impala SS B, the Maryland-basd sim racer was a leading contender in the inaugural iRacing Pro Series Oval (iPSO) competition earlier this year.  Atchison started online racing in 2002 and was the 2003 TVR Busch Series champion, 2005 S1 IROC champion, FLM SMSS Season 8 champion, the first ever ASCORS-sanctioned race winner and the 2007 ESCORS Alienware Series Champion.
As one of the top fifty finishers in the iPSO, Atchison qualified for the NASCAR iRacing.com World Championship Series where he is currently fourth in the standings behind Richard Towler, Jayson Anderson and Thomas Lewandowski.  iRacingNews' NiWCS correspondent and (in the interest of full disclosure) teammate Jameson Spies tracked-down Atchison as he prepares for Round Four of the NiWCS at Martinsville Speedway.
Jameson Spies: How far has the technology of sim racing advanced since you began?
Jesse Atchison: Well, when I began, I ran on an AMD Athlon, which was an equivalent of a Pentium 4 processor. I didn't even know what a video card was, and I was running at about 10 frames a second with cartoon style graphics. Now, everything is more globalized, as not only is there more interaction with people you sim race, you also have additions such as Facebook and onboard chat  – not to be confused with Teamspeak, as that has been around since I started.
JS: You're currently sitting fourth in points in the NASCAR iRacing World Championship Series (aka NiWCS), what can you improve on to move up a  few spots, and maybe even win the championship?
JA: Well, we're coming up on Martinsville the next time we race. I think that if I can keep from wrecking myself about 10 times, and come out of there with a top 20 finish, then it should not be that bad. After Marty and Phoenix, I have some good tracks coming up, such as Talladega, Darlington, Michigan, and Daytona. I'm going to probably need to pick up at least one win to have any chance at all in the championship hunt. I doubt that will happen unless I win a plate race or get lucky with late race pit strategy somewhere else. A realistic goal would probably be a top 15-top 20 finish in the championship, and I'm still going to stick by that.
JS: You're known for your talent on superspeedways. What is your approach going into those races, and how did you become so good at working the draft to your advantage?
JA: Honestly, it depends on how I feel the race is going to go out. Back in NASCAR Racing 2003, I would tend to lay back at the rear of the field more often than I have in iRacing. I've only laid back in iRacing at a plate race twice that I remember, and once was during the NiCWS race at Daytona in February. I used to race a lot of plate races with people such as Arthur Lucas and Sean White in a league called Nightly TallyRally (aka NTR), and while I was above average but not anything great before that, I actually figured out how to get up front in a more balanced manner. Before that, I would just try to charge through the field without a care in the world, but now, I just try to stay up front and out of the wrecks. If I get stuck behind someone, I still won't hesitate to take it as many wide as possible to get the job done, but I will be a little more patient than maybe I would have been in the past.
JS: Recently your iRating has shot up from the low 6,000's, to over 7,100. Is there anything you've started to do differently, and what kind of advice can you give to iRacers trying to improve their ratings?
JA: I've started to take more time in the garage area, starting in the second half of Pro last season, than I did at any other time that I've raced. Before that, I could only make my own plate setups or tweak one or two things off of a setup and just pray that it was quick enough. As for gaining iRating, I would say to find a car/track combo you're good at and race your ass off in it. Mine happened to come from the trucks at Homestead at the end of December, where I gained three or four hundred iRating in one week because you could pull away from people if your setup was right. Also, for C class and up races, learn how to pit in the most efficient way possible. That includes pit strategy, as well as spending the least amount of time slowing down for pit road. You can make up a few seconds on track by learning the right time to pit and maximizing your pit entry. However, don't be like me and have the caution come out as you exit pit road half of the time.
JS: A lot is made of Pro drivers and their setups, how do you go about making a setup capable of winning Pro and NiWCS races?
JA: I usually start with a base setup from the previous season and run a couple laps. Assuming it is way off, I start with a couple tweaks here and there, then I run another 10 laps or so. I probably run 3 or 4 10 lap runs, and then I go to Q trim and do about 10 Q runs since you have to actually qualify into the field. Once this is done, I send what I have over to Brian Schoenburg and to you (Jameson) if it is a big track. The whole process is reversed if it is a track such as Phoenix or Martinsville, as I don't really have the expertise yet to figure out how to get the car to not be loose off for hella days on tracks that aren't banked. We still have problems with the setup being loose on big tracks, don't get me wrong, but we just try to minimize it as best we can with what we have. Team Shoestring is slowly coming along in the setup department. To be honest, I probably have the least natural driving talent out of everyone in our group, which is Brian Schoenburg, Jake Swanson, you (Jameson) and our test driver Justin Roberts. However, it's not all about the setup. You have to be able to know when to safely make passes and keep your nose clean. Plus, when you get pissed off, you have to keep the damage to a minimum, which is kind of what I did at Bristol last week after racking up 16 incidents and flipping over in the first 50 laps and recovered to finish 11th.
JS: Last week I interviewed Richard Towler who is great on both road and oval. Have you ever thought about trying to improve your road racing skills?
Let's just say this: JA28 trying to learn a road course would be the equivalent of a dog trying to speak Swahili." — Jesse Atchison
JS: You are under a lot of pressure from yourself, and your team to perform well in the NiWCS. How do you cope with that pressure?
JA: We have a good pressure reliever system on the radio during races. Let's just say I, as well as my teammates, make NASCAR radio communications sound like a preschool picnic.
JS: Now I already know, but I bet a lot of readers would like to know what kind of stuff is said during races. Can you give us a G-rated version of what is being said?
JA: I generally belt off an URNHARTTTTTTT when I make a power move on somebody, and if we have a moment that may change the race, there are a couple of O BUDDAY's thrown around.
---
You may also like...
---