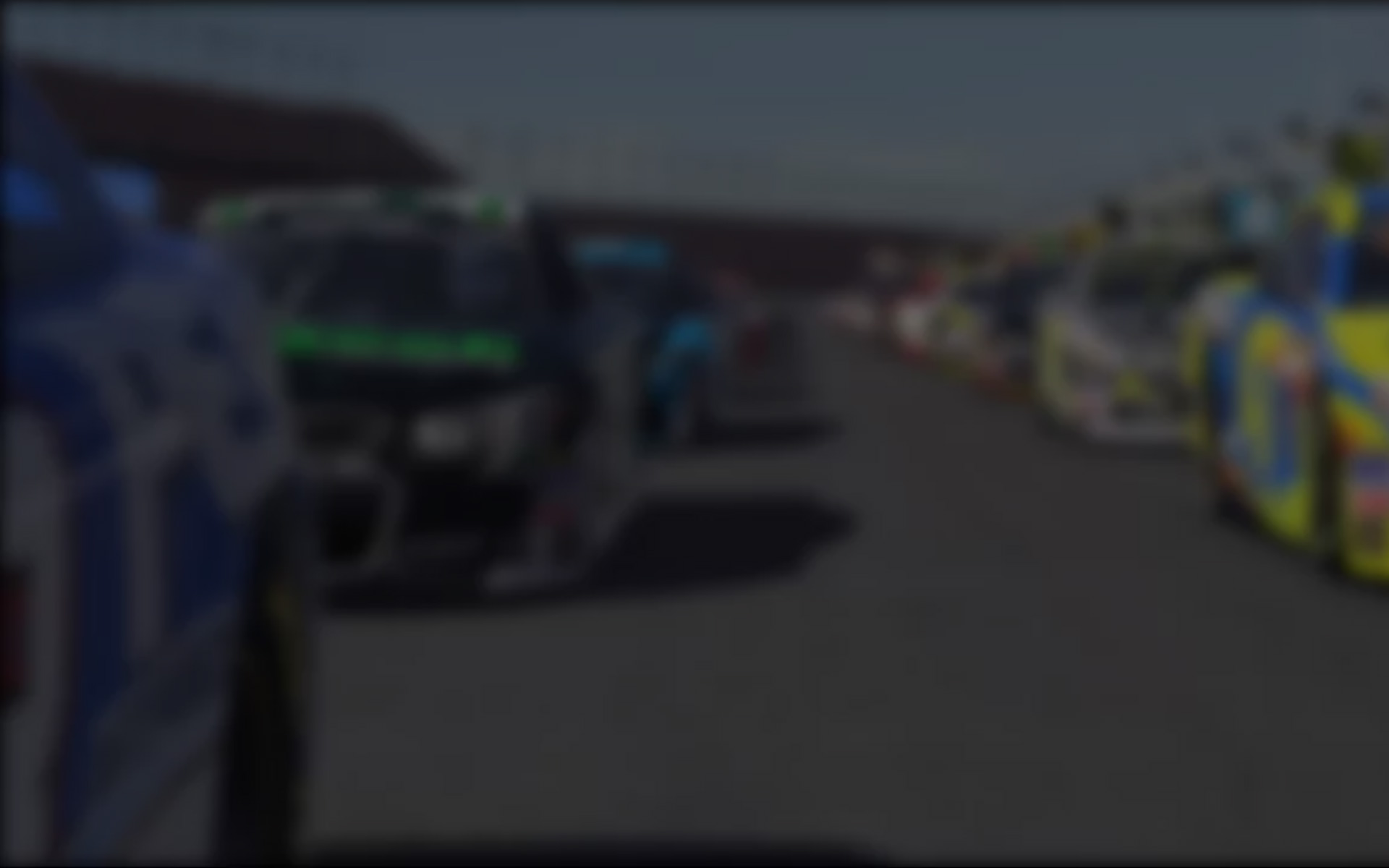 The pro sim racers took to the track in Homestead Miami Speedway for Round Fifteen in the eighteen week NASCAR iRacing Pro Series. As the season winds down and the points heat up, the drivers are getting tense and it showed this week in Homestead. HMS is not a track usually associated with trading paint, but the pros proved it can be done. However to every bump there is someone who gets the short end of the stick, which left a few drivers hot under the helmet.
In the Wednesday night's top online race Mitchell Hunt took the pole and jumped out to an early lead over Josh Berry. The race went green until a flurry of late cautions, and Berry was able to take the point as the tires wore. Late in the race there was a series of restarts and, as anyone would expect with under twenty laps to go, there was lots of slicing and dicing. Berry and Hunt ran first and second, and finished that way.  The battle for third is where it got interesting. Bubble driver Rick Savage got track position on a late caution to jump up to second, however he would not stay there after contact from Jameson Spies sent him in the wrong direction. Savage was visibly upset after the race, but did not comment.
Points leader Berry had this to say about his win: "Really happy with that win. I was pretty unsure on how good I was before the race, but really from the green flag I felt I had a good car. I wish that the race would've stayed a little cleaner at the end but it happens. Congrats to Daniel on his win in his split. Onto Phoenix, probably my best track.".
In Wednesday night's second race Daniel Pope emerged as the victor after a wild sequence of events that left a few drivers scratching their heads. Jeremy Allen and Richie Davidowitz completely dominated this race, but bad pit strategy would cost them a chance at the win.   Their misfortune opened the door for Daniel Pope II to lead six laps and take the win, while a very surprising Kevin Bouhalassa played his cards right and slid into the second spot.
A big development happened in the Friday morning race: There wasn't one. No big deal, race another time, right? Not for big name Steve Sheehan, whose busy schedule meant his only chance to race was Friday.  As a result, he was forced to take yet another zero point week. Sheehan already has a NASCAR iRacing Series World Championship win under his belt, and the NiPS should be a breeze, but not if he can't find time to race.
Ray Alfalla took the field to school in the top Saturday split, leading 81 of the 110 laps. Alfalla isn't suprising anyone by winning, however second and third might catch your attention. Henrik Carlsson, from Scandinavia, was at times the fastest car on the track and was one slip away from taking the win. Douglas Bell showed he is capable of running well as he managed a solid third place finish in his return to the series.
Defending Champion Josh Parker took top honors in Saturday's second race, beating the impressive Ben Sexton and Josh Laughton. The race was dominated by Josh Connors, but while making a green flag stop he crashed with a lapped car, ending his chances.
Sunday saw one full race, and it was packed to say the least. Big names like Davidowitz and Spies, Brian Schoenburg, Tyler Hudson, Charles Cosper and Thomas Hazard all took to the same track in the 28 car field. This race got interesting in a hurry with a multi-car crash on lap 36. Spies was strong early but a terrible pit stop put him deep in the field where Hudson took aim. After Spies got Hudson very loose off Turn Two, Hudson evened the score in Turn Three which, unfortunately, ended the race for a handful of good cars. Hudson later apologized and took full blame for the incident while Spies had this to say.
"I'm not mad, if someone took me to school on a crossover I wouldn't let that go down either."
During the resulting caution another temper exploded.  This time it was Davidowitz's turn for a melt-down as he was wrecked under yellow by Nelson Rivera. Rivera later said he was distracted by something in the house, but not before Davidowitz had many choice words for him.
After that the race cooled down. Schoenburg was able to drive away from Connors and Carlsson who battled it out to the line for second with Connors ending-up taking the spot.
Week Sixteen takes the series head to the flat, tricky Phoenix International Raceway. It will be NiPS' the first trip to PIR, but the fourth trip to a flat short track. The pressure is on not only for the championship chasers, but the bubble drivers as well as they fight to make the second ever NASCAR iRacing Series World Championship season.
---
You may also like...
---