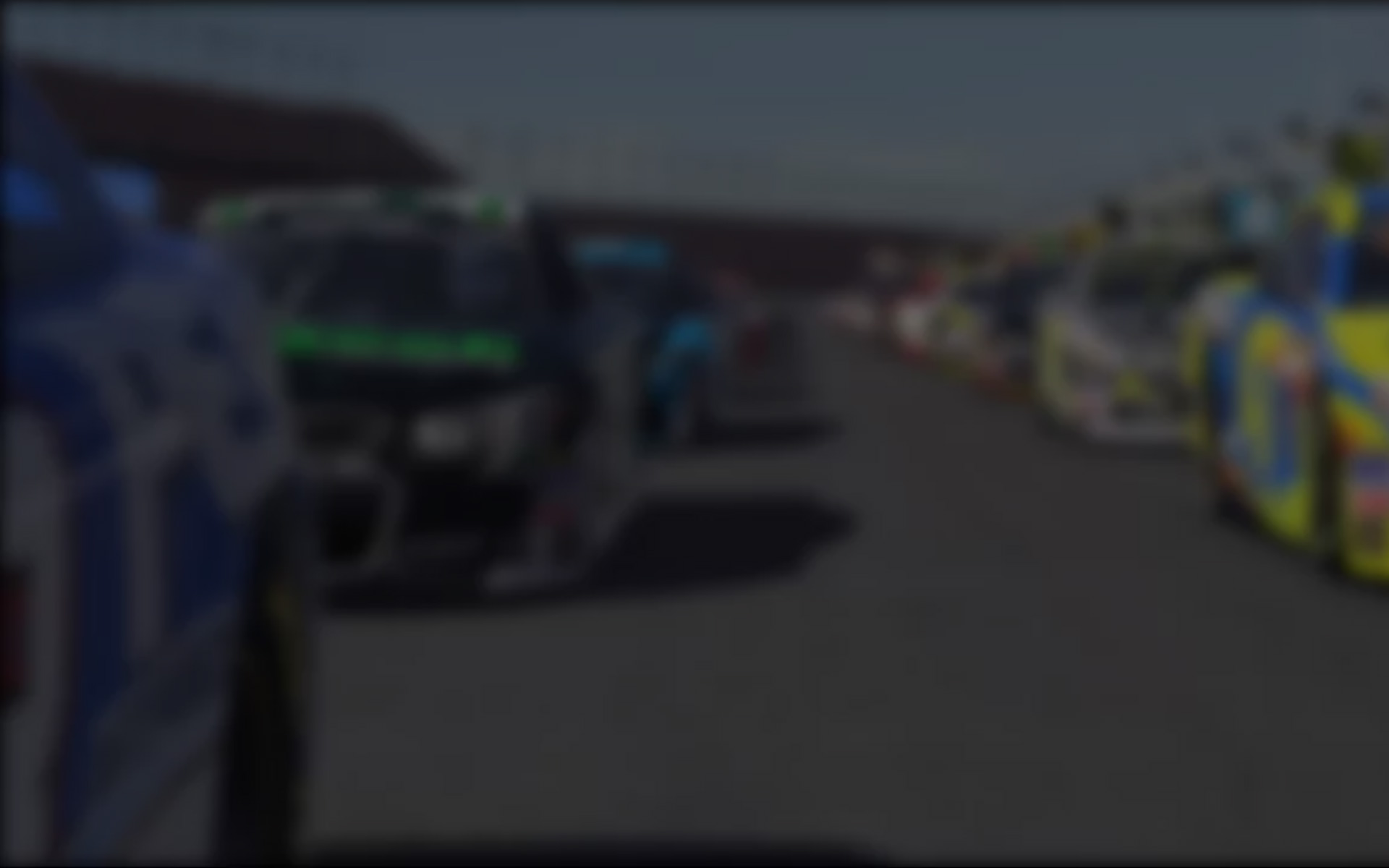 Saturday night saw the third race session in the Week Ten of the iRacing Oval Pro Series and also saw the usual names back up front as Ray Alfalla took his second win of the week and Brad Davies improved one spot over Wednesday's second place finish.
In the first split, it was Davies who continued his winning ways by grabbing a highly contested victory at Michigan. Davies started on the pole but didn't lead the way from the get-go. Davies actually only led 14 laps en-route to his seventh victory of the season.  He did run the fastest lap of the race though and was at the front when it mattered. Davies led from lap seven to 15 but didn't get back into the lead until only four laps to go. Then he never looked back and held on for the victory. Davies earned 293 points, continued to increase his points lead, and continues to be the man to beat for the championship.
Crossing the line in second place was the always fast Josh Parker. Parker has won eight races this season and led nine laps en-route to his second place finish. Parker started second and came home in second, earning his fourteenth top-five in nineteen starts and 278 points in the bargain.  Parker has an average finish of eighth and is second overall in most wins for the season.  He is also averaging an impressive 261.8 points per week.
Finishing third was the always consistent Theo Olson. Olson only has one win this season but continues to be up front at the end of the races. On Saturday he started and finished third while earning 263 points for his finish. Accordingly, Olson currently sits third in the point standings.  With this, his eleventh top-five in fourteen starts. Olson has an average finish of sixth and is averaging 263.2 points per week.
Finishing fourth was Jameson Spies, grabbing his first top-five of the season, while Thomas Lewandowski led 47 laps en route to a fifth place finish.
In the second split, it was Ray Alfalla taking his second win the week, this time in dominating fashion.  Alfalla led 70 laps, including the most important one after passing Josh Connors  for the lead with three to go. Alfalla started fourth before working his way to the front.  He earned 285 points for his victory and sits fifth in points, a virtual shoe-in to qualify for the Drivers World Championship.
Connors ultimately finished second, just .329s behind Alfalla.  The Indiana driver started eighth but challenged for the win, battling past Alfalla and John Gorlinsky to take the lead on Lap 107 before Alfalla reclaimed the top spot with just three laps to go. Connors earned 271 points for his finish and got his second top-five finish in his seventh start this season. That was Connors' only lap led this season, but his average finish is tenth and he looks to be able to make the Drivers World Championship if his schedule clears up and he can make more races.
Finishing third was New Jersey's Gorlinsky. Gorlinsky started second, and finish third, earning 257 points. He led 28 laps throughout the race and lost the lead with just seven laps to go. Gorlinsky earned his fifth top-five finish in his twelfth start and has an average finish of eleventh. Gorlinsky currently sits thirty-sixth in the point standings, a comfortable 194 points ahead of fiftieth place.
Finishing fourth was Connor Mackenzie, who sits eighth in points, and coming in fifth was Nicholas Morse, who sits sixth in points.
---
You may also like...
---