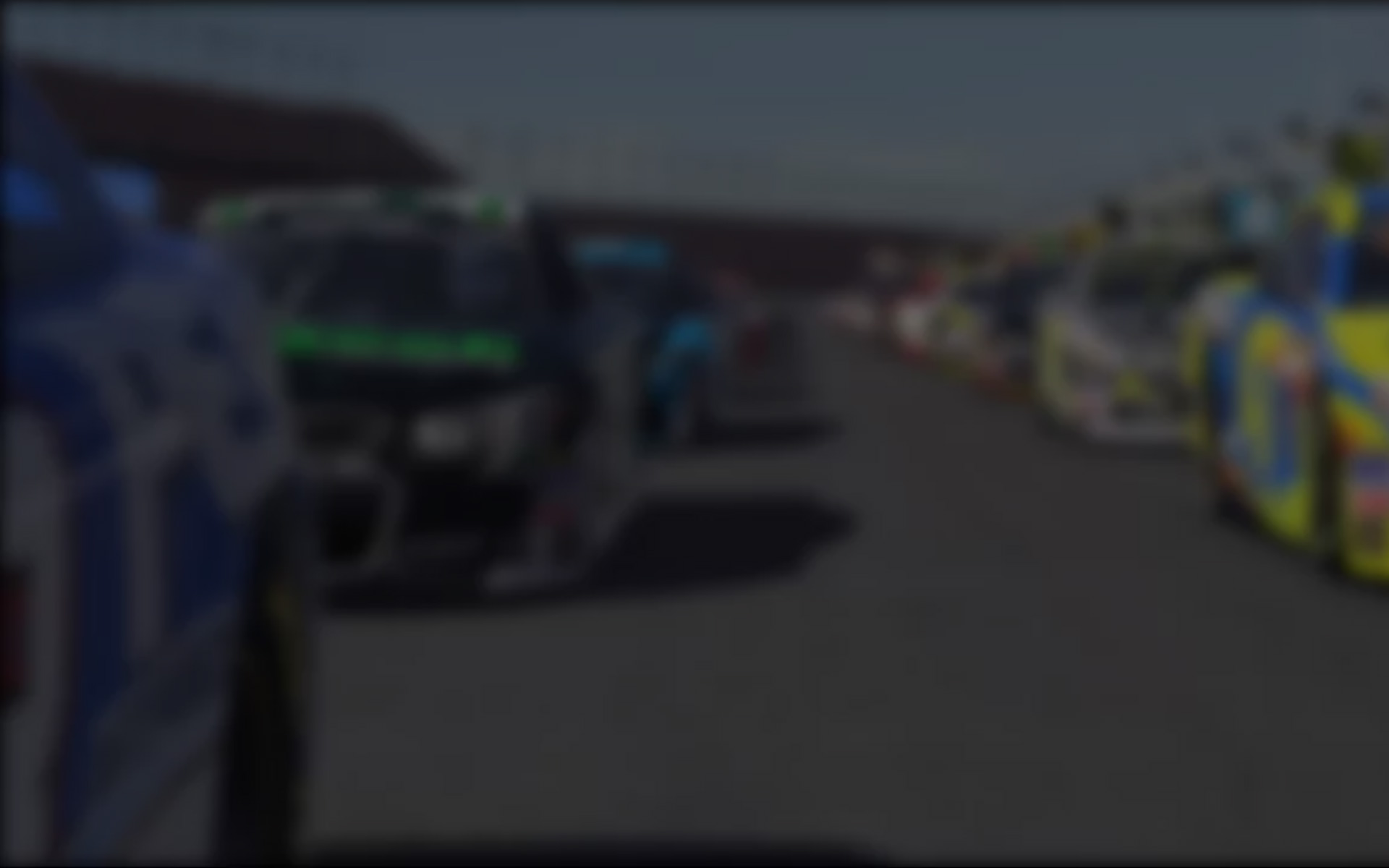 After a relatively quiet week at Thompson, it was time for the iRacing.com Sprint Car Series to return to one of their most popular tracks on the circuit – Lanier National Speedway. A staple of the series, this .375 mile bullring showcases extremely fast laps and "Don't blink or you'll miss it" action. Coming from a relatively new track like Thompson where the iSCS drivers were fairly conservative, Lanier's familiar sights blazing past at twelve seconds per lap would be sure to set series veterans' minds and hands at ease.
Ease, however, is a word that is used rarely when the sprint car drivers speak of the track. Many came out to sweat in practice sessions that saw much burnt rubber and smoke. However, unlike past seasons, many of the official events went without seeing a yellow flag. In the ten races that took place during a significantly high participation week, three went caution-free, and more with just one yellow flag shown.
At the beginning of Week 5, it was Fred Lampela who set the top qualifying time of the week, and would keep it through Thursday. On Sunday, however, it was Binder back to the top of the leaderboards with a blazing a lap of 12.528s; only 4 100ths of a second faster than Lampela. With 120 drivers fielding the many grids, it was sure to be a memorable week of the season.
The virtual gates opened on Tuesday, with three official features taking place. In the first match of the week, PJ Stergios led an 11-car field to the green flag. With many top runners in the field, Stergios was sure to find challenges from behind. However, with no caution flags seen during the race, Stergios pulled away from most of the field, save for one racer – Joe Quinn. The two sprint veterans dueled non-stop as the laps winded down, neither slipping an inch. When the checkered flag flew, it was Stergios who successfully held off Quinn for the win by only .278s. Steve Linder grabbed his first podium of the week with his third place finish. Douglas Berryman had a fine showing in the top split with his fourth place result, and Garry Loney completed the top five.
In the second split, another rookie sprint driver made his mark in the series. Ten drivers made the field with Randall Faulks leading the way from the start. With only one caution, long green flag runs wore the field down physically, but Faulks, after leading all 50 laps, became the latest first-time winner in the iSCS.
"[I'd] Just like to say thank you again to all the on-track generosity. [I] Couldn't have won it without the help of other[s]." exclaimed Faulks in his post-race interview. "I think this is probably my favorite win of all time, and I've had a few!"
"I think this is probably my favorite win of all time, and I've had a few!" – Randall Faulks
Michael Linder was the runner-up, while Joey Mclaughlin placed third. Paul Mepyans and Mark Hephner rounded out the top five respectively.
Tuesday also hosted a third official event, this time dominated by Edwin Jones, who led all 50 laps to wind up in victory lane, taking his second career sprint car win. Glenn Cray, Ronald Williams and Leila Wilson all fought for the top spot throughout the race and finished second, third, and fourth respectively; less than a second behind Jones. Michael Luna completed the top five for the last race of the night.
Thursday brought even fiercer action to the banked turns of Lanier, featuring the highest SOF race of the week in the top split feature (3125). Fred Lampela sat on the pole position with series veteran Steve Linder on the outside, with defending series champion Alan Binder in the second row with PJ Stergios. When the green flag fell, aggressive racing was seen all through the lead pack of drivers, with some even daring to experiment with three-wide racing. With only one caution seen in the race, Binder had plenty of time to try and work Lampela over for the lead position. Lampela successfully hit all of his marks even with Binder's famous flames scorching his rear-end, and was able to hold him off for the win by .265s.
"I have been threatening to put together a whole race here for some time, and I think I may have just done it," said Lampela in victory lane. "[I] Surprisingly had the pole by a few thousandths, now all I had to do was back it up – 50 good laps, new unproven race setup, [with] the elite of the sprint world ready to send me cryin' to my momma if I blinked even once. I am beyond happy with this one!"
 "[T]he elite of the sprint world [was] ready to send me cryin' to my momma if I blinked even once." – Fred Lampela
iSCS veterans PJ Stergios and Vinnie Sansone finished in third and fourth respectively, and Steve Linder completed the top five.
In Thursday's second split, it was another caution-free event with Michael Linder leading flag to flag for his first win of the week. Brett Waldrep followed in close pursuit to finish second after capitalizing on Ronald Williams' and Joey Mclaughlin's misfortunes. Scott Kelly dueled a good portion of the race with fellow competitor Eddie Walczyk, coming home clean with a third place finish. Walczyk's sprint placed fourth, and Brian Williams completed the top five.
After being bested by Lampela earlier in the evening, Binder brought his Beast back to Lanier for the last race of the night. Four caution flags were waved after many competitors found contact with surrounding walls or drivers. Keeping his nose clean out front in his classic style, Binder went on to win his first race of the week, beating Kevin Malone by over 2 seconds to the finish line. Edwin Jones completed the podium, and David Markham finished in fourth. Ronald Williams was scored in the fifth position, one lap down.
Week 5 ended with a flurry of four official races. Alan Binder had already scored a hat trick with three wins in one day, but in the final race of the week, he found himself getting up close and personal with a lapped car, and the two cars made contact. After they went back to green flag racing, it was Stergios who was out front, challenged from behind by Sansone and Lampela. When the checkered flag flew, Stergios crossed the line ahead of Sansone by only .161s. Lampela scored another podium finish with his third place run, but it was Binder who impressed all by fighting his way back to fourth with a damaged car after his earlier incident. iSCS veteran Scott Green completed the top five.
With the season's first round of Lanier in the books, it was time to look forward to Bristol Motor Speedway, where anything is known to happen. After a relatively clean week at Lanier, can drivers of the iSCS find their way around Thunder Valley without incident? Find out soon on inRacingNews!
iRacing.com Sprint Car Series Championship Standings
1. Alan Binder (877)
2. Fred Lampela (-138)
3. PJ Stergios (-167)
4. Steve Linder (-338)
5. Michael Willard2 (-358)
---
You may also like...
---