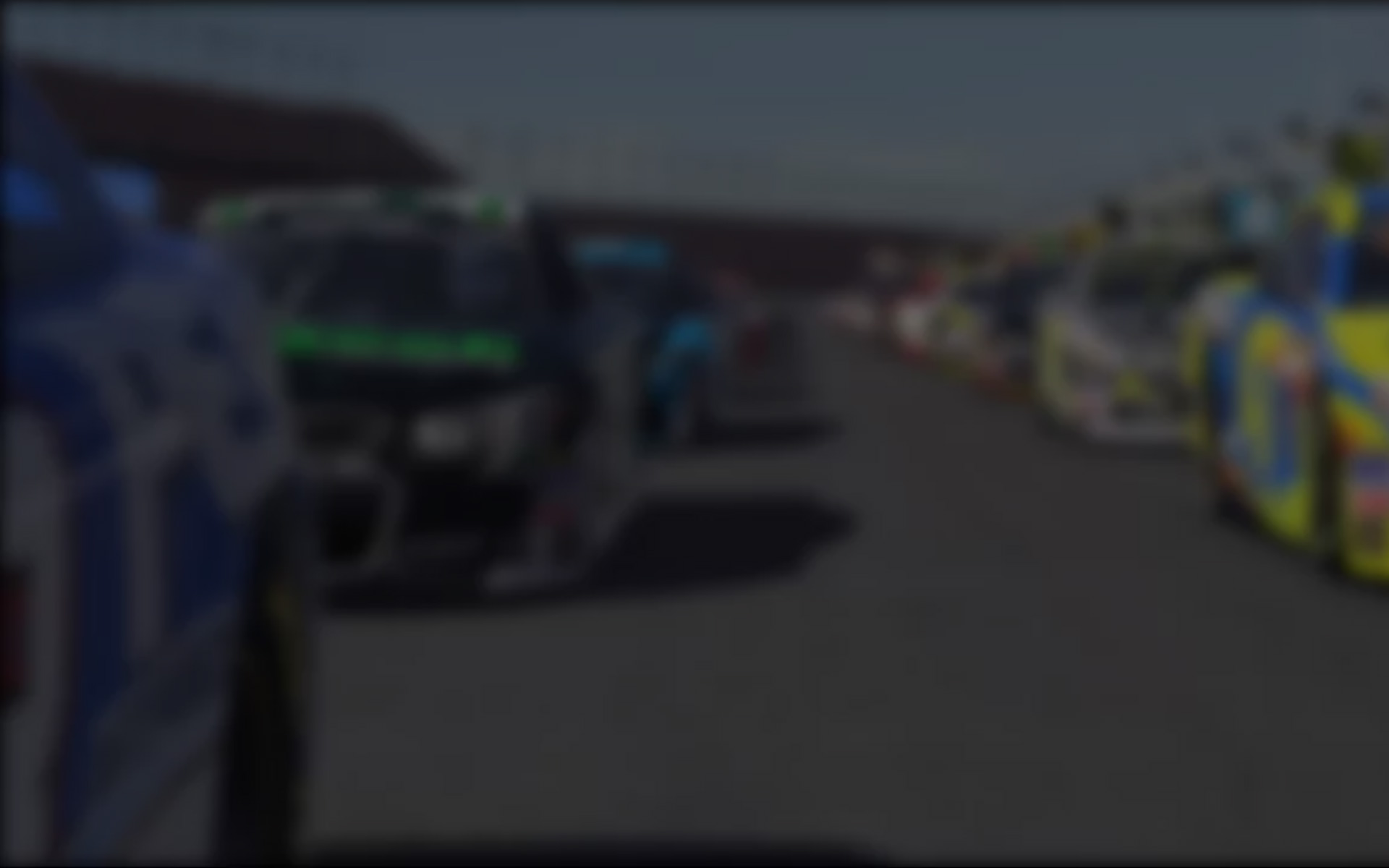 The NASCAR iRacing.com Late Model tour traveled to Hampton, VA this week and the bullring known as Langley Speedway. This flat, 0.395 mile oval is a true test for drivers on all levels; success takes consistency and patience, two of the hardest skills for a driver. The online race of the week proved very exciting and competitive with a 1944 Strength of Field.
Pole-sitter Jeff Kendrick jumped out to the early lead with his unsponsored ride and Chris Dresser in tow. Dresser would pressure on the leader for the first 5 laps, looking for speed all over the racing surface. Although former series writer, Stan Bragg, Jr. started back in ninth position, he quickly jumped to sixth after a couple laps.  Lap Seven saw Carl Strange push up the track in Turn Two while giving way to Bragg for the fifth position while, up front, Ed Elmore was gaining on the leaders as he looked to recapture his second starting position. Also on the move was Dylan Blankenship who moved from 11th on the grid to P8 in just eight laps.
Lap 10 saw Curtis May get loose in Turn One and spin, just half a straight away in front of the leaders. Turn One was proving to be a tricky piece of race track, as William Brickley touched the apron there a few laps later and pushed high out of the corner, giving Bragg a clear passing lane and catapulting him into fourth. On the next lap, Elmore's Goodwrench Chevy out-braked Dresser into the first turn, forcing Dresser to cede the runner up spot as the two sim-racers battled door-to-door down the back stretch.
The battle for second enabled Kendrick to pull out to a seven car length advantage before Dresser spun out of third place and into the infield grass on Lap 19.  Freed from the attentions of Dresser, Elmore honed-in on the leader and – on Lap 23 – took advantage of Kendrick missing his marks in Turn Three to commandeer first place.
Not content with the lead, Elmore stretched his advantage in the ensuing laps as Kendrick faded, to be overhauled by the oncoming Bragg on Lap 41.  Bragg continued pressing onward and, within a few laps, had latched-on to Elmore's bumper, patiently waiting for his chance to overtake the leader.  His chance came on Lap Lap 56 when Elmore drove hard into Turn One to avoid contact with the lapped car of Strange; too hard, it turned out.  Elmore pushed high through the corner enabling allows Bragg to shoot to the bottom out of Turn Two and capture the lead while, in their mirrors, Blankenship took advantage of the confusion to grab the fifth spot from Strange.
Elmore regrouped and made a bid to regain the lead. However, his late charge fell half a second short as Bragg took the checkered flag with Kendrick a distant third and the final car on the lead lap. Dresser came home a solid fourth while Blankenship grabbed fifth after starting last.
1.    Stan Bragg Jr
2.    Ed Elmore -0.533
3.    Jeff Kendrick -6.060
4.    Chris Dresser -1L
5.    Dylan Blankenship -1L
6.    Carl Strange -1L
7.    Andy Cocilova -1L
8.    William Harrington -2L
9.    Kevin Lay -3L
10.    Curtis May -4L
11.    William Brickley -23L
Next week the season heads to New England for a date with Stafford Speedway, as the tour cruises through the middle part of the schedule.
---
You may also like...
---