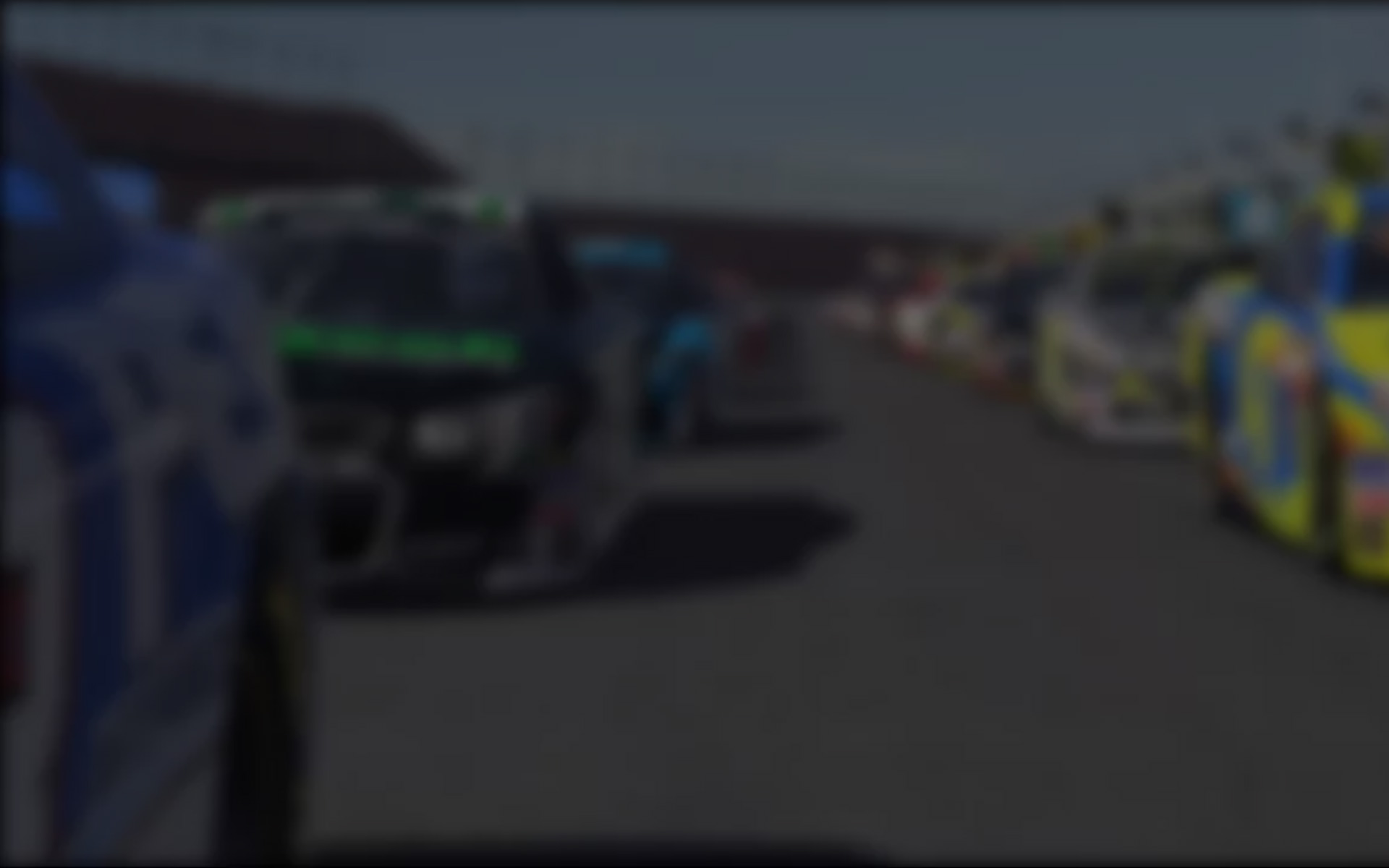 Heading into Week Seven of the 2013 NASCAR iRacing.com Series World Championship season Joey Brown found himself outside the top 25 in points despite some promising runs. The NiSWC rookie had shown flashes of brilliance through the first six races, but had his good runs undone by mistakes largely of his own making. That all changed at Charlotte Motor Speedway as Brown broke through for his first NiSWC victory, outdueling Marcus Lindsey in a fantastic battle for the win.
Brown, who started from the pole but lost ground to Lindsey during the first round of green flag pit stops, erased more than a two second gap during the second half of the race. With ten laps to go, Brown was right on Lindsey's bumper and made a move for the lead on the inside entering Turn Three and cleared Lindsey off Turn Four.
Brown was not in the clear yet, though. Lindsey fought back off of Turn Four when Brown got a bit loose on exit and the two were side-by-side yet again into Turn One. For the next two laps they battled door-to-door, neither wanting to back down. Finally, with seven laps remaining, Lindsey got tight in the middle of Turns One and Two, giving Brown the opening he needed to take the lead for good.
"Those last 10 laps seemed to take forever, by far the most fun I've had in a race." — Joey Brown
"Oh man I'm speechless after that race," said Brown, relieved he held on for his first victory. "Those last 10 laps seemed to take forever, by far the most fun I've had in a race."
The victory moved Brown into the top 25 in points, though he still has work to do if he wants to crack one of the top twelve paid positions.
Even though he was passed for the lead with the checkered flag in his sights after leading the most laps, Lindsey was pleased with his runner-up position.
"Solid race overall, happy with a second place," explained Lindsey. "(I) tried to defend as long as possible, but I think we all knew what the outcome was going to be."
"I think we all knew what the outcome was going to be." — Marcus Lindsey
Jason Karlavige was strong all day and finished third, but did not have the pace of the top two. Brandon Kettelle was fourth and Tyler Hudson held-off Michael Conti and Thomas Lewandowski in a tightly contested battle for fifth.
Only three yellows, all before Lap 50, slowed the field for 12 laps. The first caution flew on Lap Nine when Nick Ottinger, winner of the last three NiSWC races, and Landon Huffman made contact entering Turn One. The contact sent Ottinger spinning up the track and into the outside wall, inflicting serious damage to the #05 Chevy SS. Ottinger pitted for repairs, but lost several laps in the process. He limped around the rest of the night and finished thirty-sixth.
The biggest incident of the evening developed on Lap 38 when Landon Harrison got into the wall on the backstretch and lost control. John Gorlinsky had nowhere to go and slammed into Harrison's crippled car, sparking a melee into Turn Three. Other drivers involved in the aftermath included Josh Berry and Jake Stergios.
With Husdon's fifth place run and Ottinger's crash, Hudson extended his points lead to nine over Brian Schoenburg, who suffered early damage but rebounded for an eleventh place run. Lindsey climbed to third with Ottinger slipping to fourth, now 33 points behind Hudson. Ray Alfalla is fifth in the standings, but lost positional points when he sped down pit road on his last stop of the day, relegating him to a seventeenth place finish.
Next up for the NiSWC is the yearly visit to Pocono Raceway. The Tricky Triangle, as it is often called, is made of three unique corners, providing a challenge for rookies and seasoned veterans alike. Brown will be looking to start a winning streak of his own as the rest of the field looks to position themselves in the standings as the 2013 season closes in on the midway point.
Can Brown make it two in a row? Or will Ottinger or Lindsey make another visit to victory lane? With Pocono's unpredictably, it could even be time for another first time winner. In any case, be sure to catch the action from Pocono on iRacing Live and MRN.com in two weeks!
---
You may also like...
---