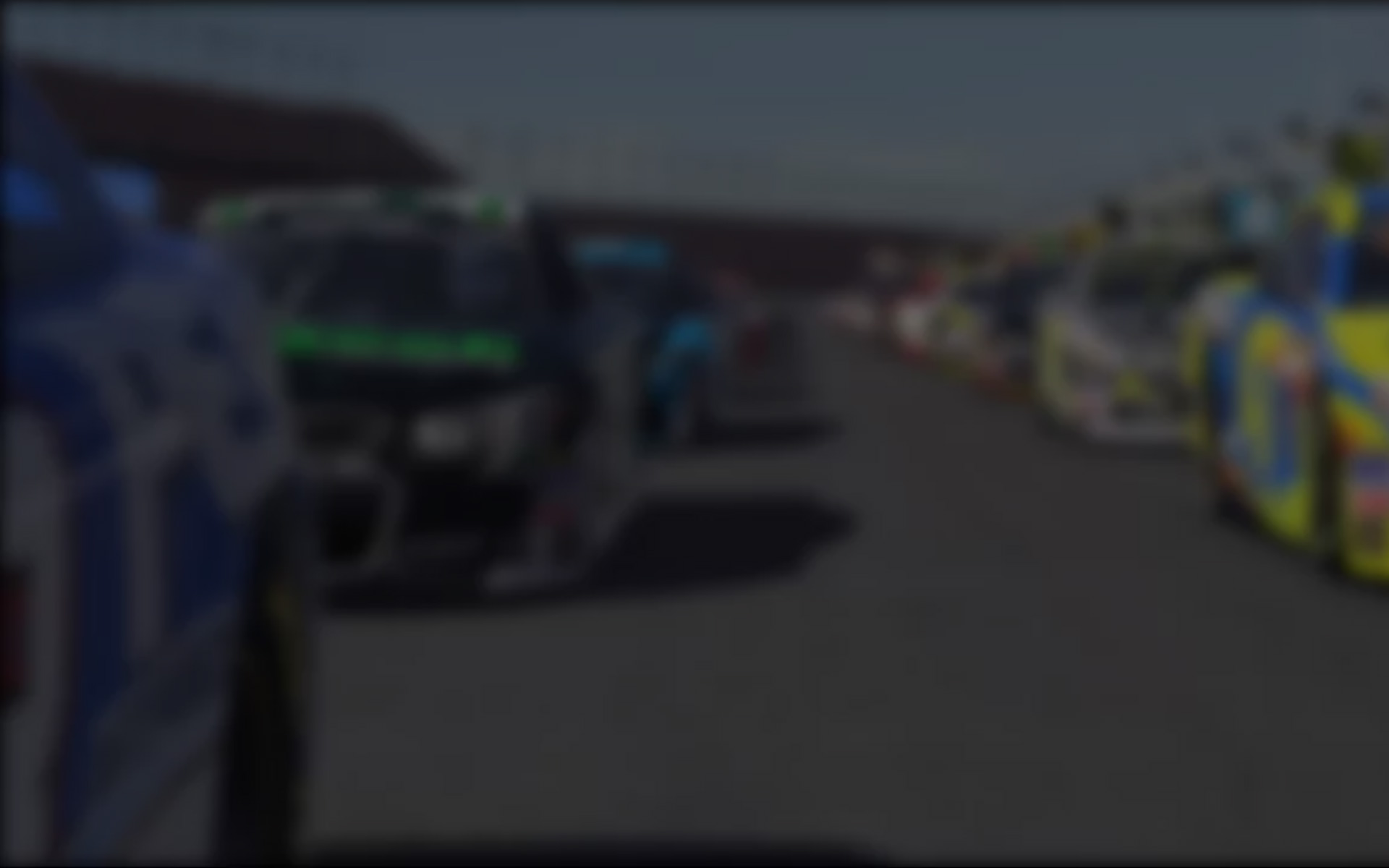 April 27th, 2016 by Jason Lofing (French translation by Anthony Drevet follows)
Defending NASCAR PEAK Antifreeze Series champion Kenny Humpe (The TEAM) found the winner's circle for the first time in 2016, taking the checkered flag at Richmond International Raceway after leading a race-high 88 of 200 laps.
Humpe comfortably held-off Allen Boes (Deadzone) by 2.8 seconds, while Boes narrowly beat Ray Alfalla (Slip Angle Motorsports) for second. Corey Vincent followed the pair in fourth, 4.4 seconds behind the winner, with Matt Bussa rounding-out the top five.
Humpe started from the outside of the front row and took the lead from pole sitter Nick Ottinger on Lap 26, shortly after the second caution flag of the race. He continued to lead until Lap 83 when the field headed to pit road for service under caution. Alfalla and Cody Byus had better pit stops than Humpe, relegating him to third on the restart.
After the race went back to green Humpe struggled to close on Alfalla and Byus and, instead, settled into third spot.  However, as the run wore on Humpe began gaining on Byus and finally passed him on Lap 138. Alfalla had begun to slow by this point and Humpe made his move for the lead on Lap 145 and nearly had a race-ending moment.
As the two raced side-by-side through Turn Three, Humpe suddenly decided to pit for tires but overshot pit entry and narrowly avoided the safety barrels protecting the end of pit wall. Although the mistake cost him time, Humpe kept his car in one piece and safely made it to pit road next time around while Alfalla waited another lap before making his final stop.
That extra lap proved costly to Alfalla, as he re-entered the track behind Humpe in spite of the defending champion's botched pit entry a couple laps prior.  Although Bussa and Boes were ahead of Humpe and Alfalla, Humpe had no trouble dispatching them. The pass on Bussa only put Humpe in eighth, but the seven cars in front of him had yet to make their final stops and were no match for Humpe on fresh tires. He took the lead for the final time on Lap 168 and never looked back.
Unsurprisingly, track position was of the highest importance at Richmond as none of the top five finishers started lower than twelfth and none of the top ten worse than fifteenth.
Several sim racers in the running for the championship encountered trouble at Richmond, including both of the Stergios siblings. Jake Stergios (ineX Racing) was caught up in a crash and finished thirty-eighth while brother PJ sustained damage of his own but was able to continue and salvage a fourteenth place result. Chris Overland also went laps down early but took wave-arounds to get back into contention, finishing a respectable tenth.
PJ Stergios' issues enabled Alfalla to leave Richmond with a nine-point cushion at the top of the standings with Boes an additional ten points back. Jake Stergios slipped to fourth, 54 points back after his troubles. Humpe's victory vaulted him to fifth in a dead heat with Overland but, trailing Alfalla by 62 points, he will need more runs like his Richmond win to get himself back into contention.
Week Seven takes the NASCAR PEAK Antifreeze Series to Las Vegas Motor Speedway, the first of four consecutive 1.5 mile tracks on the sim racing schedule. Vegas should play-out similarly to the Week Five race at Texas, so look for the Stergios brothers and Alfalla to be at the front. Can Humpe go back-to-back or will Slip Angle and ineX continue their dominance at the downforce tracks? Find out in two weeks on iRacingLive!
Humpe de retour sur la victory lane à Richmond
Le champion en titre de la NASCAR PEAK Antifreeze Series, Kenny Humpe (The TEAM), a enfin retrouvé le chemin de la victoire. Il s'impose pour la première fois de l'année sur le Richmond International Raceway après avoir mené 88 des 200 tours de course.
Humpe a coupé la ligne avec 2,8 secondes d'avance sur Allen Boes (Deadzone), ce dernier terminant d'un souffle devant Ray Alfalla (Slip Angle Motorsports). Corey Vincent se classait quatrième à 4,4 secondes du vainqueur et devant Matt Bussa qui complétait le top-5.
Humpe, qui s'est élancé en deuxième position derrière le poleman Nick Ottinger, réussissait à s'emparer des commandes de la course au 26e tour peu de temps après la deuxième neutralisation de l'épreuve, et restait leader jusqu'au 83e, moment choisi par l'intégralité du peloton pour effectuer un ravitaillement sous régime de voiture de sécurité. Alfalla et Cody Byus effectuant de meilleurs arrêts, Humpe s'élançait en troisième position lors du restart.
N'étant pas en mesure de rester dans le sillage d'Alfalla et Byus à la relance, Humpe s'appliquait à conserver sa troisième position. Au fil de l'épreuve, Humpe revenait sur Byus et finissait pas le déborder au 138e tour. Au même moment, le rythme du leader Alfalla baissait ce qui permettait à Humpe de prendre la tête de la course au 145e passage et semblait ne plus jamais la quitter.
Alors que les deux hommes étaient côte-à-côte dans le virage 3, Humpe décidait soudainement de plonger vers la voie des stands. Trop optimiste, le pilote The TEAM arrivait trop vite, ratait son freinage et évitait de peu les barils de sécurité protégeant le muret des stands. Malgré cette perte de temps, Humpe conservait sa voiture intacte et s'arrêtait prudemment au tour suivant, soit une boucle avant le dernier pitstop de Ray Alfalla. Un tour de plus qui s'avérait fatal au pilote Slip Angle Motorsports puisque lorsqu'il rejoignait la piste, Humpe était passé devant malgré son erreur commise quelques tours plus tôt.
Si Bussa et Boes sortaient des stands devant Humpe et Alfalla, le champion en titre revenait rapidement sur les deux hommes avant de les dépasser sans coup férir. Humpe se retrouvait alors en huitième position mais les sept voitures de tête devaient encore passer par la voie des stands. Le champion en titre retrouvait la première position au 168e tour sans jamais la quitter.
Sur cet ovale de Richmond, la position en piste était encore d'une importance capitale puisqu'aucun des cinq premiers de cette course n'est parti plus loin que la douzième place et qu'aucun pilote qualifié dans le top-10 ne s'est classé moins bien que quinzième.
Plusieurs "sim racers" en lutte pour le championnat ont connu des difficultés à Richmond, à commencer par les frères Stergios. Jake (ineX Racing) a été pris dans un accident et n'a pas pu faire mieux que trente-huitième alors que PJ réussissait à sauver une quatorzième position malgré une voiture endommagée très tôt dans la course.
Alors qu'il avait perdu des tours en début d'épreuve, Chris Overland profitait des aléas de la course pour revenir dans le match, terminant à très respectable une dixième place.
Les problèmes rencontrés par PJ Stergios permettent à Alfalla de quitter Richmond avec une avance de 9 points sur PJ alors que Boes en compte 19 de retard sur le nouveau leader. Jake Stergios tombe à la quatrième place du classement, à 54 points. Grâce à sa victoire, Humpe remonte en cinquième position à égalité avec Overland. Avec  62 points de retard sur Alfalla, il aura besoin de performances similaires à celle qu'il a livré à Richmond s'il veut revenir dans la course au titre.
Pour sa septième semaine, la NASCAR PEAK Antifreeze Series se rend sur le Las Vegas Motor Speedway, la première des quatre épreuves consécutives organisées sur des ovales d'un mile et demi. Sur ce tracé, les résultats devraient être semblables à ceux de la cinquième semaine au Texas, les frères Stergios ainsi que Ray Alfalla seront donc certainement à surveiller. Humpe va-t-il pouvoir remporter deux courses de suite ? Les équipes Slip Angle et ineX vont-elles continuer leur domination sur les circuits d'un mile et demi ? Vous le saurez dans deux semaines sur  iRacingLive!
---
You may also like...
---