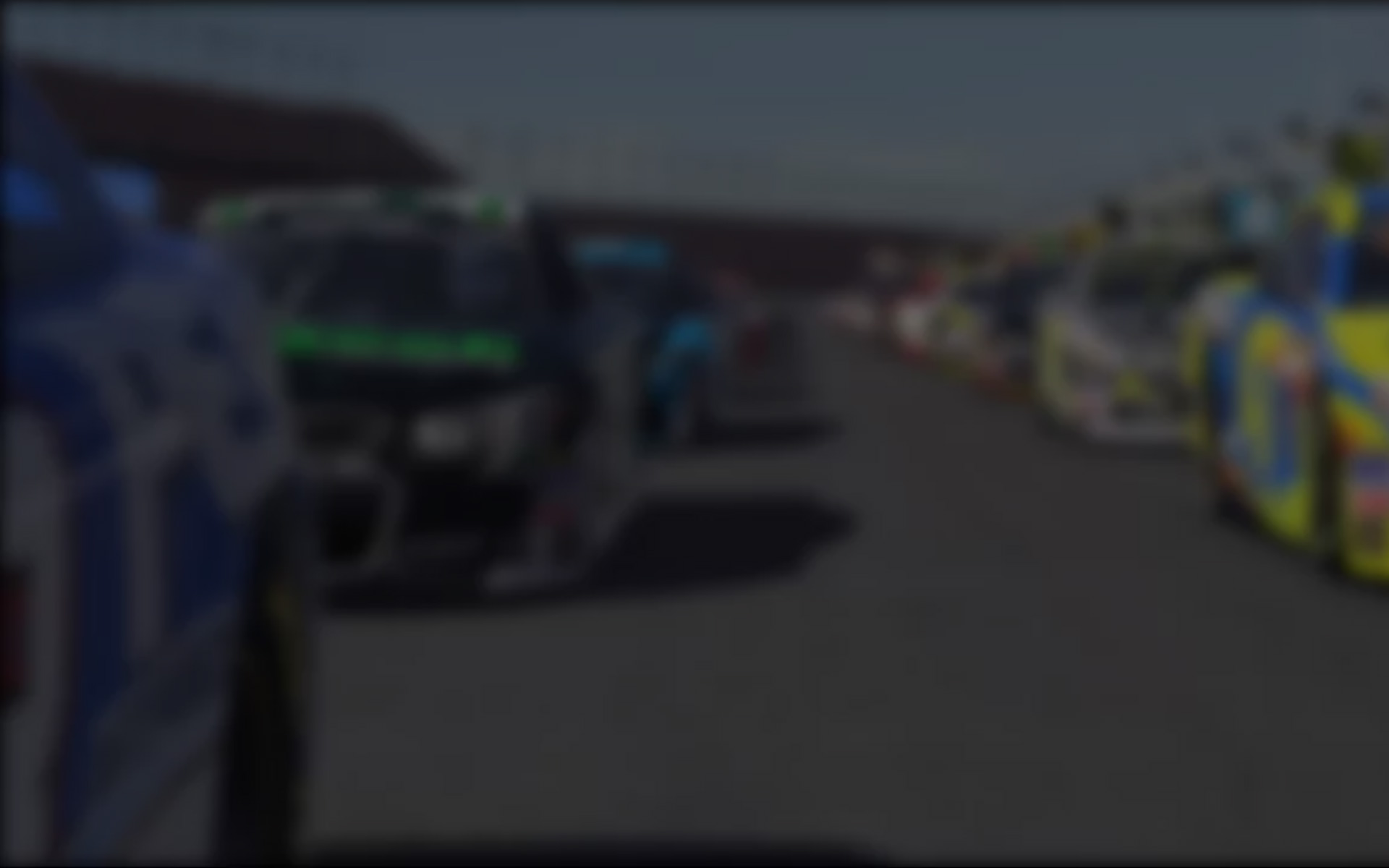 July 13th, 2016 by Jason Lofing; French translation (below) by Anthony Drevet
Kenny Humpe (The TEAM) kept his hot streak going at Kentucky Speedway by winning his third NASCAR PEAK Antifreeze Series race of the 2016 season. The defending series champion led 50 of 167 laps, the most of any driver, in what turned out to be one of the most competitive events of the season thus far.
Humpe closed the deal on a three-lap shootout that was punctuated by a caution on the penultimate lap with Humpe well in the clear. Michael Conti (Team Conti) finished second for his first top-five finish of the season. Conti was strong from the drop the green and led 10 laps, flashing some of the speed that made him NASCAR PEAK Antifreeze Series champion in 2014.
Dylan Duval followed Conti across the line in third, just in front of point leaders Ray Alfalla (Slip Angle Motorsports) and PJ Stergios (ineX Racing). Duval looked to have a car capable of winning the race the last 50 laps but cautions held him back from challenging for the win. Still, going from thirty-fourth on the grid to third is nothing to be ashamed of.
Alfalla looked poised to battle Humpe for the win but contact with Conti under caution with a handful of laps to go damaged the rear of Alfalla's car and dashed any chance he had of keeping up with Humpe on the last restart.
The race was one of the more unpredictable of the season, as several drivers looked like they had a legitimate shot to win. Alfalla started on pole and led until pitting under green on Lap 35 where he lost the lead to Conti after the cycle of stops due to Conti pitting a lap earlier for tires. Alfalla methodically reeled him in, using his superior speed on the long run to take the lead back on Lap 55.
Alfalla pitted for the second time on Lap 68 and again lost the lead on the exchange, this time to Justin Bolton and Humpe along with Conti for a second time. Humpe went to the point on Lap 81 with Alfalla looking to keep pace, but Conti held Alfalla at bay, using the outside lane to keep his momentum off the corners. Alfalla was persistent though, and after four laps of working the bottom lane he cleared Conti but could not run down Humpe before the leaders hit pit road for a third time.
Humpe maintained his lead after stops but a caution flew shortly after the round of stops which changed the outlook of the race. While most of the leaders pitted for fresh tires, nine drivers decided to stay out with their slightly worn tires in hopes that track position would make a difference.
Tyler Hudson (One Up Motorsports) inherited the race lead as the field took the green flag on Lap 109. Hudson held the lead for the next eight laps before another caution bunched the field and drew everyone to pit road for fresh rubber. Humpe went from twelfth to seventh on the run but now did not have a tire advantage. After a crash on the restart, the race restarted on Lap 126 and Humpe started to make his move back to the front.
In ten laps Humpe was in third and had his sights set on Hudson in the lead. On Lap 140 Humpe drew alongside Hudson and completed the pass on the outside off Turn Four. Another caution with 17 laps to go could have derailed Humpe's chances, but a solid final pit stop and two stellar restarts let him hold the lead uncontested to the checkered flag.
Alfalla's fourth place result combined with Stergios' fifth place effort saw Alfalla slightly build his championship lead. His margin over Stergios is 13 points with Humpe a distance third, 78 points back. Teammates Jake Stergios and Chris Overland hold fourth and fifth, 91 and 96 points adrift respectively.
After four straight races on 1.5 mile tracks, the NASCAR PEAK Antifreeze Series shifts gears for Week 11 as the sim racing series visits the Indianapolis Motor Speedway. Overtaking at the one groove IMS is notoriously difficult; thus qualifying is more important than usual. Alfalla's average start of seventh makes him the clear favorite, but a dark horse could be Cody Byus, whose eighth place average starting position is second-best in the series.
Can Humpe or Stergios topple Alfalla, or will the two-time champ cross the yard of bricks for his second victory of 2016? Find out in two weeks on iRacingLive!
Et de trois pour Humpe après sa victoire au Kentucky !
traduction par Anthony DREVET
Kenny Humpe (The TEAM) est décidément sur une bonne lancée ! En s'imposant sur l'ovale du Kentucky, le champion en titre des NASCAR PEAK Antifreeze Series décrochait sa troisième victoire de l'année après avoir mené 50 des 167 tours de course, dans une épreuve qui s'avérait être l'une des plus compétitive de la saison jusque là.
Humpe franchissait la ligne d'arrivée en vainqueur après avoir parfaitement géré un sprint final de trois tours, marqué par une neutralisation dans l'avant-dernière boucle. Michael Conti terminait deuxième après avoir mené 10 tours en début de course et décrochait son premier top-5 de l'année. Le pilote du Team Conti a donné l'impression d'avoir retrouvé le rythme qui lui avait permis de devenir champion des NASCAR PEAK Antifreeze Series en 2014.
Troisième sur la ligne, Dylan Duval devançait les deux leaders du classement général, Ray Alfalla (Slip Angle Motorsports) et PJ Stergios (ineX Racing). Au volant d'une voiture très compétitive dans les 50 derniers tours, Duval paraissait même être en mesure de s'imposer avant d'être ralenti par les neutralisations de fin de course. Néanmoins sa performance méritait d'être soulignée puisqu'il s'élançait de la trente-quatrième position sur la grille de départ !
Alfalla perdait toute chance de batailler face à Humpe pour la victoire après avoir subi un contact avec Conti sous drapeau jaune à quelques tours de l'arrivée. Avec une voiture endommagée à l'arrière, le pilote Slip Angle Motorsports n'était pas en mesure de suivre le rythme de Humpe lors du dernier restart.
Cette épreuve du Kentucky s'avérait très indécise jusqu'au bout puisque plusieurs pilotes semblaient en mesure de s'imposer. Le poleman, Alfalla, menait jusqu'à la première salve d'arrêts aux stands, au 35e tour, et laissait les commandes à Conti. Le pilote Slip Angle Motorsports ne s'en laissait pas compter et revenait méthodiquement sur le champion 2014, grâce à une meilleure vitesse lors des longs relais, pour finalement retrouver la première place au tour 55.
Alfalla s'engouffrait dans la voie des stands au 68e tour et perdait de nouveau sa position de leader au profit de Justin Bolton, Kenny Humpe et Michael Conti. Humpe imprimait alors un rythme solide devant Conti et Alfalla. A force de persévérance, Alfalla réussissait à déborder Conti en optant pour la ligne intérieure mais il n'était pas en mesure de revenir sur Humpe avant le troisième arrêt aux stands des leaders.
Le champion en titre conservait sa première place à sa sortie des stands mais une neutralisation allait intervenir quelques tours plus tard et changer la physionomie de la course. Si la majorité des pilotes de tête en profitaient pour s'engouffrer dans la voie des stands afin de chausser des gommes neuves, neuf pilotes décidaient de rester en piste en pneus usés afin de bénéficier de leur position sur la piste.
Lors du restart au 109e tour, Tyler Hudson (One Up Motorsports) était ainsi le nouveau leader, une position qu'il maintenait pendant les huit tours suivants avant qu'une nouvelle neutralisation n'intervienne et ne force l'intégralité du peloton à passer aux stands pour chausser des pneus neufs. Humpe remontait de la douzième à la septième position mais ne bénéficiait plus d'un avantage pneumatique sur ses adversaires.  Après un accident lors d'une relance, le drapeau vert était agité au 126e tour et Humpe commençait sa remontée vers le haut du classement.
En dix tours Humpe se retrouvait en troisième position  et attendait le bon moment pour revenir sur Hudson. C'était chose faite au 140e tour, le pilote THE TEAM se portrait à la hauteur d'Hudson et effectuait son dépassement à l'extérieur du virage quatre. Une énième neutralisation à 17 tours du but aurait pu stopper la marche en avant de Humpe mais un dernier arrêt au stand impeccable ainsi que deux restarts fantastiques lui permettaient de se diriger tranquillement vers la victoire.
Grâce à sa quatrième position, Alfalla augmente légèrement son avance au championnat sur Stergios, cinquième. Il compte désormais un avantage de 13 points sur Stergios et 78 sur Humpe, troisième. Les équipiers Jake Stergios et Chris Overland sont respectivement quatrième et cinquième à 91 et 96 points.
Après quatre courses consécutives sur des ovales d'un mile et demi, les NASCAR PEAK Antifreeze Series se donnent rendez-vous sur l'Indianapolis Motor Speedway. Les dépassements sur l'ovale de l'Indiana sont connus pour être difficiles, la qualification aura donc une importance accrue. Avec une septième place moyenne sur la grille, Alfalla devrait avoir l'avantage mais attention au surprenant Cody Byus.
---
You may also like...
---