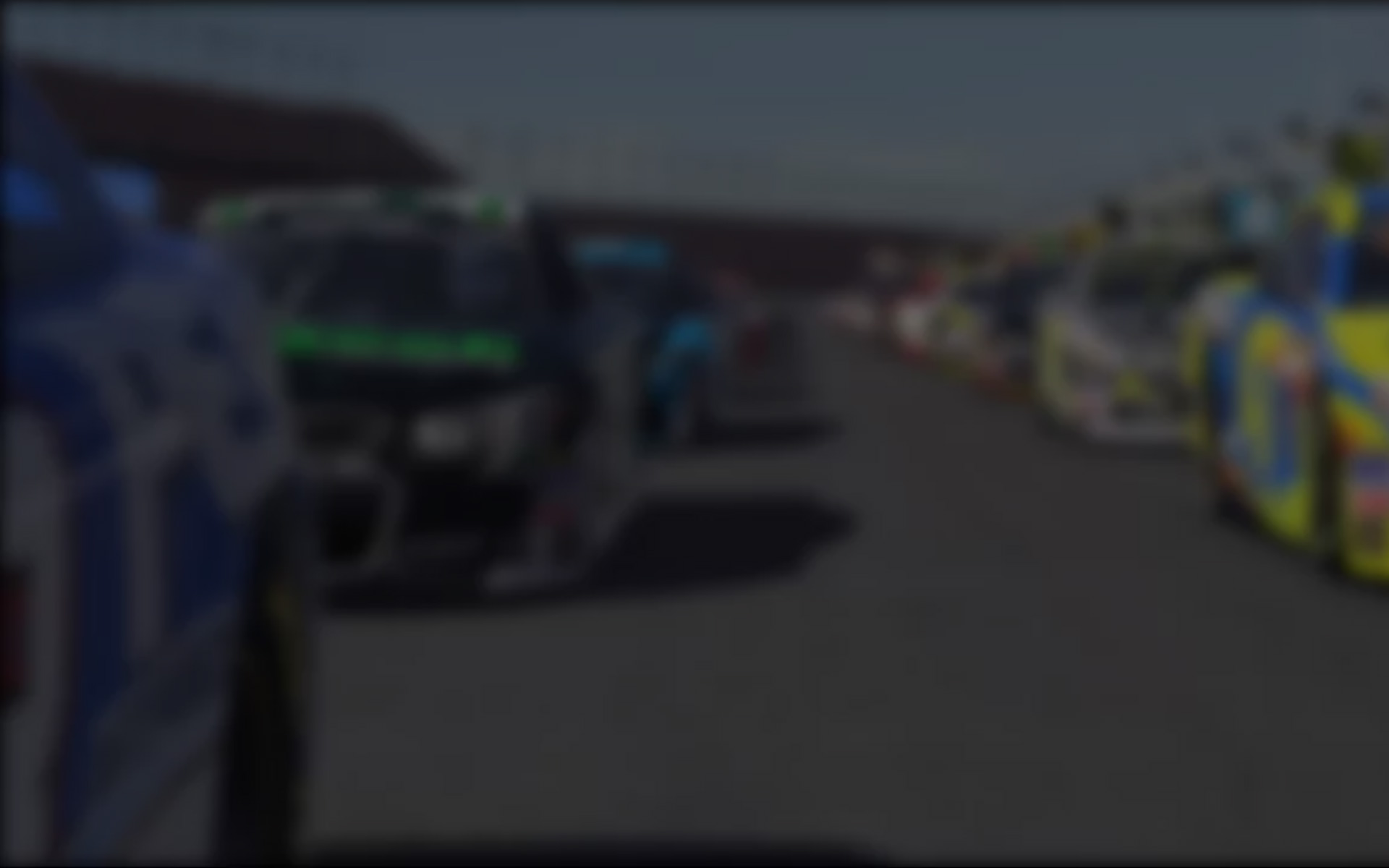 Continuing his flawless record of eight wins from eight races, Greger Huttu took the top honours from the virtual Road Atlanta to sustain his relentless charge to the inaugural iRacing Drivers World Championship Road Racing (iDWCRR) title. Starting from pole position, the Finn powered into an early lead that he never relinquished, and was never challenged throughout the 50 lap online race, to take the chequered flag with an eighteen second margin.
"My qualifying lap was really good again, 0.001 from my PB. It felt like there was a bit more time out there but I'm not complaining," Huttu told inRacingNews. "The race was pretty straightforward, although Ben (Cornett) and Luke (McLean) had good pace so I kept pushing throughout the first stint to have a margin for the pit stop. There wasn't as much lapping as I had thought but I seemed to catch everyone in Sector One which isn't perfect. Anyway, no trouble there and I had enough of a gap for the second stint to take it pretty easy. The last 15 laps were long though."
After qualifying in fourth position, Luke McLean brought his Team Redline Dallara Indy car home for a second place finish, ahead of team-mate Ben Cornett. Australia and New Zealand club member McLean found himself promoted to third spot on the opening lap, following contact between Cornett and Bastien Bartsch, that sent the latter tumbling down the race order. Glued to the gearbox of Cornett for the next 20 laps, McLean leap-frogged his way past his team-mate when he made a rare error, and broke free to take his fourth finish on the second step of the podium this season.
Despite a couple of mistakes in his race, Cornett recovered to finish on the podium, to make it a clean sweep for Team Redline, who incidentally are celebrating their tenth anniversary. "At the start I squeezed Luke hard into Turn One as he was along side and we made contact," confessed Cornett post-race. "This was my fault and bent my car a little bit. I pushed hard at the start and got a good run on Bastien going onto the back straight. Bast went defensive, there was slight contact going into the right hander, and Bastien went off.
"I had a good pace, I kept Luke behind me and we had an amusing brawl.
Unfortunately I got a wheel in the grass on lap 20, locked up, overshot the chicane and got a slow down penalty that lasted for a what seemed approximately 15 minutes. This put Ilkka Haapala behind me. I had mocked Ilkka before the race, as he is the 'Ilkka train,' very similar to the 'Trulli train.'   Of course now the roles were reversed. It turned out to be an entertaining battle. Ilkka was clearly running more downforce than me so he murdered me through the slow stuff, but I was always quick enough to fend him off going into the only real passing zone. He drove a classy race though and always gave room."
The aforementioned Haapala came away from Round Eight of the championship delighted with a fourth place finish, after battling his way from seventh on the grid. "A couple of laps into the race I got a good run on Shawn Purdy on the back straight. I got the inside line into the last chicane and was able to make it stick," shared the Orion Racing Team driver. "After that, I started to catch up Richard Towler in front of me in fourth place. Just as I caught him I hit the bump in last corner which sent my car sideways. I somehow managed to survive that, but it scared me big time. Shawn got by me again (and) was also catching up to Richard. Before pit stop we were all together again. On the in-lap Richard ran out of fuel on the back-straight and we were both able to pass him before coming into pits. My pit crew worked better this time and I was able to leave the pits in front of Shawn and Richard. I was able to concentrate more on hunting Ben down. I got a good run on him a couple of times, but I wasn't quite able to make it happen in the chicane. He seemed to have just enough better straight line speed."
Despite struggling with issues on and off the track this week, Richard Towler was able to bring his Dallara to a top five finish. "Considering what's been going on this week, I'm happy to take fifth," said the Englishman, post race.
I just spent the race saving fuel and making sure I finished; it wasn't the most interesting of races but I'll take the result."
Although Canada's Purdy looked comfortably set for a top five finish in the early stages of the race, a slow pit stop and subsequent on track 'moment' cost the Orion Racing Team member two spots by the time the chequered flag flew. "Pit-stops! bah I hate my pit crew…" explained Purdy. "I lost a place to Ilkka so instead of being fourth I was fifth again with Richard in sixth. After everything settled Ben was right in front of Ilkka. Trying to stay close I realized I had lots of understeer in the high speed sections, so I actually decided to hang back a bit which helped; I figured I'd let Ilkka put the pressure on. We were all running low 09's and I felt like I was cruising, so I was very happy with the car at this point. Unfortunately yet again the car bottomed under braking for the chicane. I never had that before… so I locked the front wheels. this time though I was too close to Ilkka so I had to go straight to not rear end him; went across the grass, got a slow down penalty which let Richard past."
Recovering from his incident with Cornett on the opening lap, Bartsch climbed back through the field to secure an eventual seventh place finish. The Frenchman, who had seen his front row qualifying all but nullified at the final chicane, had dropped to the cusp of the top ten, but consistent lapping for the remaining 49 circuits of Road Atlanta earned Bartsch valuable iDWCRR points. Finishing just two seconds behind Bartsch in the sister car, Team Redline's Dom Duhan found himself pipped to seventh by his team mate with just a handful of laps remaining. "My race started badly as I nearly boned Darren (Marsh) and had to slam on the brakes," said an upbeat Duhan. "I was passed immediately and down to twelfth.  I then battled and managed to get into seventh and thought I'm going to relax here as the other guys had great pace and were 10 seconds down the road. Around lap 40 Bastien came from nowhere and we had a great battle for the last 10 laps.  He managed to pip me at the post but it was enjoyable."
Collecting ninth and tenth respectively, Marsh and Dion Vergers put on a nose-to-tail display of racing, finishing the 50 laps race separated by just two tenths of a second. Australian Marsh had struggled throughout the week with set-up problems, but thankfully found some improvements before the green flag was waved. "I'm very happy with my qualifying lap and happy to get ninth after a super intense battle with firstly Jake, then Dion," said the Sydney-based sim-racer this week. "Lucky for me I got a quick pit stop and Dion had the same short sixth gear problem so he couldn't capitalize on his extra pace towards the end of the race."
Vergers, who occupied the Aussie's mirrors for the last 20 laps, had qualified in twelfth position and held the advantage over Marsh by the first round of pit stops; but the Benelux Club driver overshot his pit-box, yielding the spot in the process, though it didn't detract from Vergers' enjoyment. "That was a fun race, I just wish I would have performed just a bit better. Although going away from here while keeping fourth in the championship ain't bad at all. Really wonder how long that will last," he shared earnestly.
With eight victories to his name, Huttu now leads the iRacing Drivers World Championship Road Racing series by 149 points over Towler. Just 20 marks behind Towler, is Bartsch, who has a margin of over 100 points on Vergers in fourth. Fifth in the championship standings, and just 9 points away from Vergers, England's Duhan will be looking to continue his recent run of finishes to keep progressing.
Round Nine of the iDWCRR heads out to Mazda Raceway Laguna Seca. Will anybody be able to stop Huttu from being the only winner with half the season complete?
---
You may also like...
---