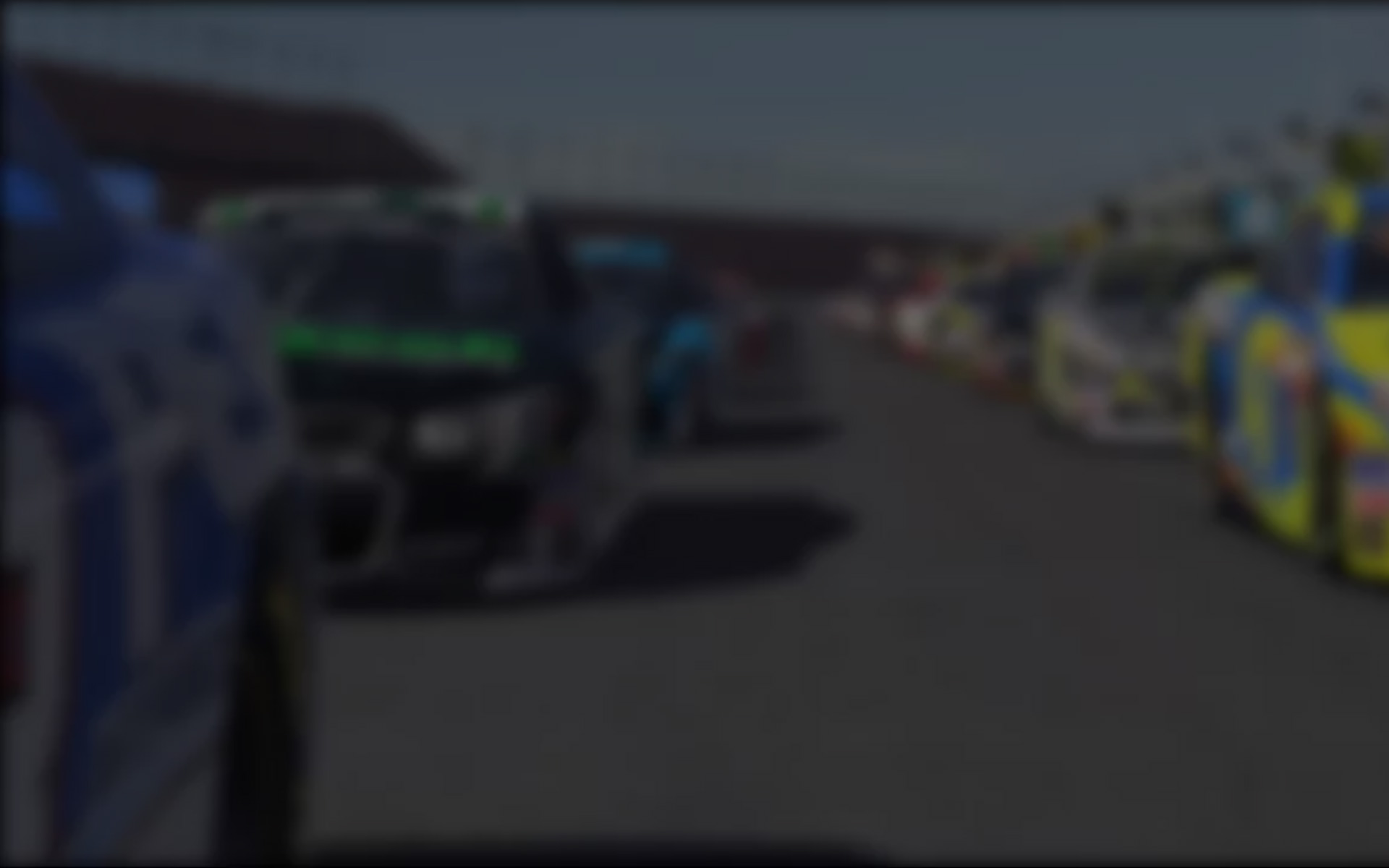 Greger Huttu made it four-for-four in iRacing Drivers World Championship competition with a flag-to-flag victory at Watkins Glen, coming home 21.6s clear of Ben Cornett with Luke McLean taking the final podium spot a half second adrift of Cornett.  The victory not only kept Huttu's virtually perfect iDWC record intact (the only laps he hasn't led came during a pit stop shuffle at Zandvoort), he headed a 1-2-3 sweep for Team Redline.
But if the race appears to have been a walk in the park for Huttu, remember appearances can be deceiving.  Destined to finish fourth, Richard Towler made Huttu work-up a sweat with a two stop strategy that saw the Englishman apply serious pressure to the leader at mid-race.   What's more, the single-stopping Huttu actually made a couple of mistakes at the Glen.  Not only did he spin in qualifying, the iDWC leader showed his human side when he nerfed the wall on Lap 33 after stumbling over Andrea Baldi's lapped Dallara.
"I had one scary moment with Andrea in the left hander after the Carousel," Huttu said.  "I was planning on passing him on the following straights and was surprised when he slowed down more than I had thought. I locked up the LF and ran into the back of him.
For a while I thought I had lost the race because I hit the wall slightly too. The damage wasn't bad though. In the end it was my fault, I should have braked earlier so I'm sorry for that Andrea."
Huttu shook-off that fright, quickly came to grips with the resulting tweaked front wing and continued on his merry way to his second home, the top spot of the sim racing podium.
With Towler falling away after his second pit stop, Cornett and McLean were left to complete the Redline podium sweep.  The Aussies had qualified sixth and fourth respectively and, after fifth starter Dom Duhan planted his car in the Bus Stop sand trap on the opening lap, ran fourth and fifth behind Huttu, Towler and third qualifier Bastien Bartsch.
As Huttu was conserving fuel as part of his one stop strategy, Towler – who had been unable to make good mileage in practice and qualifying – remained within a couple of seconds of the lead with Bartsch slipping back by about a half a second a lap.  When Towler peeled-off for his first pit stop on Lap 16, Bartsch moved-up to a temporary P2 – temporary as he abruptly disconnected after a wholesale Team Redline pit stop at Lap 21.   Nor was the Frenchman alone in suffering some misfortune:  Regular front-runner Shawn Purdy was a Watkins no-show thanks to a power interruption and now McLean ran shy of fuel while preparing to pit.
"Luke had pulled away initially, however towards the end of stint one I calculated that I had saved enough fuel so started to push," Cornett said. "On Lap 20, Luke ran out of fuel and started to sputter. This resulted in him entering the pits very slowly, allowing me to catch-up massively from about six seconds behind, to right behind. In the pits I hit my marks and got out in front of Luke."
Having run at a rapid pace on fresh tires and a light fuel load after his first stop, Towler latched-on to Huttu's gearbox when he exited the pits.  Over the next ten laps Towler harried the leader, jinking out as if to pass on the approach to the Bus Stop on a couple of occasions but always falling back in to line, his maneuvers more of a distraction to Huttu than a serious bid for the lead.
After the first stop I was all over Greger after making a quick change on what fuel I was going to run the second stint," Towler said. "But (I) was losing too much time in the final two corners even with a lighter car."
Entertaining as the lead dice may have been, it was somewhat illusory as Towler was locked-in to a two stop strategy.  The time to pay the (fuel) piper ultimately arrived on Lap 32, with Towler diving into the pits for eight laps worth of virtual ethanol, promoting Cornett and McLean to a distant second and third.
Towler resumed in fourth, within striking distance of Cornett and McLean but well clear of Ryan Murray and a heated scrap for sixth featuring Matt Sentell, James Andrew and Bryan Heitkotter.  Murray had driven splendidly in recovering from an early incident that saw him collect a wayward Derek Wood exiting the Boot on Lap Eight.
"I was racing (Derek) as close as I could to try and make a pass whenever he possibly bobbled," Murray explained, "except that he bobbled in the corner I hate the most at this track and I had nowhere to go but into his car.
"The initial impact seemed small and inconsequential, but the secondary hit, when his car rolled into mine, slammed my RR wheel into the outer barrier . . .  The damage slowed me down about three to four tenths, so I just settled-in behind Tim Holgate until he spun coming into the final corner, and I tried to hold off my other two teammates in Bryan Heitkotter and Matt Sentell."
Perhaps as a result of his slightly slower than expected pace, Murray saw his chance to make it to the finish on just one stop and went for it, running to the checkered flag on fumes alone.  In contrast, Sentell and Heitkotter both made second stops in the closing laps, with single-stopper Andrew splitting the two Podium Assault teammates en route to a seventh place finish while Dion Vergers and Gerd Hoefferer rounded-out the top ten ahead of Ray Alfalla, the final driver on the lead lap.
Huttu thus crossed the line after scoring another decisive victory, with his remaining teammates coming home just ahead of Towler.  The results leave Huttu firmly in the iDWC lead with Towler consolidating his runner-up position ahead of Bartsch, Darren Marsh (who disconnected after a Lap Two incident) and Purdy.   The next chance for Towler — and everyone else — to spoil Huttu's perfect season, comes at Road America in two weeks time.
---
You may also like...
---