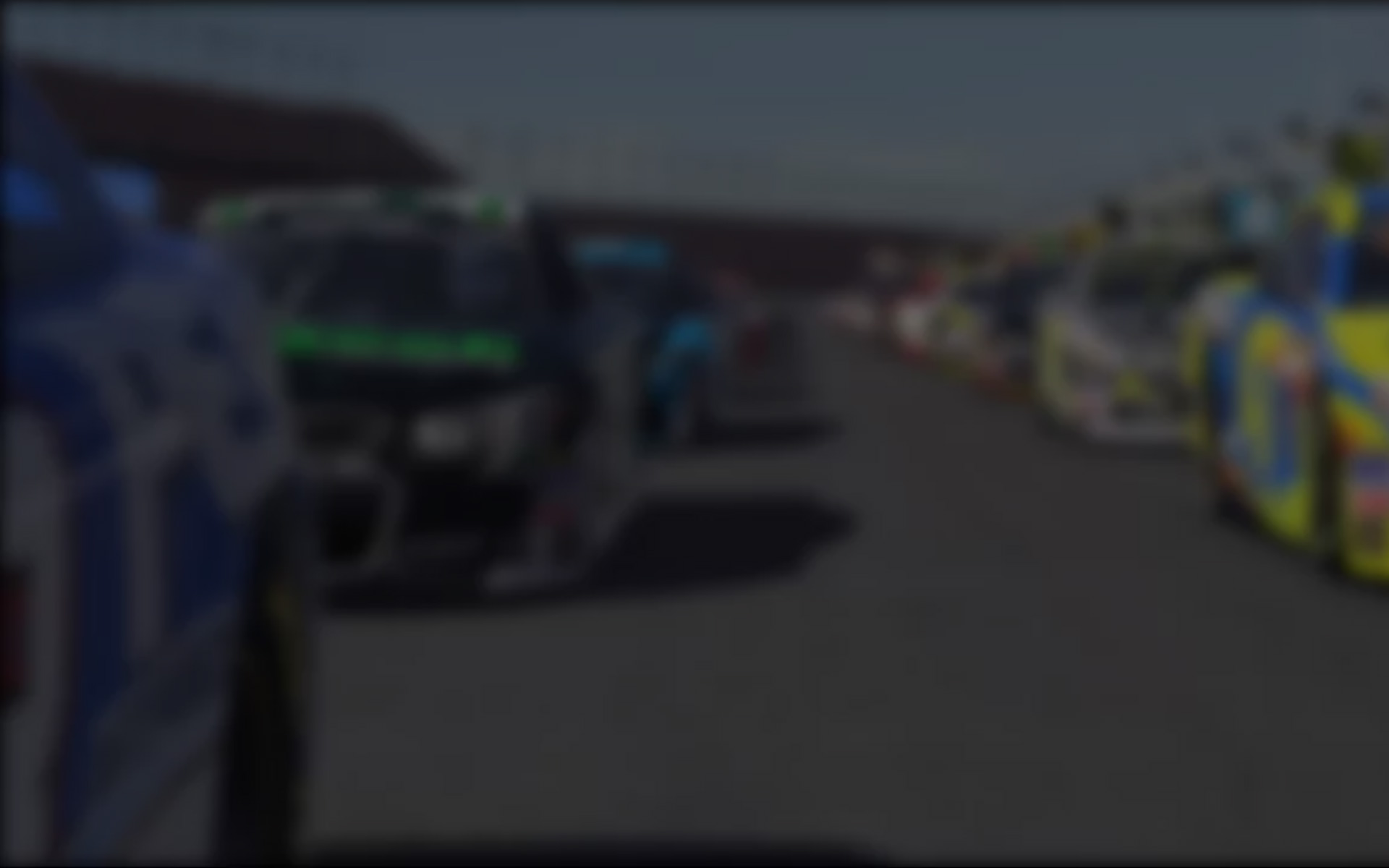 On first glance the Homestead-Miami Road Course B looks fairly straightforward.  And it is, with drivers only needing to use the brake pedal five times in a lap.  But it found many ways to catch drivers out this week and provided some very exciting racing.  Greger Huttu, Bastien Bartsch and Ilkka Haapala again were notably absent and are sliding backwards through the points. Is this supreme confidence? Only time will tell.
This time last week I was complaining about having little to write. The complaint will be the exact opposite this week as the action was non-stop from the very start to the very finish . . .
Lap One of Thursday's race saw Peter Read beat fellow front row starter and pole-sitter Shawn Purdy into Turns One and Two. Andrew Kristensen made second row-sitters Darren Marsh and Dion Vergers look pedestrian by moving from fifth on the grid to third as the rest of the field got through the first series of turns without much incident. That changed at Turn Six when Matt Huston got wheels on the grass on exit and spun into the side of Luca Ceretti whose race was consequently over. Moments later Marsh made a move underneath Kristensen in the same turn but spun, dropping him to fourteenth.
"I went a fraction too short with my first gear and it caught me out twice," said Marsh later. "I got away OK, only losing one place and had a run going into Turn Six to get the spot back, but down shifted too early and spun. Luckily I did a 180 and was able to reverse out of the way before the following cars caught up."
Lap Five saw Ian Lake spin on the inside curbing of Turn Four whilst probing Vergers, who himself was probing  Kristensen,all this allowing Florian Godard past for fifth position.
Purdy had been pressuring Read from the very outset and on Lap 14 he jumped into a slight gap left by Read into Turn Three, taking the lead as they exited Turn Four.
"I knew I was faster but it was so hard to pass here.  I finally got really close exiting Turn Two on Lap 14, and barely had my nose inside into Three, but I went in deep, knowing Peter would leave me room," Purdy laughed. "He probably could have chopped me off because I didn't really have a clean pass. But after that I started to lay down some laps and got to over a six second lead on Peter, but his PC froze so that was it."
Read remarked, "I knew he (Purdy) was quicker, so once he had a look I knew he was going to be committed and he would make the pass. After that, my PC froze."
Florian Godard's car seemed to be loose all day and it was therefore no surprise to see him get sideways on Lap 20 coming off Turn Six where the recovering Marsh was able to get alongside, then completely in front as they exited Turn Seven. Four laps later, Kristensen ran wide onto the grass off Turn Two allowing Marsh to move all the way back up to fourth after completing the first lap in 14th.  Indeed, his sights were now set on Vergers in third place just a little further ahead.
Lap 26 spelled tragedy for Read whose computer gave out, robbing him of a certain second place finish.  The next lap saw Godard get under Kristensen into Turn Three to take what was now fourth place. Then Marsh spun coming off  Turn Eight on Lap 29, falling to sixth as Marc Payne moved into fifth. Lap 34 saw Godard get wide through Turn Three allowing Kristensen past around the outside through Turn Four.  Then, a few laps later Darren "yo-yo" Marsh got Turn Eight just right, slingshotting past Payne down the following straight to put him back up into fifth.
But the fun had only just begun.  And Marsh was in the thick of it again as Godard got loose off Four on Lap 44, allowing the Australian to get alongside.  The two remained side-by-side all the way to Turn Eight where Marsh out- braked Godard for the inside line, but then inexplicably baulked coming off the corner allowing Godard back past! This ding-dong battle continued into Lap 50 when Godard again out of shape off Turn Three, this time with Marsh getting into his side. As they exitedTurn Eight for the run to the chequered flag, it appeared Marsh would finish behind Godard.   But this race was determined to continue the day's entertainment. Coming-off the banking approaching the finish line, Godard came down onto the apron and spun just short of the line, handing the hard-fought place back to Marsh.
"I had a close fight with Darren Marsh for the fourth spot," said Godard.  "Awesome side-by-sides! In the last lap, I lost control a little and hurt his car. I did anything to stay in front of him and after this contact, I would like to let him pass in the last corner.  I thought it was fair. And I know he has a good position in the series, whereas my goal is only to reach the bubble ( i.e. the top 50 – Ed). Unfortunately I hit the apron and spun, and lost five places in the last corner! That was a very fun race though."
So what is normally considered the "Aussie" race with many Aussies in the Top Five turned out to be a very ordinary showing for them.
Final Standings:  First – Shawn Purdy (CA), Second – Dion Vergers (NL),  Third – Andrew Kristensen (US), Fourth – Darren Marsh (AU), Fifth – Marc Payne (US).   Fast lap – Shawn Purdy – 1:11.092
So how could Saturday's race possibly match the drama of Thursday's? Easily, that's how! This race saw the duel of the season between Britain's Richard Towler and Australia's Luke McLean, two serious contenders for the Pro Series and indeed iRacing Drivers Word Championship crowns.
Towler got away to a mediocre start from pole position, being passed by McLean and Artur Turcu off the line. Matteo Calestani got a great start moving from eleventh on the grid to seventh, but it all came apart for him into Turn Eight when Ryan Kowalewski got into his side, triggering a chain reaction that saw John Gorlinsky run into the back of Kowalewski and into the front left of the spinning Calestani as he went by.
Lap Five saw Towler get a good run off Turn Six and consequently out-brake Turcu into Turn Eight for second spot with Jason Lisner and Florian Godard battling hard just behind. By Lap Nine Towler was right behind McLean and, on Lap 13, he got another good run off Six to pull alongside McLean approaching Turn Eight.  McLean, however, held the position, matching Towler's braking and having the advantage of the inside running. The protagonists repeated the same maneuvers on Lap 46, this after Towler had forced McLean off track a few laps earlier, then waited for his rival to rejoin before allowing him back past.
Lap 48 would prove decisive as McLean got a little wide through Turn Three giving Towler the opportunity he'd been sweating on for 40 laps.  After the twosome entered Turn Four side-by-side, Towler got a perfect run off the outside of the corner as McLean — on the inside – got a little loose, lost drive and surrendered the lead.
"He caught me out in Turn One late in the race as I seemed to be way faster there and I ran into him forcing him off the track," Towler related.  "But I waited for him to rejoin and gave the position back, just wouldn't have been the right thing to win like that.
"So the race was back on and Luke made a tiny mistake in Turn Two with three to go and that was my chance, so I took it. Was a bit worried about traffic at the end but managed to catch just at the right time into the hairpin on the last lap."
"I was really slow in first gear in Turn One and Turn Two," said McLean. "I could have gone a different way with the setup which would have made me a lot more comfortable in the first sector, but instead I went for more top speed which helped me a lot in the last two sectors. Fun stuff!"
Nature found its balance in the end with the top six drivers finishing where they started, helped by a series of incidents in the battle for fourth that saw Lisner run wide through Turn Two allowing Godard past on Lap 23, only for the Frenchman to spin exiting Turn Three on Lap 41, gifting the spot back to Lisner.
Final Standings:  First – Richard Towler (GB),  Second – Luke McLean (AU), Third – Artur Turcu (PL),  Fourth – Jason Lisner (US), Fifth – Florian Godard (FR).   Fast lap – Luke McLean – 1:11.162
Sunday's first race was a case of mixed fortunes for the top and bottom half of the field. Pole sitter Dom Duhan got away cleanly but the other man on the front row, Brian McDaniel, was passed by George Sandman into the first turn, as was Richard Crozier by Brian Heitkotter while Mauro Bisceglie held firm in 4th.
However, Crozier got what would turn out to be a race-long battle with Heitkotter off to a great start  by getting under him into Turn Two and completing a very skillful pass coming off Turn Four. Further back, about a half dozen cars did not make it to Turn One as planned after a concertina effect lead to a few spins and some cars taking minor damage.
Up front, however, Duhan encountered no such problems and drove to a well-judged win.
"I got a great start after starting on pole and managed to get a clean run into Turn One," he said. "I saw George passed Brian and that helped me establish a lead of around six seconds when Brian passed George back. From there my plan was to pace Brian and keep him more than five second away, luckily the strategy worked and Brian got caught up with traffic. My tyres were good at the end and I'm pleased with a clean consistent run."
Matters weren't quite so serene a little further behind the leader . .
Lap Seven saw Bisceglie spin going through Turn Two dropping him two places to sixth.  Later that lap McDaniel got a good run exiting Turn Eight, drafted Sandman and got underneath him into Turn One for the runner-up spot.
"I started second next to Dom, but had a terrible start and lost a spot to George going into Turn One," said McDaniel. "George did an awesome job under pressure, and didn't make any mistakes. no matter how hard I tried to force an error from him. I was finally able to get a run on him at the end of Lap Seven, and passed him into Turn One to start Lap Eight. At that point, Dom was about six seconds ahead, so I knew I'd either need a mistake from him, or a lot of luck in traffic. Unfortunately for me, I didn't get either and Dom drove a perfect race. Congrats to Dom and George!"
By mid-race Crozier had begun applying pressure to Sandman, only to perform the odd feat of spinning clockwise under braking into the counter-clockwise Turn Eight on Lap 21, allowing Heitkotter past again. Crozier would claw his way back to the back of Heitkotter and, on lap 48,  got under him into Turn Three.  The two stayed side-by-side into Turn Four where contact ensued but, no matter, they remained side-by-side all the way through Turns Five and Six. Ultimately, Crozier got the better run around the outside of Turn Six and finally completed a brilliant pass on Heitkotter exiting Turn Seven. This was truly "Pro Series" racing!
"Crozier and I were pushing each other hard, neither giving up or making mistakes,"said Heitkotter.  "On Lap 48, I made my one mistake of the race and had a moment entering Turn Two sideways. I recovered the car but Richard pounced on the inside. We ran side-by-side, door-to-door through Turns Three, Four, Five and Six before he pulled ahead coming off of Six where I had been struggling to put the power down all race long. Great racing, tough and clean."
Final Standings:  First – Dom Duhan (GB), Second – Brian McDaniel (US), Third – George Sandman (US), Fourth – Richard Crozier (GB), Fifth – Brian Heitkotter (US).   Fast lap – Brian McDaniel – 1:11.357
Sunday's second race saw Matteo Calestani jump from eighth on the grid to third place after Turn Two, with David Sirois and Paul Richards also getting past John Prather. Pole-sitter Ray Alfalla was also beaten to the first corners by Ben Cornett, whilst further back Luca Ceretti attempted to put his car into space that simply was not there and instead ran into Ales Simunek as they went through Turn One, Simunek's day being over, as was Ceretti's a few laps later.
Lap Two saw Prather keen to get some positions back as he ran into the back of Richards into Turn Two but luckily both escaped unharmed. After a few laps of relative calm, Sirois passd Calestani into Turn One on Lap Six and, two rounds later, Prather afforded the same treatment to Richards. The rest of this race saw Cornett and Alfalla respond to each other all race long with Cornett really never challenged for the lead and a similar situation between Prather and Christian Aranha over the last 20 laps with Prather holding onto 5th place.
Final Standings:  First – Ben Cornett (AU),  Second – Ray Alfalla (US), Third – David Sirois (CA),  Fourth – Matteo Calestani (IT), Fifth – John Prather (US).   Fast lap – Ray Alfalla – 1:11.419
Best Qualification time for week – Richard Towler – 1:10.346
Best race lap for week – Shawn Purdy – 1:11.092
What an exhausting week of action with thankfully a slightly calmer race to finish this week off! Purdy now has a commanding 237 point lead in the series and can no doubt cruise the rest of the way and still make next year's iDWC comfortably. Will he be fresher than his rivals at that time? Australia's Chris Palmer is just inside the top 50 bubble with Ohio's Tim Holgate being just outside it for the second week in succession. It's a return to the ups and downs of Laguna Seca for the next round of competition in the iPSRR!
---
You may also like...
---