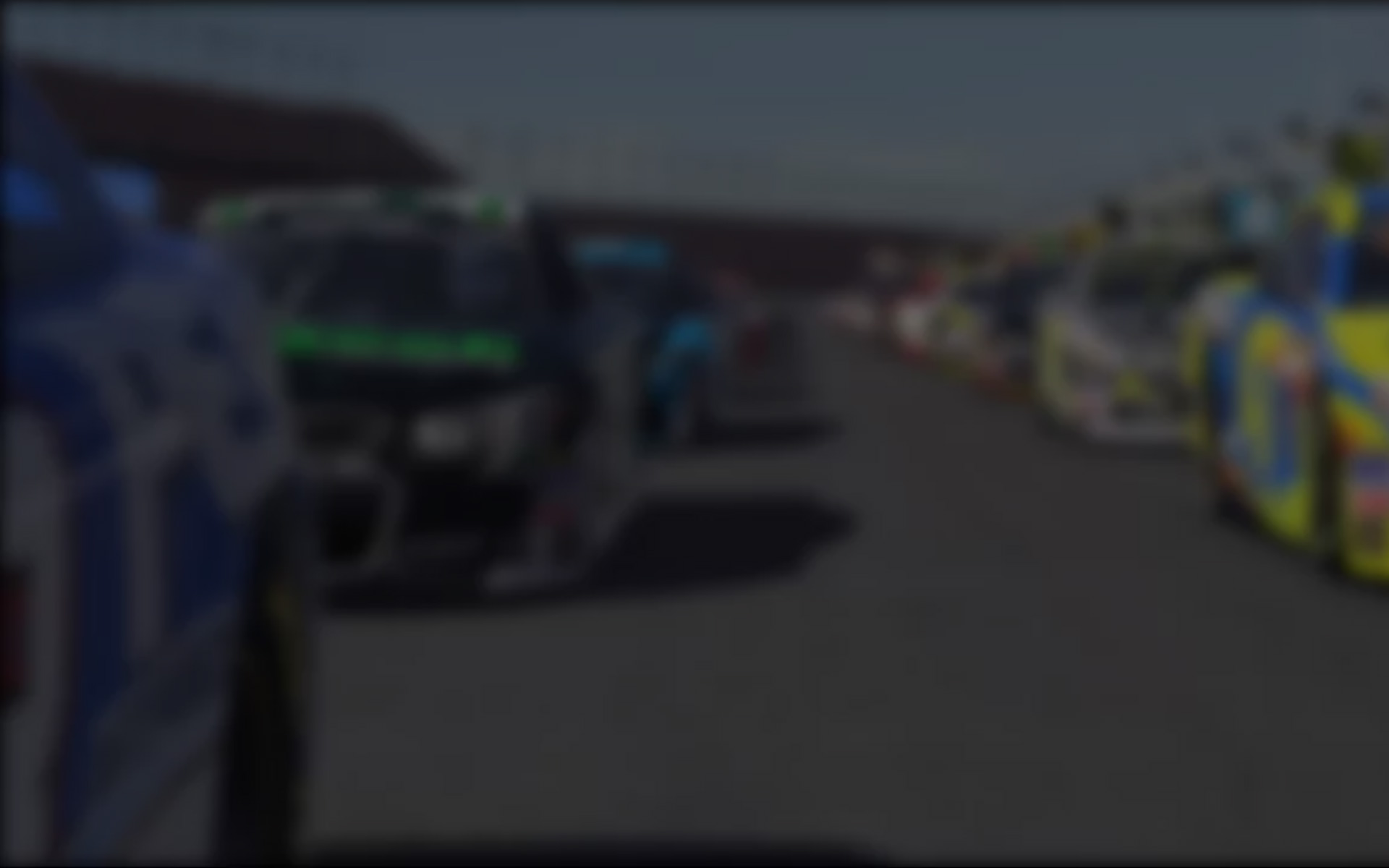 The last few weeks have seen a bit of debate over the worth of what have become known as "R-ovals," a track that is essentially an oval with some track laid within its infield. Love them or hate them, they have provided some good, close and intense racing. Drivers are also speaking about fatigue at this point of this 25 week series, many of them becoming very strategic over when to take their drop weeks and some, who have already amassed a healthy points tally, actually considering even more time off than that. This should make some of the racing over the final weeks very interesting as those on the bubble's edge scramble for positions deeper within that top 50 bubble.
Thursday Race
This race got away to a clean start at the front with only Dion Vergers losing his third position spot to Brian Heitkotter. Pole-sitter Peter Read and the other front row driver, Ian Lake, held position into Turn One as did Luke McLean back in fifth place. There was quite a bit of biff and barge further back seeing Tim Holgate's day end early and quite a few others sustain various amounts of damage, while Chris Palmer lost control under braking into the Esses, losing several positions on the opening lap.
Lap Five saw Luke McLean get a good run off Turn Eight (the last turn onto the oval section) placing  him inside and ahead of Vergers going into Turn One, but he unfortunately ran wide, getting onto the grass and then into the wall, ending his day. On Lap 27 Palmer, who had charged back up through the field after his first lap mishap, out braked John Prather into Turn Three for what was now fifth place. Palmer then caught Vergers with five laps to go, but Vergers drove well to hold onto fourth place.  The front three held station all race with the interval between them shrinking at the end but none really troubled the other.
"Man that was an awesome race," Read later commented.  "Bad luck to Luke and Richard, they were going along very nicely until bad luck struck them. Well, I screwed up the start, managed somehow to enter Turn One first, and from there Ian was putting huge pressure on me. Just was so lucky not to wreck."
"I was extremely happy to finish actually," said Lake. "I did not feel comfortable on this combo at all."
"Well I for one enjoyed myself!" said Heitkotter. "This track has its strong points, most notably the challenge of Turn One. The bump makes it extra fun. It's enough to get your attention, but not enough to throw the car off. Sighting the exit is an exercise in rhythm. The race was over too soon. My tires were still doing great at the end. Just as I caught the draft of the leaders it was over."
"I really regretted signing up for this race even before the green flag waved," offered McLean. "I had only done about 10 laps practice before qualifying started and it really cost me as this track is extremely bumpy and easy to spin. Grats to Peter for his first pro win!"
Final Standings: Read, Lake, Heitkotter, Vergers, Palmer. Fastlap: Palmer (1:12.144)
Saturday Race
This race saw the awesome front row pairing of Richard Towler and Greger Huttu, Towler being on pole. Towler, though, had a poor getaway and was passed by the second row of Luke McLean and Mauro Bisceglie into Turn One with Artur Turcu settling into fifth position from the third row of the starting grid.  A few turns later, Bisceglie strangely braked very cautiously into Turn Three allowing both Towler and Turcu underneath and ahead of him.
By Lap 16 Towler has caught McLean.  The pressure must have been telling as McLean, obviously desperate to get a good run off of Turn Eight, spun under power allowing Towler past. This battle was not quite over, however! Lap 26 saw Towler make an unlucky choice to go to the outside while lapping Enzo Lodi heading into Turn One, getting wide onto the grass and spinning. McLean was able to get by the recovering Towler exiting Turn Two but the glory was short lived as McLean got a little loose under braking into the next turn allowing Towler to make a brilliant pass inside to retake the position.
So that was that then? Not with these two! Lap 31 saw McLean retake Towler on the inside through Turn Eight after Towler was arguably overcautious in the face of McLean's efforts to out-brake him into that turn. Again, though, McLean's fortune would be short-lived.  On the following lap, in what must have been a complete loss of concentration, he lost control braking into Turn Three and was lucky not to hit the wall, again losing second place to Towler.
Lap 35 resulted in tragedy for Bisceglie, who got wheels off the track through Turn Two whilst in fourth position. It seemed like he would recover easily enough but he never got it back under control and ended-up in the ditch and tangled in the fence, ending his race. This moved Turcu into fourth, a position he had lost to Bisceglie on Lap 24 after a huge spin that spanned both Turns One and Two. Thus what had been a battle for sixth between Matteo Calestani, Tony LaGrene, Matt Sentell, Gerd Hoefferer and Tomas Kopnicky was now a five-way fight for fifth, with all of them being right together. Starting the last lap, LaGrene actually crossed the line ahead of Calestani but the Italian had the preferred line as they went through Turn One. Sentell attempted to out brake LaGrene into Turn Three on this last lap but lost the back end and spun into his rival, ending their hopes for that top five spot.
"The passing situation in these cars is just horrific," said an apologetic Sentell.  "I made my stupidest move all season and took out Tony LaGrene, who I really respect, just out of sheer frustration over the 'racing' situation we have in these cars. And I know a large part of it is because I've been racing the IndyCar so much."
"I was trying to get by Matteo who was blocking like crazy on the straights," said LaGrene, after accepting Sentell's apology. "The first time he cut over on me I freaked out a little as I didn't expect him to cut off my nose. Then lap after lap trying to get by him with him blocking and me not pushing the issue and putting us into a bad situation… I just decided to wait till the last lap. I had beat him to the line quite a few times and that really was my only hope …. I really wanted to just push him out of the way as my car was fast…. but… I didn't. Soooo we take the white flag and I'm as close as I need to be coming out of Turn One and Matt got a good run, but not enough that I figured he would try and make that pass… but he did. I gave as much room as possible while losing time to Matteo but Matt slid into me and took me out….. a possible top five gone."
All this time, Huttu had simply enjoyed driving away from all comers for a comfortable victory.
"It's great to win here but I still loathe this track, and the other r-ovals," said a candid Huttu. "I was happy with my qual, got another setup for it and made some changes during the session and improved my PB by 0.3s. It was the pole at that time but Rich went and improved a bit later on!
"I didn't feel too bad starting in second and this time the start was the opposite of Road Atlanta with Rich getting a slow start with a long first gear and dropping back to fourth. I tried to put in some fast laps in the beginning to get away a bit as I wasn't sure about my race pace. It worked pretty well and I got away from Luke after a while. Luke spun which gave Rich the second place at which point he was about 4.5 secs behind me I think. I knew I could lose around 0.1s per lap and still be fine at the end so I thought I'd be able to control that. Then Rich had his problem during lapping and the gap grew to over 10 secs so I was able to take it easy from there on. Only got 263 points for that win!"
"Well my race was lost at the start," offered a similarly candid Towler.  "2.5 seconds gone before the race even got to Turn Three/Four, which sucked. Than I was behind Luke but as it's almost impossible to pass in the DP; had to wait for a mistake and that's what happened.  Lost time as I avoided the spinning car which didn't help matters. Then (I) managed to get into a nice pace.  I think thought I had a chance to at least close the gap towards the end of the race as my car was pretty damn quick.  But Enzo braked in the middle of the track way too early for Turn One and I had to fly off the road to avoid a huge accident. So that was that, only entertaining thing after that was Luke forgetting to brake for Turn Three when we were side by side. Good win Greger."
"Initially I had really good pace and was keeping up with Greger," McLean said. "I nearly spun hitting the curbs in the twisty bits and lost all my rhythm. I stabilised a bit but then spun getting a bit too happy on the throttle. Rich had a problem with a back marker and got past him later but, as he said, (I) completely missed where I was meant to brake and flew off. So I gotta be happy with third after two spins."
Final Standings: Huttu, Towler, McLean, Turcu, Calestani.  Fast lap:  McLean (1:11.670)
Sunday Race
This race saw Richard Towler again on pole and again getting swamped off the line, falling all the way back to fifth position with Mauro Bisceglie taking the lead. From the second row Mark Drennan lost third position off the grid to Dom Duhan. The third row also saw contrasting fortunes with Derek Wood falling to ninth and Ryan Kowalewski making it all the way to second position. Great drives from Towler and Wood saw them recover to finish first and fourth respectively.
"Got an even worse start (than Saturday race) and fell back to fifth," said Towler. "I'd be faster pushing the thing off the line myself with the first gear I ran. But had some fun coming back through the field as the car was as rocket ship in a straight line.  I wasn't sure if I could get the lead though as Mauro was REALLY quick in twisty part before the straight, so I was only just catching him before the line.
"But I managed to pull off a pretty risky move to grab the lead and just focused on keeping it while the people behind tried their best not to get to the end of the race. Watching the replay looked pretty crazy at times."
Speaking of whom . . .
"After starting fourth and no interest in laying down a load of laps I am over the moon about finishing second!" said Duhan. "The race started well, Rich went backward as usual and I leapt into second place.  I nearly turned off the wrong exit on the left lol.  Anyway, Ryan did a great move down the inside and took second. After a few laps things settled and Rich was approaching fast, we had a good moment switching positions but it was only a matter of time until he got me:)
"I think slotted in behind Rich into fourth but had a mega snap moment in the chicane which took me over the grass for a black flag slow down poopenhowser. Mark D passed me and I only just stopped Christian from getting by too. After following Mark for a long time we came onto the oval and found Ryan had spun, Mark crashed into him and I managed an avoidance spin. Derek then came from nowhere and overtook us both. Derek was clearly damaged as I caught him quite quickly. He was great on the straights but awful in the corners, he got a bit loose into the hairpin and then I passed, the same happened to Mauro. Congrats to Rich for a great drive."
Having taken the lead at the start, Bisceglie stayed there until Lap 16 when Towler made his bold move to reclaim first spot, then later slipped back to third when Duhan took advantage of his slow exit from the hairpin.  Wood carved his way up to third while Kowalewski fell down the order to fifth and had his hands full keeping Andrea Baldi at bay, crossing the line a scant .011s ahead of his rival.
Final Standings: Towler, Duhan, Bisceglie, Wood,  Kowalewski. Fast lap: Towler (1:11.575)
Weekly Wrap Up
Qualification Fastlap of the week – Richard Towler – 1:10.895
Race Fast lap of the week – Richard Towler – 1:11.575
Australia's McLean now takes over as the Series leader by a margin of just 18 points from Canada's Shawn Purdy, who took the week off. England's Towler is a further 46 points back in third. Frenchman Florian Godard is just inside the top 50 bubble again this week with countryman Richard Bouchot being just outside. The series now moves to Summit Point Raceway where the racing should be very intense due to its challenging layout and shortish lap distance. Getting through the back markers will no doubt be key here for the leaders.
About the iPSRR – The iRacing Pro Series for Road Racing (iPSRR) is, in this inaugural year, a 25 week series with 6 drop races (i.e. a driver's best 19 results will count toward his season tally). In addition to crowning a seasonal champion, the iPSRR qualifies its top competitors for the 2010 iRacing Drivers World Championship for Road Racing which will be worth $10,000 in money and prizes for the champion. There is a parallel series for oval racing (the iRacing Pro Series Oval – iPSO). The top 50 drivers in each Pro series will compete in the iRacing Drivers World Championship Road Racing and iRacing Drivers World Championship Oval, the latter of which will be sanctioned by NASCAR. Both are set to start this February.
---
You may also like...
---