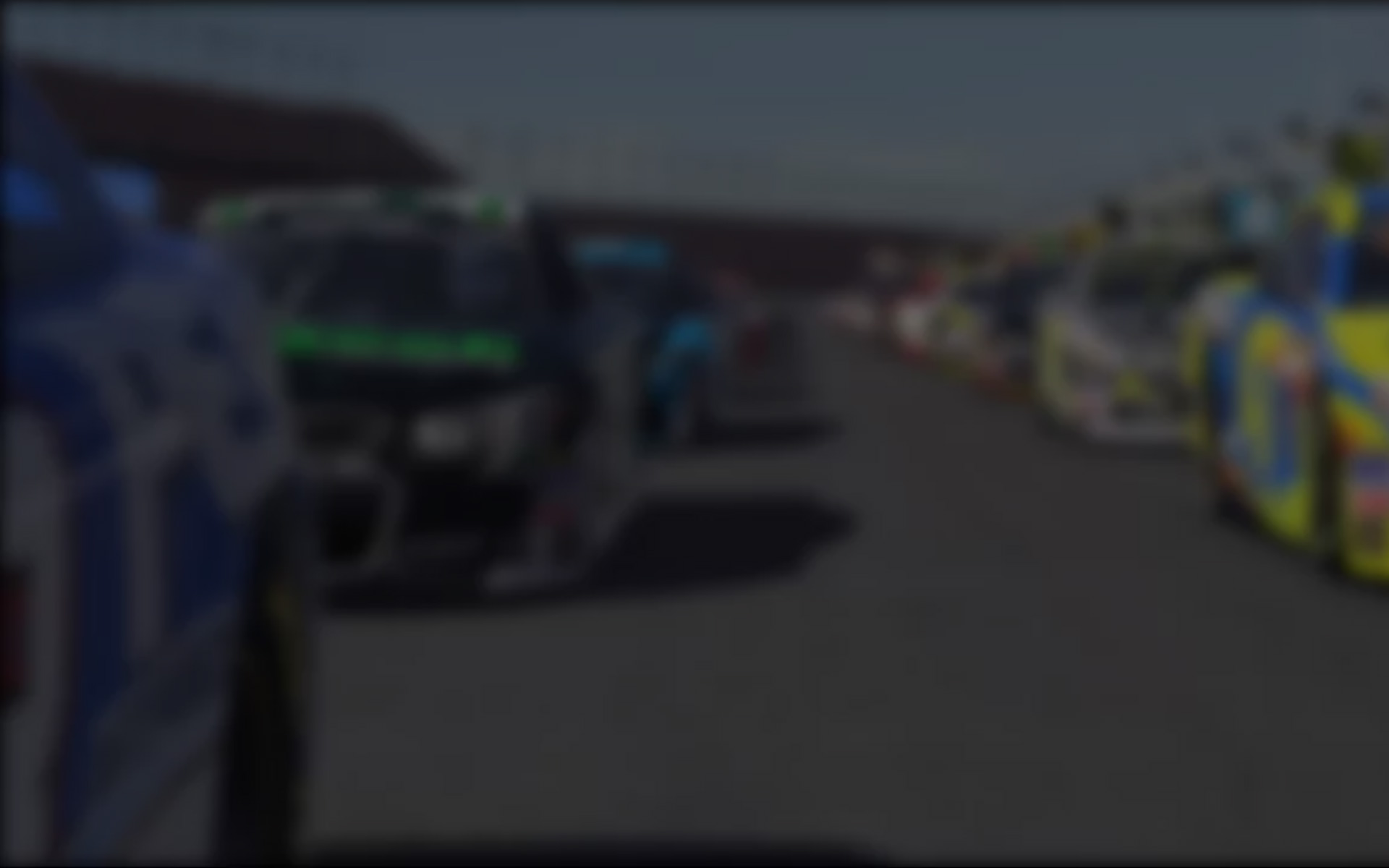 Fresh off an impressive victory at Brands Hatch, Darren Kersey arrived at Lime Rock Park with the same confidence that pushed him to back-to-back victories earlier in the Red Sox Racing League season.  Kersey did not disappoint the fans as he led thirteen drivers throughout the 55 lap test of online racing endurance known as the "Ohh the Pain Grand Prix."
Tucked into the edges of the scenic Housatonic State Forest in northern Connecticut, the Lime Rock Park road course is well known to both drivers and race fans around the world.  Spectacular viewing opportunities exist along the seven corner 1.53 mile layout.  Created in 1957, the track has hosted events for Formula cars, Can-Am, Camel GT, F5000, Trans-Am, Atlantic, ALMS, Grand-Am and NASCAR.  The track underwent a major overhaul in 2008 to add two configurations to the original design.
Lime Rock Park is also known to many as the home track of the prestigious Skip Barber Racing School.  Started by LRP owner/operator, John "Skip" Barber (winner of three SCCA National Championships in a row and consecutive Formula Ford National Championships in 1969 and 1970), the driving school currently operates on twenty different tracks in North America.  Alumni of the school include: A.J. Allmendinger, John and Michael Andretti, Seiji Ara, Jeff and Ward Burton, Helio Castroneves, Bill Elliott, Chip Ganassi, Jeff Gordon, Tony Kanaan, Arie Luyendyk Jr., Paul Newman, Juan Pablo Montoya, and Lyn St. James.  RSR's own Divina Galica served as a senior V.P. for the school before accepting her current position as iRacing.com's Director of Partner Relations.
The LRP event was the final race in the RSR league's 2010 Season Two schedule.  Les Turner entered the race with a slim lead over Ed Sutcliff in the overall championship point race, but Kersey had all the momentum coming into the race.  Turner led pre-race practice with a fast lap of 46.898, but Kersey earned the pole with an incredible qualifying time of 46.767.
Scott Husted (46.999) started in second position, followed by Ed Sutcliff (47.118), Les Turner (47.173), Jeff Thomas (47.351), Michael Baley (47.509), Wilbur Gildersleeve Jr. (47.855), Bill Hadden (48.001), Bill Pawluckie (48.243), Robert Latuga (48.468), Kevin Kyle (48.571), David Pyner (50.416), and Albert E. Glover (51.080).
A huge double apex corner, blind uphill and downhill transitions, and significant elevation changes, create several dangerous areas for drivers at LRP.  Luckily, most of the RSR drivers were familiar with the track and opted to use good judgment in the initial stages of the event.  Close racing between the second, third, and fourth place cars gave fans plenty to cheer about as Kersey quickly put distance between himself at the rest of the field.  Fifth through eighth places were also hotly contested for most of the race.
Turner's effort to increase his points lead in the championship race took a hit when he was forced to pit once again with electrical problems on Lap Seven.  Showing the true grit that helped him win last season's championship, Les never gave up on his crew as he patiently waited for them to repair his car.  He eventually rejoined the race on Lap 17 and made up enough positions to finish the event in 10th place.
Hard driving and lapped traffic eventually forced several drivers out of the event.  Pyner retired after 17 laps to finish in 13th place.  Gildersleeve, who had been running in sixth place, and the second place car of Scott Husted, were the next victims.  Husted's car suffered damage after hard contact with a lapped vehicle at the top of The Uphill.  Sutcliff just missed the slowing cars, but suffered a phantom 4x incident penalty as he drove past them.  Gildersleeve appeared to have avoided danger, but was heavily damaged when the same lapped car lost control and came back across the track after driving through the infield grass on the Downhill Turn.
Things settled down again after the Lap 20 excitement.  Kersey continued to thrill the fans with his domination of the field as he eventually built enough of a lead over the 2nd place car of Baley to keep first place after a mishap entering Turn One on lap 48.  Darren led every lap of the race and crossed the line with a seven second margin of victory over Baley.  He was swarmed by adoring fans in victory lane, but managed to make the following comments during his post-race interview;
First off, I would like to congratulate Les for his incredible second championship in a row.  He deserves it, and he proved why again tonight.
Yet another electrical problem and he went into the pits, repaired it, and then came back out to finish the race.  That's a champion's determination."
"Secondly, I was really worried about my spotter this week.  After a few phone calls, I finally found out where he was.  He was in Tibet with the monks!  I guess I have to blame myself for that one.  I went to Tibet to get my head back into racing this season after a dismal start.  They helped me center myself and put my personal problems in perspective.  However, it sure would have been nice of him to wait until AFTER the final race of the season to take off for the mountains!"
Asked about his knowledge of the tricky track, Kersey replied; "A lot of us cut our teeth at Lime Rock Park, so it was a fitting and appropriate ending point for our season. The race took its toll on a lot of good drivers.  These cars have enough HP to be able to go airborne on the uphill, so timing there is crucial.  My problem area was Turn One.  Both my right foot and my left foot decided they needed to be down on the pedals at the same time . . . only that doesn't work too well there!"
"Thanks to all for the fun racing this season and thanks especially to John Henry for putting this league together for us.  I hope to see everybody back next season!"
Baley crossed the line in second place after making impressive passes from his sixth place starting position.  "I decided to work on consistency rather than speed during the practice and qualifying session, so the mid-pack starting position was not a surprise.  The first couple of laps here are always tenuous, but I quickly realized I was competitive, so I decided to settle into 3rd place to watch Scott and Ed "play" in front of me.  They were very entertaining!"
"My crew set the car up perfectly tonight, so I became more and more confident as the race progressed.  Other than a couple of scary passes of lapped traffic, the event went about as smoothly as I could have hoped for."
"Once I passed Ed, which gave me pause as he is always so very strong, I simply tried to keep Scott in sight, thinking maybe if he has an 'off' I would be in pretty good shape.  Scott and I have had some very good battles this season.  I expected this race to be no different. I was quite surprised and disappointed when we discovered he had been forced to park after a shunt with another driver. He had a great car tonight, and that was no way for his season to have ended.  I really felt bad for him.
"I had no hopes of catching Darren though.  He is always a tough competitor. My challenge the remainder of the race was to keep Ed behind me.  When my spotter told me Darren's lead had been cut to eight seconds after his mishap, I had a momentary hope I could reel him in.  It wasn't to be however.  We both ran consistently to the end, as did Sutcliff.
I am extremely proud of my crew and the opportunity they gave me each and every race this season. We have had several opportunities for good finishes, and have been competitive in almost every race this season.
"The first race at Zandvoort showed our potential, but we also had some bad luck along the way. We have high hopes going into next season.  Congratulations to Les for a well earned championship. He pretty much ran a clinic all season. I would also like to give a thumbs-up to both Darren Kersey and Ed Sutcliff for their racing prowess. I learned a great deal from all of these gentlemen this season."
Third place finisher Sutcliff was three seconds behind Baley at the line.  He was pleased with the finish.  "This season has been my best string of races ever.  We had two wins, two second place finishes, three third place finishes, and one fourth place finish, in the eight races which scored points towards the overall championship. If someone had told me this time last year that I could pull off those kinds of stats on road courses, I would have laughed at them!"
"Congratulations to Darren for his fourth victory of the season.  He dominated us again tonight.  Something tells me he will be giving Les a real run for his money in next season's championship."
"Turner deserves the championship.  Six wins in eight scoring events tells the tale.  He was almost unstoppable this season.  I've learned an awful lot racing with him and using his setups, so hopefully I will be able to keep pace with him again next season."
Jeff Thomas had an eventful night starting in fifth before falling back to eighth, then climbing his way back into fourth position at the end.  He crossed the line a full six seconds ahead of fifth place finisher Hadden. "We had a great time racing with everyone this season.
Congratulations to Les and all the rest of Teamdraft for doing such an awesome job.  We are looking forward to seeing everyone again next season."
Kyle earned the "Hard Charger" award by finishing in sixth place from 11th on the grid.  Kevin grabbed the spot when Latuga spun out exiting the Esses in the final laps of the race.  Latuga was able to recover in time to secure a seventh place finish after a close encounter with the shark fin out in the boondocks.  Pawluckie crossed the line in eighth place.  Glover finished in ninth place.  Turner fought back to earn the final top-10 position and secure the Season Two Championship.
When reporters finally caught up with Turner at Teamdraft's hauler after the race, they had to take cover. It seems that Les had a huge cooler full of Bud Lights, and was busy spraying anyone who dared to venture within striking distance.
Wow, back to back championships! What a great season we had."
After wiping his brow, and knocking back a couple more bubblies, he continued. "It's a good thing we had such a great start to the season, or we would have never overcome the electrical problems we encountered in the second half. Thanks to Teamdraft for giving me such an awesome car every week. Congratulations to Darren for his win tonight, as well as Ed and Jeff for second and third place in the championship, and thanks to all of the RSR drivers for a great season of racing."
Most RSR drivers are taking a well earned vacation before Season Three of the 2010 schedule begins.  Check out the league's website http://rsrleague.net for additional information.
JT's Video Recap – http://www.youtube.com/watch?v=8U6EK9MMerY
---
You may also like...
---