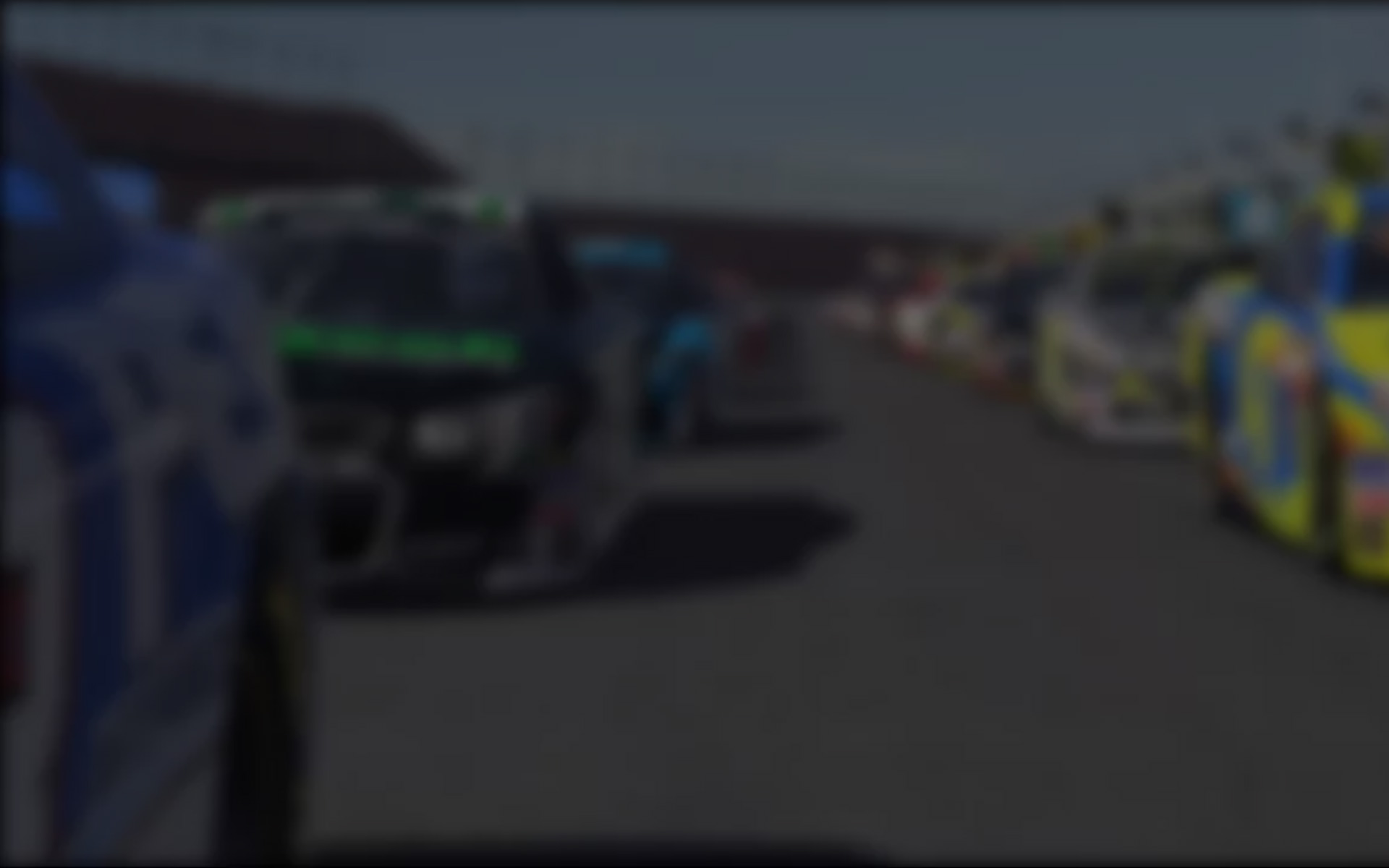 Darren Kersey, a past champion of the Red Sox Racing league, arrived at Road Atlanta with a chip on his shoulder.  Early successes in the Season 3 schedule had him riding high in the points battle, but a missed online race (Homestead), and back to back poor finishes (17th at Mosport and 23rd in Las Vegas), saw the proud Midwestern sim racer falling out of contention as newcomers to the league secured a choke hold on the top spots.
Kersey's goal in Georgia: Remind RSR drivers he still had enough talent to challenge for the win each week.  The humble but determined driver did just that as he took advantage of a late race mistake by Les Turner to take the lead and the win.  The Atlanta victory vaulted Kersey up two spots in the season championship race, and back into contention for the point title.
Road Atlanta is a one of the most dangerous and challenging courses in North America.  The 2.54 mile full course configuration contains 12 corners which lull drivers into pushing the limits of their equipment and abilities.  With new corners coming at them as quickly as they can get back on the gas, drivers often get into trouble at Road Atlanta by moving their focus too far ahead and forgetting about the immediate challenge.
19 drivers made the trip to Braselton, Georgia to participate in the 33 lap "Petite Le Mans of Atlanta Grand Prix."  Pre-race practice illustrated the depth of talent in the league as several drivers bested the 1:20 mark, and most of the field was under the 1:22 mark.  Those speeds improved in qualifying.  Reed Rundell earned the pole with a lap time of 1:19.134.  Starting on the outside of row one with a qualifying time of 1:19.383 was Gary Jorgensen.
Rows two through five consisted of Tommy Rhyne (1:19.385), Terry McCuin (1:19.411), Darren Kersey (1:19.618), Les Turner (1:19.648), Ed Sutcliff (1:20.061), Bill Hadden (1:20.424), Jim Albertson (1:20.805), and Jeff Thomas (1:21.258).  Andrew Feldman, Divina Galica, Scott Husted, Mark Plank, William Kabela, Bill Pawluckie, Robert Latuga, Dennis Heaney, and Kevin Kyle completed the starting grid.
The racing action looked to be clean as drivers gave a lot of room on the start, but Jorgensen took himself out of contention early when he spun in Turn Five.  The rest of the field managed to get by without incident, and  Jorgensen clawed his way back up to 12th place before retiring on Lap 23.
Rundell held the lead through the first half of the race, but was never able to get away from Rhyne or Turner.  Turner kept pace lap after lap, eventually taking the lead when Reed and Tommy got together in Turn 10 on Lap 17.  Rundell's return to the race was hampered by a poor performance by his pit crew, but the determined driver still managed to post the quickest lap of the race when he laid down an impressive lap time of 1:19.887 on the last lap.
"After a week of nothing but turmoil and frustration, Thursday night was a welcome sight," Rundell said.   "I was really looking forward to the chance to race at this beautiful venue with an incredible group of drivers!"
"My main goal during practice was to get reacquainted with the track in these cars," he continued.  "I had raced here the night before in a Mazda MX5, and had a great race.
Be smooth and hit your marks consistently is an understatement here!"
Many drivers found it almost impossible to match their practice times once qualifying got underway.  Rundell was one of them.  "Everyone taking to the track simultaneously makes for a very interesting qualifying session,"  he observed.  Half way through the session Reed was topping the charts with a 1:29.366.  He would make two more attempts to best his qualifying effort, lowering it to 1:29.134 on Lap 13.  The effort secured the pole.  "We couldn't be more thrilled with back to back poles," said an excited Rundell, who put the pole to good use by jumping into the lead at the start even as Jorgensen made an early bobble.
"Gary was right beside me going into Turn 1, but I was just able to clear him as we got to the top of the hill." he said. "I got the lead and a clear track thru the Esses.  After Gary spun off in Turn 5, I tried hard to hit my marks, stay smooth and mow down some decent laps."
The early laps were fairly uneventful for the leaders.  Rundell kept a two second gap between himself and Rhyne, while Turner and McCuin had their own battle going several seconds back.
Unfortunately, the narrow width of the track makes passing slower traffic a dangerous proposition.  RSR drivers are known as a very safe bunch, but even the most skilled drivers had a hard time getting past the slower cars.  Rundell and company were no exception.
"As we started to approach lapped traffic, I knew timing was going to be everything," said Rundell.  "By Lap 16 I had caught Gary Jorgensen and Robert Latuga racing for position.  I didn't have enough momentum to get by them on the backstretch, so I settled in behind them hoping to get a run on the front straight.  They were racing hard, and my advantage over Tommy was disappearing quickly.  It would not be long before he was right on my gearbox."
Rhyne used the opportunity to attempt a pass down the hill into Turn 10.  Rundell gave room inside, but Rhyne's car twitched just enough to cause contact with the leader's left rear tire, damaging the Dupont Mazda's  suspension  and forcing Reed to pit.  He came out with a car still capable of making it into the top-10, but the night was ruined when he hit the front end of Jeff Thomas' car as it spun in Turn 5.  "I thought I could get past his car without contact, very sorry to JT for the damage," explained Rundell who ended-up a lap down to the field in 14th place.
Turner and Kersey took advantage of Rundell's misfortune to move into the top spots at the halfway point.  Turner looked smooth and fast as he appeared ready to lock up his third RSR victory in a row.  Kersey, however, had other plans.  He kept pace with the Canadian, and then took full advantage of a late mistake by Turner in Turn Five.  Les had a comfortable lead over Darren until that point, but was forced to watch helplessly as Kersey motored past into the lead with less than four laps to go.
"The team has been working really hard to get me back in a position to challenge for the points race,"said a happy Kersey.  "Tonight was a big step in the right direction.  I'd like to thank everyone that came out to support us at Atlanta."
Rhyne crossed the line in third place, just ahead of Hadden and Sutcliff.  "We got a little damage in that incident with Rundell," said Rhyne.  "I had been pushing him pretty hard as we caught the lappers, but he did not force the issue.  My car wasn't the same after we touched though, so I am very happy to have finished on the podium."
Hadden was also happy with his effort. "Sutcliff hounded me the entire race, but our car was strong enough to stay in front of him.  The lappers did a nice job of letting us past safely when we reached them, and Ed was nice enough not to force three-wide situations where he could have.  Congrats to Darren on a great win!"
Sutcliff's team has been trying to secure a new sponsorship deal in recent weeks, so the effort at Road Atlanta was scrutinized by many.  "The deal with FBI/Glock was just signed this week," said Sutcliff.  "We didn't have time to unveil the new paint scheme, but I still wanted our sponsors to know they'd made the right decision to back us.  I tried everything I could to make a pass on Bill, but he was just too strong. We both finished without any incidents, so I'm happy with the effort."
Jim "Gentleman" Albertson improved three positions to finish in sixth place;  not a bad result considering he had loaded his Road America setup for practice!  "The car was solid from the get go," said Albertson.  "We got the new tires from iRacing the day before the race.  Fortunately, there was enough test time to get the car nice and stable in race trim, but not enough track time for Redhead Racing to find the speed that was there with the old tires.
I was told to just 'suck it up' and bring the car home with a Top-10."
Jim managed to do just that.  As the car started to settle in, Albertson began to pick-up the pace.  He tried in vain to catch up with Sutcliff, but was forced to watch as the Georgia-based driver eventually drove away from him.  Scott Husted, winner of the race's "Hard Charger" award, applied pressure to Albertson for most of the race as he moved from his 13th starting position to finish in seventh.
In fact, Husted was momentarily all the way up to sixth after putting a good move on Jim coming down the final straight into Turn 10. Both drivers gave plenty of room as they demonstrated the kind of sportsmanship RSR is known for.  Although he had made the pass, Husted's car got a little loose on the corner exit, and his lack of speed allowed Albertson to retake the position.
"Those 15 laps were real nail biters," said Albertson.  "If I hadn't had a helmet on I think I would have chewed them all down to the quick. I want to congratulate Darren on the win, and Les and Tommy for their podium finish. This was a tough track on which to stay clean.  Only a few drivers (Darren, Bill, Ed, and Jim) earned the coveted Zero Incident Club membership this week. Thanks also to The Redhead, who so kindly sponsors me each week, and who patiently listens to my happy ramblings after each race. She is the best partner a driver could have."
Husted was hurried prior to the race, but recovered nicely from his pre-race schedule problems.  "We got here just in time for qualifying and I never really got up to speed, hence my qualifying effort of 13th on the grid.  The race started off very smoothly for us. I was happy with my consistent lap times and I thought I might have a shot at a top-five with a little luck.  The middle part of the race was fairly uneventful as I had a five second gap to the car in front and close to a 12 second gap to the car behind me.  Over the span of about 12 laps I was able to catch Albertson and we had a fantastic and fun battle for about three laps."
"I knew exactly where I was going to try and overtake him, under braking going into Turn 10, and I was able to make the move.  Unfortunately I went too wide on exit and allowed him to get right back by me.  Then I tried to carry too much steam into Turn One and ended up spinning.  Luckily I didn't hit anything and I was able to get back under way.  The last couple of laps I was just concentrating on being consistent, and bringing the Hustedia.com Mazda home for a solid seventh place finish.  I was happy to see that I earned a bonus point for the Hard Charger Award."
McCuin had looked to be in the hunt for a podium finish early in the race, but was forced to settle for an eighth place finish after a mishap on Lap Nine.  "Another race and another driver error where I took myself out of contention," said the disappointed driver after the race.  "I have to learn to stop doing that! I started in fourth, spun, came back out in 15th, then worked my way back up to eighth.  Not bad, but definitely not what it should have been.  Congrats to Darren on the win and we'll see you in Phoenix"
Feldman was the last driver to cross the line on the lead lap when he secured a ninth place finish.  Kabela raced cleanly and earned the 10th spot, crossing the line one lap down.  Plank (11th), Pawluckie (12th), Latuga (13th), and Rundell (14th) also finished a lap down.  Thomas finished six laps down in 15th place.  Jorgensen (16th), Galica (17th), Heaney (18th), and Kyle (19th) all retired.
With his third place finish, Rhyne continues to lead the RSR point race after Week Seven.  He is 59 points ahead of Hadden and 61 points up on McCuin.  Turner is close behind, just 73 points out of the lead.  Sutcliff rounds out the top five, but is 160 points behind the leader, while  Kersey's victory moved him up two spots, to the sixth position.
RSR drivers travel to the Phoenix International Speedway for next week's "Phoenix Monster Mash 80".
Link to JT's video:  http://www.youtube.com/watch?v=XEAFXdaXWYk
---
You may also like...
---