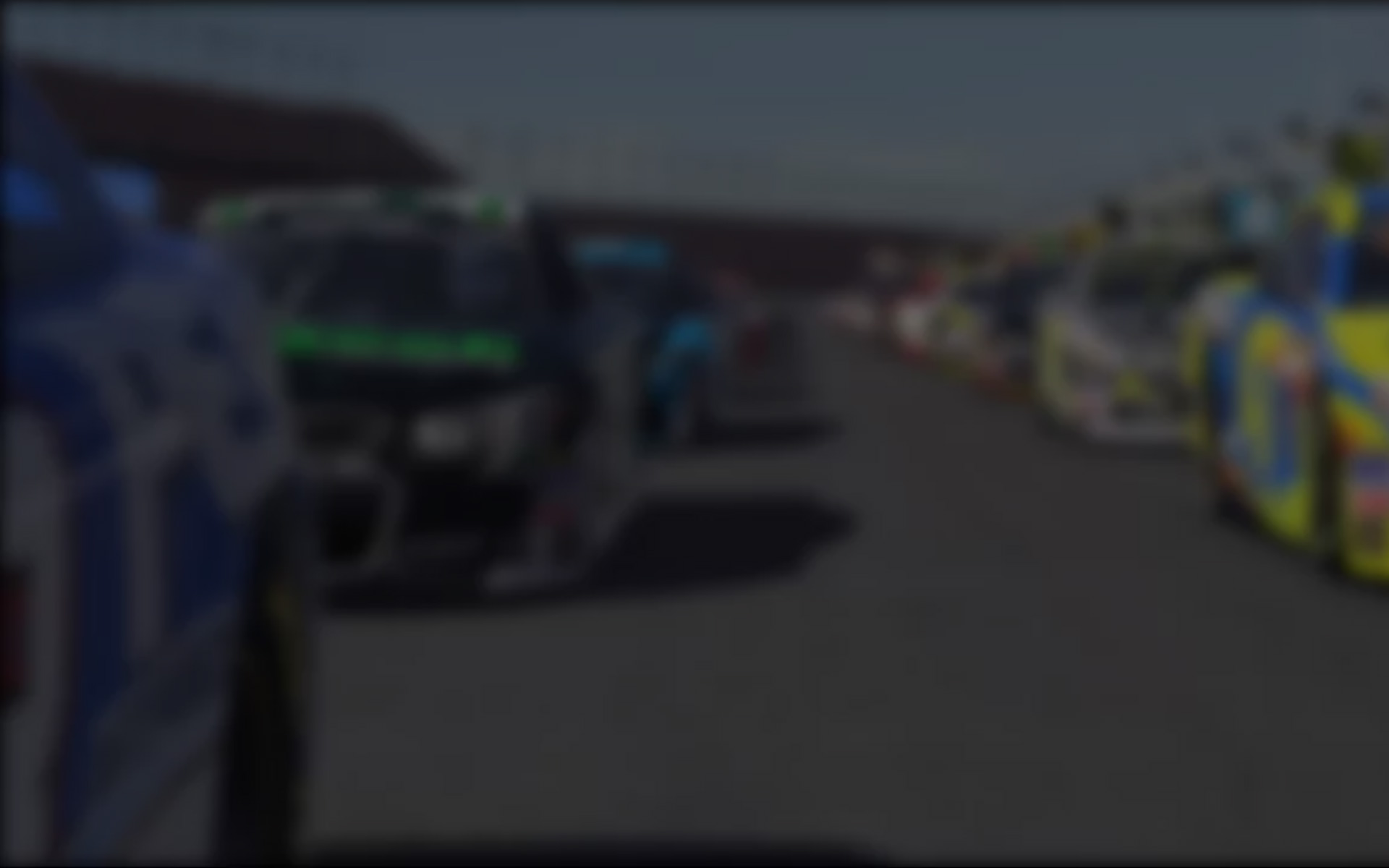 May 16th, 2017 by David Phillips (words) Hugo Luis (images)
A quick scan of the results of Round 5 of the 2017 iRacing World Championship Grand Prix Series shows that Martin Krönke maintained his dominant form at Monza, setting fastest lap and coming home ahead of Mitchell DeJong and Greger Huttu to keep his perfect season intact. Dig a little deeper though, and you'll find the defending series champion had a real fight on his hands – actually more than one — to grab the victory.
For openers, Krönke gridded fourth, his worst qulaifying effort of the season, next to Team Redline's Huttu with VRS Coanda Simsport teammate DeJong second on the grid behind an impressive Peter Berryman who planted the Apex Racing UK McLaren MP4-30 on pole with a lap of 1:21.519. Not that Berryman was in a class by himself, given that DeJong was just .027s adrift and that Huttu (1:21.579) was within a tenth while Krönke was but .55s behind or, for that matter, the top dozen qualifiers were within half a second of the pole.
And if Krönke could be confident that DeJong would not put either VRS Coanda McLaren in jeopardy by fighting tooth and nail, he well knew neither Huttu nor Barryman would cut him any slack.
To be sure, Barryman made the most of his qualifying effort by grabbing the lead on the run down to the first chicane with DeJong slotting-in behind. Third place, however, was not so cut 'n dried. Although he lagged behind Krönke at the off, Huttu surged alongside into the Variante del Rettifilo and the world champions raced side-by-side through through Curva Grande and into Variante della Roggio before Huttu consolidated third place.
Behind them, most of the field funneled through the claustrophobic Variante del Rettifilo without incident before Freek Schothorst and Michael Dinkel were caught-out by the inevitable concertina effect and forced to retire.
Up front Berryman maintained a somewhat illusory lead over DeJong, Huttu and Krönke for the opening laps, with Daniel Arent Winsing (Radicals Online), Patrik Holzmann (Heusinkveld CORE Motorsports), Bono Huis and Maak Bakkum leading the rest. Illusory? Although Berryman led, DeJong was staying within half a second, seemingly biding his time until the DRS was enabled at the end of third lap. Sure enough, at the start of Lap 4 the Californian swept past the into the lead on the pit straightaway. The next time 'round, Berryman slightly overshot his braking point for the Variante del Rettifilo, opening the door for Huttu and – with his exit compromised – Krönke on the run through Curva Grande to Variante della Roggio.
"Initially, I wanted to see if I could stay ahead of them," said Berryman. "But I decided the smartest thing to do was to let them go and just run my race instead of using-up too much battery energy or burning up my tires.  I locked-up the front brakes but Greger was smart enough to give me room, and from then I just took care of my race."
Next time around it was Krönke using the DRS to sweep past Huttu into the first chicane and, evidently, set-up the remainder of the race as an intra-VRS Coanda Simsport contest to see who would cross the line first.
Not so fast. Huttu didn't win five world championships by accident, or by being a quitter. He kept in touch with Krönke over the next ten laps and reclaimed P2 when the German clobbered the kerbing in the Variante della Roggio (courtesy of a technical glitch).
"For some reason the sim minimized in the middle of the chicane," Krönke explained, "and the next thing I knew my car was pointing at the sky. That was a little unpleasant but still everything was OK."
The top three circulated in lock-step for the remainder of the first stint, with DeJong pulling out a useful advantage on Huttu and Krönke. Behind them Barryman circulated a relatively lonely fourth ahead of an energetic scrap for fifth through tenth featuring Huis, Bakkum, Davy Decorps (Orion Race Team), Wensing and Pietilä, to be joined by Joni Törmälä (ineX Racing) in the wake of Holzman's spin. Törmälä was in the midst of a run from 23rd on the grid that would, at one stage, carry him as high as third – a drive that was all the more impressive given that he was planning a zero pit stop race.
Ultimately, that strategy played into the hands of Krönke as, after pitting on Lap 28 (one lap later than DeJong and Huttu), he exited the pits just behind Törmälä and with Huttu in close attendance. Although Krönke made quick work of Törmälä, Huttu found himself stuck behind his countryman who – it must be said – was running a legitmate third place at the time and was under no obligation to yield to the Fanatec McLaren.
By the time Huttu did commandeer third place half a lap later, Krönke had made his escape. While the smart team strategy might have been for DeJong to yield to the world championship point leader, the American certainly didn't appear to make it easy for Krönke. Indeed, he reeled-off a string of laps in the 1:23.9/1:24.0 range and accumulated a string of 1x off-track incidents in his effort to keep his teammate at bay.
"The second stint was tough because I hadn't tested on a light fuel load," explained DeJong, whose real world racing program precludes a heavy sim racing test schedule. "So I was struggling a bit on new tires."
Inexorably, Krönke closed the gap, from 3s down to .315s in the space of ten laps, setting fast lap of the race (1:23.659 on Lap 32). But once within DRS range, it was not much of a contest.
"It was quite hard (catching Mitchell)," Krönke allowed. "I had to waste quite a lot of energy in terms of the ERS battery state-of-charge to get anywhere close. Fortunately, the DRS is quite strong here and once you are close to the DRS range it's relatively easy to keep up and recharge your battery at the same time and (then) do the pass."
Behind the VRS twins came Huttu for his fourth podium finish in five tries, rebounding from a disappointing finish at Road America to at least remain in the same postal code as Krönke in the point race.
And if, as it appears, the contest for the 2017 iRacing World Championship Grand Prix Series is developing into a two man affair, rest assured the in-race competition for the rest of the top ten placings is anything BUT settled. Case in point, Barryman had anything but an easy cruise to fourth place. After losing touch with the top three, he found himself in a ferocious battle with Huis and, later, Bakkum in the second half of the race. Although he successfully paried Huis' thrust, Bakkum was another matter entirely as the pair swapped places a couple of times out on the backside of the circuit even if Barryman was in front at the start/finish line. Thus on the final lap Bakkum displaced Barryman into the Variante del Rettifilo only for the Englishman to tiger past around the outside entering the Variante Ascari to seize the spot for good.
Likewise, Pietilä and Wensing were joined by Cem Bolukbasi (CoRe SimRacing) in a torid battle for seventh spot (that became sixth as Törmälä slowed in the closing laps). Wensing had run as high as fifth before being overhauled by Baakum and Huis on fresh tires. Still it took 53 laps of hard sim racing before Pietilä could secure sixth spot from Wensing and Bolukbasi while Decorps (P10) and Olli Pahkala (P11) each advanced a spot when Törmälä ran out of fuel exiting Parabolica for the final time, cruely robbing him of a top 10 finish.
From the high speeds of Monza the iRacing World Championship Grand Prix Series next heads to the similarly quick confines of the Silverstone Grand Prix circuit. Not, however, until June 17 as the sim racers take a month's vacation to recharge their personal batteries and, in the case of every team not named VRS Coanda Simsport, try to figure how to derail Martin Krönke on what, with each passing race, appears to be his inexorable run to a second straight world championship.
Be sure to catch all the sim racing action from Silverstone on June 17 at 13:30 GMT (9:30 am eastern) brought to you by RaceSpot TV and iRacing Live.
---
You may also like...
---