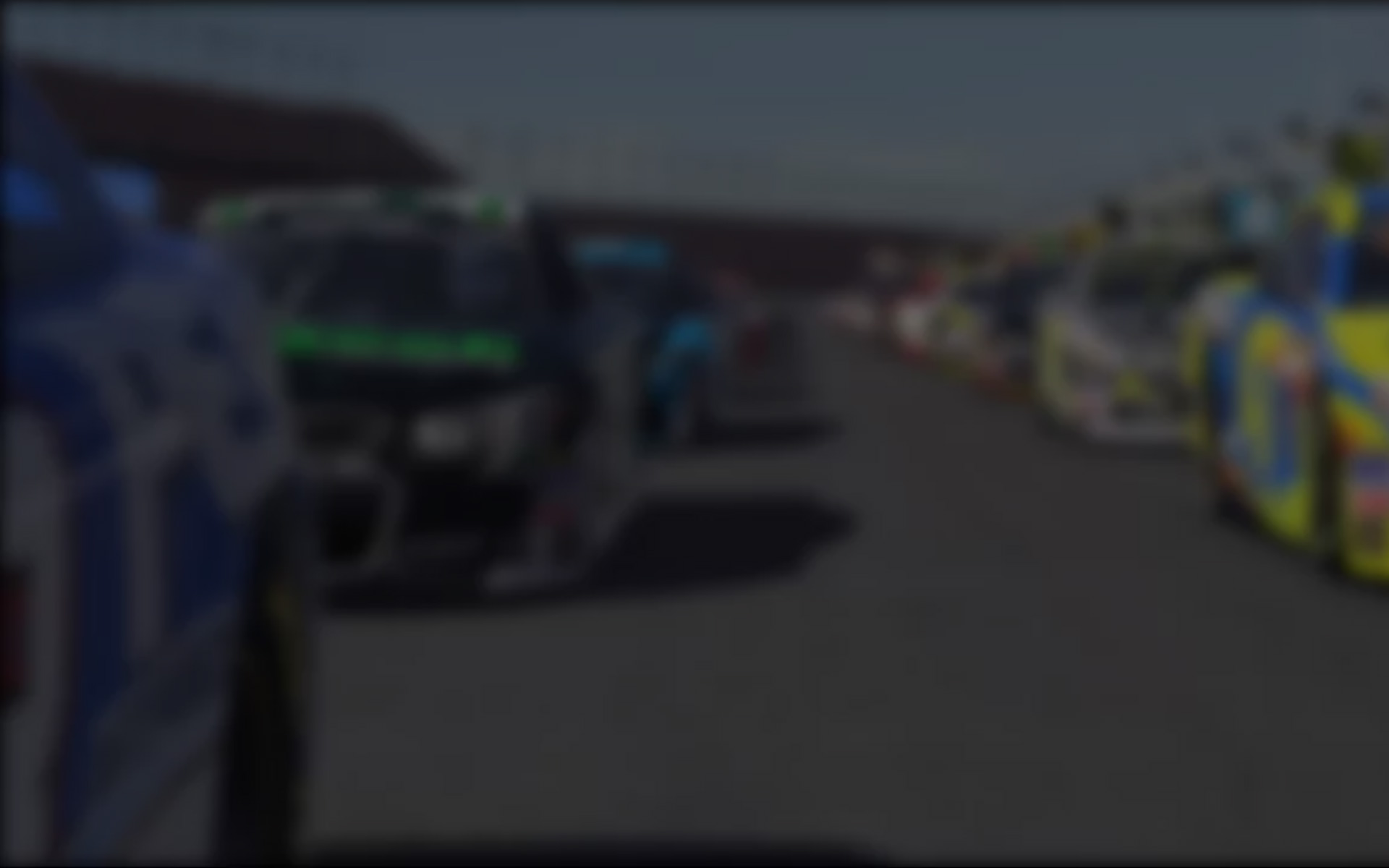 iRacers beware:  there's about to be a new alien on the block.  No, he's not from Scandinavia.  He's from . . . Texas; Corpus Cristi to be precise.  But he plans on moving to Roswell, New Mexico in the future.  And unless you've been living in a cave for all or some of the past 66 years, you'll know that since a UFO crashed near Roswell in 1947, the desert town has been long been ground zero for speculation about extra-terrestrials.
Some would say Joey Brown has already proven his alien status in sim-racing circles, witness the fact that he finished ninth in the 2012 NASCAR iRacing.com Pro Series or that he scored his first NASCAR iRacing.com Series World Championship victory at Charlotte in just his seventh start at the world championship level.  But Brown is not about to proclaim his skills have reached otherworldly status just yet.
"Up until Charlotte you can say I hadn't had a good season at all," he says.  "I've been plagued by bad luck and mistakes that put me out of contention; mostly the latter. With Charlotte I finally put together a full race and proved to everyone — mostly myself — that I have it in me to win races and finish up front. What really made this win special is I had to really dig deep for it. I lost a bit of time the first round of pit stops and I had to drive the car 100% to just make up hundredths a lap. I was really giving my spotter/crew chief a heart attack with how close I was coming to the wall off the corners every single lap.
"It really felt good to bring home the checkered flag," he continues.  "If you really look at my career in the NiSWC, with the level of competition, to have a win in just my seventh start is a huge accomplishment. There are really good drivers who have been a part of this series from the beginning who don't have a win yet."
If some might call Brown an alien, others might call him an overnight success – this despite the fact that he has been a member of iRacing since 2009.  Then again, it's not like Brown could give iRacing his undivided attention much of that time.  Suffice to say that, serving in the U.S. Navy as an air traffic controller, he had other priorities . . .
"Until recently I had only really been able to race on iRacing between deployments," he says.  "I was stationed on the (aircraft carrier) USS Nimitz for three years. Until middle to late 2012, I wasn't even able to complete an entire season. My first time I was able to complete a full season was 2012 S3. I didn't expect to make pro at all since I pretty much just jumped right into it. To win the season with the second most points accumulated for the year was a huge surprise.  Now that I'm out of the military and kind of in between jobs, I have had much more time to race."
"(It's) hard to run consistent lap times when your feet keep shaking from the adrenaline!"
Which bring us back to Roswell.  The Federal Aviation Administration has accepted Brown's application to train as a civilian air traffic controller and will be reporting to the FAA training center in Roswell sometime in the future.  Just when that will be however, remains uncertain.  So for now, at least, he's focused on sim-racing and getting the best finish possible in the 2013 NiSWC . . . and apart from the 47 points accompanying the win, that W at Charlotte figures to boost Brown's chances of achieving his objectives.
"Every time qualifying, every time racing, my heart rate goes through the roof," he says of his rookie season.   "(It's) hard to run consistent lap times when your feet keep shaking from the adrenaline! As I run more and get comfortable with it I will get more consistent. (I) just have to find that confidence, which this past race at Charlotte was a huge boost."
And coming to grips with the new Gen6 car hasn't been the easiest of chores, particularly given the lack of continuity to Brown's sim-racing career.
"The Gen6 is a lot more sensitive to setup changes, I think, so keeping the balance is more difficult, which isn't really a bad thing," he says when comparing the Gen6 to its predecessor.  "I wouldn't say it's more difficult to drive, but it is definitely more difficult to drive on edge. I've been quick with it week in and week out so can't complain too much."
That's why seat time is invaluable; and why it's no coincidence Brown's NiSWC win came on the heels of a strong showing in the Class A series at Charlotte, one in which he lost the SoF race when Kenneth O'Keefe took to the high line out of Turn Four on the final lap.  Nor was it a coincidence when Brown edged Marcus Lindsey for the NiSWC win by, you guessed, taking the high line out of Four coming to the stripe.
"We had a really good car the entire week," he says. "But about 30 minutes before the race I kind of hit on something with the setup that was completely different than what we were running. I had no long runs on the setup so really had no idea how it was going to be. So I rolled the dice and was really glad that I did. I didn't have quite the drive off as I had before, but it didn't kill the RF tire as much on the long run which is probably what won me the race."
Of course, it doesn't hurt that Brown is an integral member of Last Row Motorsports and a roster of NiSWC driver that includes Peter Bennett, Landon Huffman, Brandon Kettelle, Brandon Schmidt and Jake Stergios.
"Last Row Motorsports has been my home since I started iRacing," says Brown.  "We have gone through several name changes in the past, people have come and gone, but the core has stayed the same. All the guys over here are extremely loyal and we have become more of a family than just a team. I know any of them have got my back at any time and they know I got their back. We just have a really good group of guys and we like racing together. We aren't all about being the fastest, although it's never a bad thing! We just like racing and having fun, which is the point of iRacing right?"
Speaking of family, there's a measure of real flesh 'n blood support for Brown's sim racing career in the form of his father, Dave.  The elder Mr Brown is an accomplished sim-racer in his own right, having qualified for the NASCAR Racing Online Series finals in Daytona in 1999 and being regarded as one of the top sim-racers on the Total Entertainment Network.
"My dad has been sim racing for a long time," says Joey.  "I remember when I was 9-10 years old staying up and watching him race until 3 in the morning sometimes. When he was one of the eight final qualifiers in the NROS and got to go to the Daytona 500, meet a bunch of drivers, and race in front of a lot of people for some money, I never thought it could be me one day! But here I am running in front of a lot of people for $10,500 (awarded to the NiSWC champion)."
In fact, if there is one thing Brown would like even more than winning the NiSWC, it would be to have his father join him in the 2014 championship.
"I've been trying to get him to race more, but he just hasn't had the time," he says.  "He's definitely still good though and I think for sure could make it to the NiSWC. Don't think there has ever been a Father/Son duo before!"
There is another dimension to this Father/Son duo, specifically the fact that one of Dave Brown's sim-racing buddies from days-gone-by is none other than Shannon Whitmore, director of competition for iRacing.  But no one should expect the younger Brown to get any breaks from the NiSWC officials, least of all Joey Brown himself.
"Shannon didn't even know who I was until a few weeks ago when I got called into the hauler after one of the races," he laughs.  "Besides, I don't think Shannon would even give his mom a break!"
Maybe, maybe not.  But the important point is that Shannon Whitmore definitely knows who Joey Brown is now.  And in the wake of his win at Charlotte, so do the all the competitors in the 2013 NASCAR iRacing.com Series World Championship.
Be sure and catch Joey Brown and all the NiSWC regulars in Round Eight of the series on iracing.com/live/ and Motor Racing Network at 9 pm Tuesday, June 11 (01:00 GMT Wednesday).
---
You may also like...
---