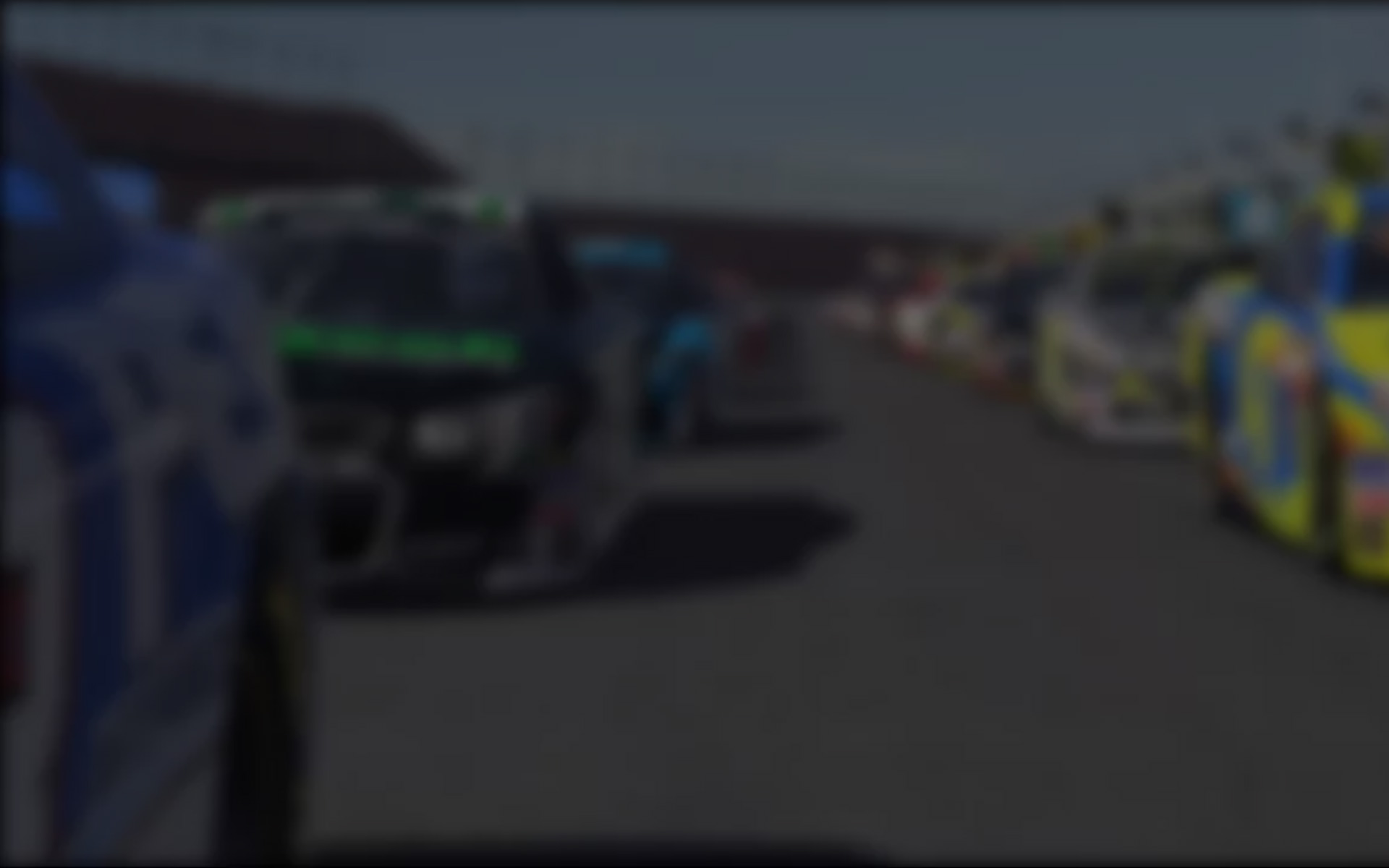 The fabled Indianapolis Motor Speedway brought-out the good, the bad and the ugly in the iRacing Pro Series Oval.  Happily there was a lot more good than bad or ugly.  Case(s) in point: a couple of days after iRacing Pro Series Road Racing points leader Luke McLean finished runner-up to Josh Berry, Richard Towler (P2 in the iPSRR points) bested John Prather and Kirk Hapke on Friday evening.
Towler's was an impressive drive, given the fact that he started a lowly tenth.  It didn't take long for the Englishman to show his strength, however.  Pole-winner Hapke led the first nine laps before ceding the top spot to Prather on Lap 10, only for Towler to breeze past the two of them and into first place on Lap 16.  He would go on to lead 60 of the remaining 64 laps en route to a 12.3s margin of victory over Prather in a race he almost didn't enter.
I ran a few qual laps on practice server before the race," Towler said. "I hadn't planned to attend the race as I'm not really feeling that well. But someone pulled out of the race with 20 seconds to go and made it unofficial so I jumped in to make official."
Hapke was not far behind in third — .309s to be precise – while Dana Wymer, who dispatched Ben Sexton ten laps from the finish, came home fourth an additional five seconds behind.  Sexton trailed Wymer by another five seconds but was comfortably ahead of Ken O'Doherty and current VW Jetta TDI Cup leader Jani Penttinen as they crossed the yard of bricks for the final time.
"I caught him (Prather) on the last run with about 10 or 12 to go, but I couldn't get the pass done on that sly dog," said Hapke.  "I really couldn't figure out how to get around him . . . I tried to, but (the) tires were too slick for me to make a pass."
Saturday evening produced a couple of splits and two enthralling finishes.   One split saw evenly- matched Derek Wood and Josh Berry lead 66 of 80 laps, with an average lap time of 60.259 and 60.257, respectively.  In the end, Wood emerged with the lead following a late flurry of pit stops and took the checkered flag .150s ahead of Berry.  Theo Olson and Kevin King finished third and fourth, separated by .4s, with Jordan Erickson alone in fifth ahead of a furious scrap for sixth won by Joel Putty from Ryan Field, Jayson Anderson and Richard Crozier, the lot of them covered by a second.
The second split was, if anything, even closer.  The finish was certainly more spectacular.  Ray Alfalla led much of the race (including Laps 46 through 74) and appeared on his way to victory before Josh Parker commandeered the lead with just five laps remaining.  Parker's lead would last only until iPSO kingpin Brad Davies asserted his muscle, sweeping into first place on Lap 78.  As Davies eaked-out a slim lead, Tyler D. Hudson got around Parker and Alfalla to take second.  With that trio battling for the runner-up spot out of Turn Four the final time, Hudson and Parker got together, sending Parker into Alfalla and launching the Floridian into an awesome series of end-over-end flips across the finish line.  The final results had Davies with his thirteenth win of the season from Hudson and Parker, while the flying Alfalla was credited with fourth ahead of Patrick Fogel and Daniel Willis.
Sunday's action was a tough act to follow, and Greger Huttu did his best (which is plenty good indeed) to take all the suspense from the proceedings by qualifying on pole and leading 68 laps en route to a comfortable 14.7s win over Alexander Horn.  Despite his apparently easy victory, Huttu was not entirely satisfied with his setup.
It was pretty fast," he said, "but not perfect on the longer runs. Tight especially into Turn One and got tighter into Turn Three towards the end of the runs. I didn't change anything during the race though because I didn't want to make it worse! Not sure what I could change in the setup to make it better anyway."
Horn finished five seconds clear of a good battle for third that was decided in Tony LaGrene's favor ahead of Greg Spears and Vinnie Sansone with Darrin Stevens fifth.
"I was behind Greg and was hoping my setup would give me enough to try and make a pass," said LaGrene. "I got a good run on him towards the end and made the pass, and then hoped I could hold on till the end."
The week's action concluded on Monday with Nicholas Morse earning his second win of the iPSO after a race-long battle with Steve Sheehan.  Sheehan started on pole and led the first 47 laps before Morse, who qualified second, pitted on the pace lap and regained much of his lost track position thanks to a caution on Lap 25,  took the lead.  Sheehan reclaimed the lead on Lap 58 only for Morse to go back in front with nine laps remaining.  A late caution gave Sheehan one final shot at the win.  But Sheehan crashed shortly after the restart, promoting Scott Michaels to second ahead of Marcus Caton with Dion Vergers fourth from Matt Sentell and Jim Christopherson.
"We had a restart with one to go so it was predictably hairy," Sentell said. "Sheehan lost it between One and Two and we all had to find the right balance between staying out of the wreck and giving up positions. Some found a better balance than others."
Although Morse and Sheehan congratulated one another on a hard but clean race, others were harshly critical of Morse's tactics,  claiming he dropped his left side tire pressures and spring perch to illegal settings on that early pit stop, secure in the knowledge there is no post-race tech inspection.
"The rules clearly don't indicate you need to pass post-race tech inspection," said Morse in a post on the iRacing.com Members Forum.  "The spirit of the rules, and the rules, are two different things.  I took a big gamble, it paid off. It didn't pay off Saturday night.  [Morse finished 13th on Saturday, Ed.]
"The fact that everyone is pissed off really doesn't suprise me.  I am 100% for a rule change that makes this not possible, but until it is there, if I have the opportunity to take advantage of it to beat my competitors, I will do it."
Thus did the iPSO's first visit to the Brickyard end on an ugly note.  From the corner of Georgetown and 16th, it's on to the tight confines of Martinsville Speedway for different challenges and, one hopes, a less contentious Week 16.
---
You may also like...
---