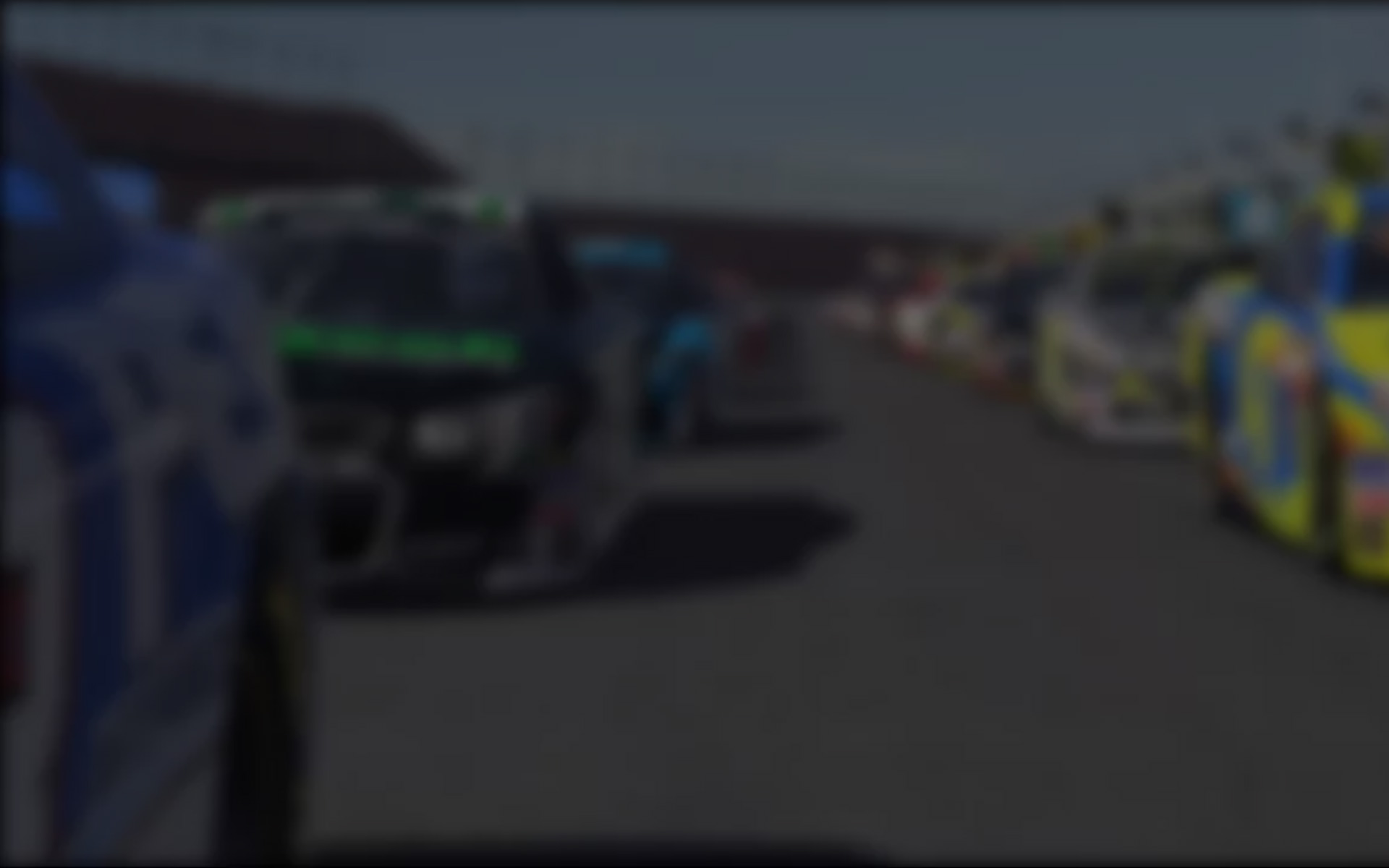 The NASCAR iRacing.com Pro Series got off to a fiercely competitive start last week with 166 iRacers competing in ten splits at Darlington Raceway.  After a week's worth of racing, Patrick Fogel and Josh Parker emerged atop the championship leader board with 273 points apiece, thanks to wins on Wednesday and Saturday respectively.
Fogel qualified seventh and worked his way to the front of the field by Lap 52, fell down the order on the first round of pit stops but worked his way back to the front and took the lead for good on Lap 113 with a pass of Joey Brown.  Fogel went on to beat Thomas Lewandowski by .376s for the win with Douglas Bell, coming home third ahead of Brown and Ray Alfalla.
Defending Pro Series Oval champion Parker also took the lead late in his race, in this case with three laps remaining, after an incident involving leader Alfalla.  The race finished under caution with Robert Hall in second ahead of Jesse Atchison, Mike Kelley and Pat Dotson while Alfalla (who led 112 of 120 laps) was classified fourteenth.
Brad Davies took a hard-fought win in one of Saturday night's other splits, emerging on top of a race-long battle with Thomas Hazard and Jim Caudil, Jr. that went down to the final lap before an incident knocked Caudil from contention.  Hazard came through to second from Bob Bryant, Harrison Widelitz and Matthew Bradley while Caudil fell to nineteenth. Yet another Saturday evening split saw Brian Schoenburg take the lead on a round of pit stops at Lap 89 and drive to a .484s win over Byron Daley with Bryan Blackford an additional 3.7s behind in third ahead of Matt DiBenedetto and Neil Pearson.  And finally on Saturday night, Tyler D Hudson took the win over Theo Olson and Ryan Bowers, Chris Hannigan and Brad Wright but not before Steve Sheehan led an impressive 115 laps until a late race incident knocked him out of contention.
Wednesday night also saw Nicholas Morse take advantage of a late race incident involving erstwhile leader Paul E. Cline and Marc Wulf to score a win.  Morse, who led exactly half the 120 laps on the evening, took the checkered flag .485s ahead of Wulf with Toby Jenkins third from Mitchell Hunt and Jesse Atchison.  Also on Wednesday evening, Trey Eidson came all the way from twenty-second on the grid to take the win in his split, coming home .283s ahead of Joe Quinn with Jordan Hightower third from Justin Trombley and Vinnie Sansone.
Friday morning produced the only runaway of the week, as Jason Burstein led Rob Ackley home by a whopping 6.7 seconds with Pedro Mojica just behind in third.  Parker Hammons finished fourth after leading 26 laps at mid-race with Ryan Hearne and Ben Sexton the only other iRacers to finish on the lead lap.
Sunday afternoon saw Daniel Pope II drive to a relatively comfortable 2.9s win over Trombley with Clint Monahan third from Richard Crozier (who ran second much of the race before a couple of late incidents) and Giacamo Bugini.  Also on Sunday, Jordan Erickson took the lead on the final round of pit stops and drove to a .425s margin of victory over Blake Brown, with Joshua Laughton another half second behind in third from Mike Montesi and Alberto Baraldi.
One week into the season then, Fogel and Parker stand atop the NiPS standings with 273 points apiece.  Eidson is just three back with Hudson, Davies, Schoenburg and Morse in a four-way tie for fourth with 269 points.  Pope is eighth on 267, one point and one place better than Erickson with Lewandowski and Burstein tied at 261.  There's a long way to go before the points race begins to shake-out, but the process will continue at Charlotte Motor Speedway in a week's time.
---
You may also like...
---