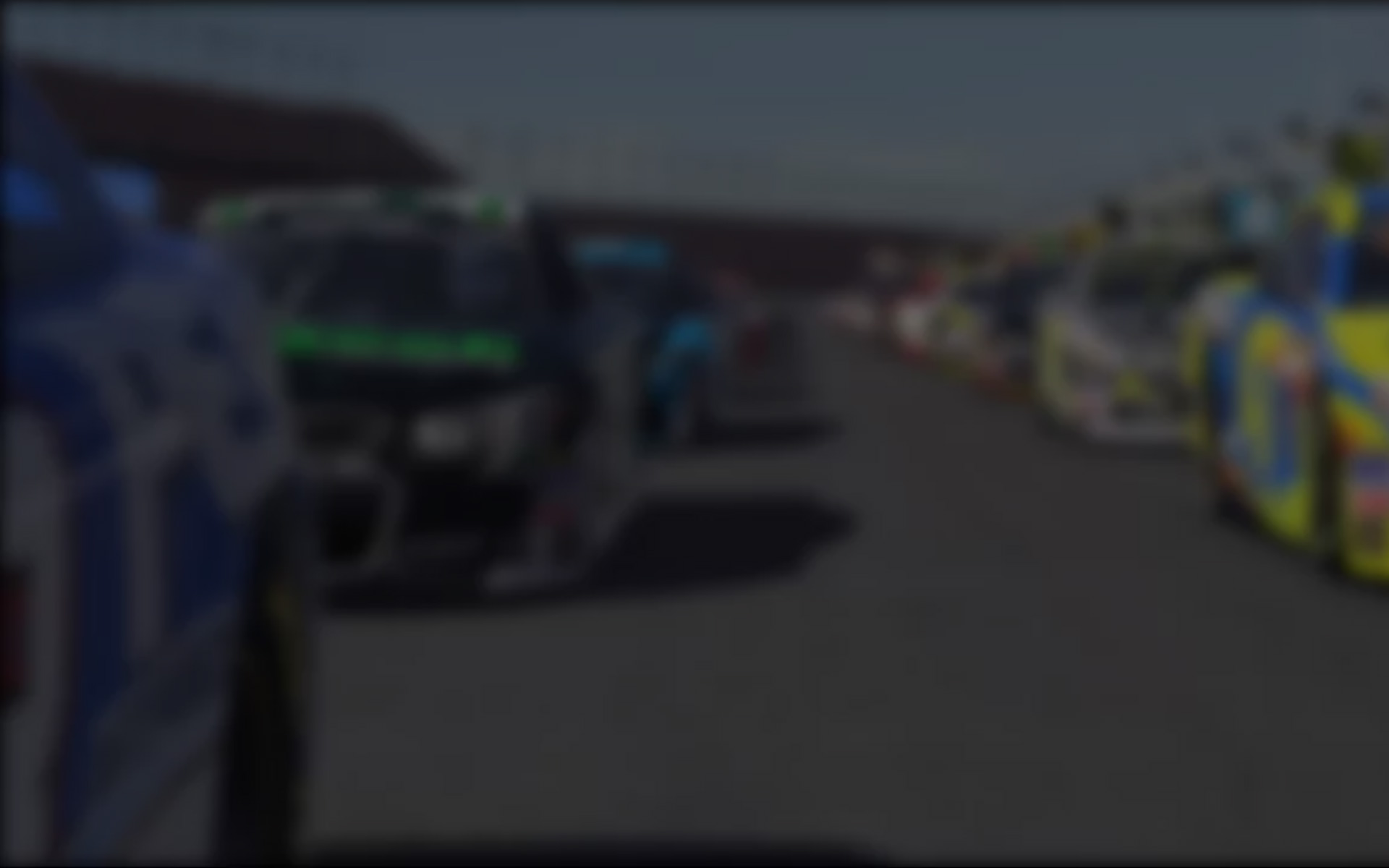 Returning to the site of his first Red Sox Racing League victory, Ed Sutcliff was confident he could challenge points leader Les Turner at the "Canada eh? Grand Prix" held at Mosport International Raceway. While the crowd was eager to watch the first and second place drivers battle it out, they also knew to keep an eye out for the rest of the talented sim racers who made-up the starting grid.
Fifteen Red Sox Racing (RSR) drivers showed up to participate in the event. Most were well prepared, and eager to prove their online road course racing skills were up to the challenge of 40 laps around the 10 corner, 2.45 mile circuit in their Star Mazdas. Mosport is located just north of Bowmanville, Ontario, Canada, so although Sutcliff and the rest of the field were confident, Turner looked to have the home court advantage. With beautiful sunny weather, moderate temperatures, and scenic Lake Ontario only minutes away, Mosport was an attractive stop for weary RSR drivers still suffering from their long trip back from Australia two weeks ago. Several league members skipped the oval race last week at Richmond due to travel related issues.
Mosport (an abbreviation for Motor Sports), began hosting major racing events in 1961, but achieved acclaim though a series of international sports car races under the title "Canadian Grand Prix," normally reserved for Formula 1 races before hosting the inaugural Canadian F1 GP in 1967.  Throughout its history, the track has been driven by drivers like A.J. Foyt, Stirling Moss, Bobby Unser, Gilles Villeneuve, Al Unser, Juan Manuel Fangio, Bruce McLaren, Jackie Stewart, Mario Andretti and Richard Petty, not to mention RSR's own Divina Galica.
Recently renovated to a width of forty feet, Mosport gives drivers the feeling they can compete in more aggressive racing. The track also appears to offer more passing opportunities. The extra width is seductive, but seasoned drivers recognize the danger in such attractions. They know the hilly layout and sharp corners demand 100% concentration, and that any off-course incidents results in an immediate and significant loss of track position. Illustrating the track's fierce reputation is the fact that Mosport is one of only three tracks in the world to have hosted Formula 1, Can-Am, and Indy Car events.
An enthusiastic crowd greeted the brave RSR drivers who arrived early for pre-race practice. Darren Kersey logged the quickest lap time early in the week, but his effort was bested by Les Turner's incredible lap time of 1:14.860 in the closing minutes of the final practice session. Turner took that momentum into the qualifying session, as he earned the pole with a time of 1:15.042. Turner entered the race with a slim 58 point lead over second place driver, Sutcliff. Turner was determined to out duel Sutcliff and increase his points lead.
Kersey also had victory on his mind, as he fought to defeat the memories of his last race at the track (started on the pole, led 16 laps, then wrecked and finished in 16th place). Unfortunately for Turner, his night was over before it started. Once again electrical problems forced him to retire before the field took the grid. Kersey, who inherited the pole with his qualifying effort of 1:15.338, appeared to have been smiled upon by the racing gods once again.  Sometimes however, things aren't quite what they seem.
Ed Sutcliff (1:15.488), Scott Husted (1:15.672), Robinson Shields (1:15.739), Jim Albertson (1:15.808), Wilbur Gildersleeve Jr. (1:15.956), Kevin Kyle (1:15.958), Michael Baley (1:16.002), Andrew Feldman (1:16.065) Divina Galica (1:16.342), Jeff Thomas (1:16.539), David Holzwarth(1:16.662), William Kabela (1:16.795), and Bill Pawluckie (1:21.211), completed the starting grid.
Failure to pay attention at the entry of Turn One can ruin a race at Mosport before it begins. RSR drivers know this golden rule, so they tend to be a cautious bunch during the early stages of their races. Kersey led the field through the early corners and appeared ready to settle into a comfortable lead after Lap One. Things got interesting on Lap Two however, the normally calm driver tossed caution to the wind in his effort to maintain the lead. The rear of Kersey's car lost traction after he took an aggressive entry into Moss Corner. The resulting spin forced Kersey to sit sideways in the gravel as the rest of the field drove past him.
Sutcliff inherited the lead, but knew he would have a battle as he watched Husted, Shields, and Albertson maintain pace in his rear view mirror.
"I was trying to concentrate on the track, because you have to race the track here before you can race your competitors", said Sutcliff following the event. "It was hard to keep my eyes on the road knowing Scott, Robinson, and Jim were right behind me.  I also figured Kersey would be making his way back up through the field with a vengeance!"
Kersey almost proved Sutcliff correct as he climbed from 14th position on Lap Three, to seventh position on Lap Ten. Another unforced error ended the run however, and Kersey was forced to retire with damage. Reached for comment after the accident, Kersey was in an unusually upbeat mood. "One of these days I am going to remember to lift in Turn Two! We had the fastest car in the field tonight, but sometimes you just have to take what the track gives you. Tell Sutcliff to enjoy this one, I'll be back in front when we get to Brands Hatch."
Husted's night also ended abruptly. In contention to battle for the lead, he kept his sights on Sutcliff for the first several laps, while at the same time, holding-off the hard charging Shields. Robinson's hounding eventually forced Husted to make a wide corner exit, a move the driver would later regret.
"I knew my car was faster at every point on the track except the long back-stretch," he said. "I should have just held my line and forced Robinson to adjust his line to make a pass, but I messed up and went a little wider than I intended too in my effort to give him room. Our night was over once the tires got off the track. Congrats to Sutcliff on his win."
Shields never let go of second place once he passed Husted.
"I had a really good battle with Husted until he lost control in the next to last corner, and clipped the curb," he conceded.  "I was making good progress on the leader until Lap 25 when I went off track, and from that point on, the car wouldn't turn at all. It felt like the front tires were graining, and I had no front grip. This worried me, because Jim started to take big chunks off of the gap I had built up. Luckily there was just enough traffic to keep him three seconds back, and I was able to hold on for second place.
All in all, it was a solid race. I had a good start, managed to keep the car mostly on the track, and didn't make any major mistakes. I will take second, and look forward to Brands Hatch."
Third place finisher Albertson was also pleased with his effort.
"Wow oh wow! Another week and another great race with good friends!" said the excited driver after his race.
Jim's new color scheme appears to be working well. This was his third top-five finish since he began sporting the new look.
"We started out easy tonight, wanting to conserve our tires for later in the race," he said.  "My goal was to keep the POW/MIA car out of trouble. Once the field settled into a rhythm, I was actually able to appreciate the rolling hills, blind turns and double apex corners!
I've been working out to get myself into decent race shape, but I think I spent a little too much time outside in the 108 degree temperatures of Arkansas last week, because my brain was fried near the end of the race!"
Albertson was also quick to thank his crew and guys at the shop for the good finish.
"iRacing has done a good job with the new transmission model," he said, "but with no aids, it is possible to miss a gear every now and then. As I battled with Robinson Shields I realized about Lap 27 that I was suddenly starting to gain on him. I missed a few downshifts in my effort to catch him, so I decided to back off to a more conservative pace. My attitude is that a solid third place finish beats wrecking out to get 2nd!" Congratulations to Ed on the win and Robinson for his podium finish."
Gildersleeve crossed the line in fourth place.
"This was a rough race for us," he said.  "We started in seventh, but fell all the way back to 12th place after a mishap on Lap Three. I was fortunate enough to have avoided trouble for the rest of the race. We got by some very strong drivers on our way back to the fourth spot. Jeff and I had a great battle going for the last half of the race."
Thomas agreed with Gildersleeve. "We'll take a top-five finish tonight! We came here pretty concerned because our Tuesday night practice session was not impressive. The car was solid, but we just could not get any speed out of it. Then we qualified poorly on Thursday night, and I found myself way back in the mix. I knew we had to do better, so we made several changes between qualifying and race. It worked out for us. I was fortunate to have survived a couple of spins without damaging the car, so I was very happy we worked our way up to fifth place. It was nice to see several TeamDraft members in the top 10."
Holzwarth crossed the line one lap down to the leaders as he secured a sixth place finish.
"I wasn't the fastest car in the field tonight," he conceded, "but I knew we'd get a good finish if I kept the car on the track. I did that by finishing without any incidents, so this was a good result."
Kabela employed a similar strategy as he also completed the race without incident en route to a seventh place finish.
"This is a tough race track," he said.  "We'll take a top-10 finish!"
Pawluckie, winner of the "Hard Charger" award, finished two laps down in eighth place, despite having started in the 15th position.
"We knew we had to run well tonight," he said, "so I was extra careful to keep the car on the track. Our qualifying run put us in a hole at the start. I am happy with our effort in the race."
Galica earned a ninth place finish despite early race flashes of brilliance which saw her climb into sixth place by Lap 10. The normally unflappable driver initiated a series of errors between Laps 12 – 14 which doomed her chances to compete for a top-five finish.
Our pit crew must have been sleeping when I came in for repairs," she said.
"They completely messed up the car!  I had to return to the pits twice to get it fixed properly. A top-10 finish is amazing considering the night we had."
10th place finisher Andrew Feldman had an equally frustrating night.
"We started in 10th, but had climbed into sixth place before things went south on us," Feldman related.  "The car was never the same after Lap Nine, so I'll have to be content with tonight's top-10 finish."
Early retirements ended the night for the rest of the field. Kyle finished 22 laps down in 11th place. Kersey finished 30 laps down in 12th place. Husted finished 31 laps down in 13th place, and Baley finished 38 laps down in 14th place.
Sutcliff's post-race victory celebration reportedly lasted well into the night and included many of his friends from Georgia.
"We thought we'd show our friends in Canada how to celebrate with a good ole' Southern-style BBQ and sweet iced tea!" said the ecstatic driver after his win. "The folks over at TeamDraft were good enough to secure a hog for the feast, so come join the fun."
Next week, the RSR drivers travel to the UK for "Top of the Morning to You Grand Prix" at the Brands Hatch circuit.
---
You may also like...
---