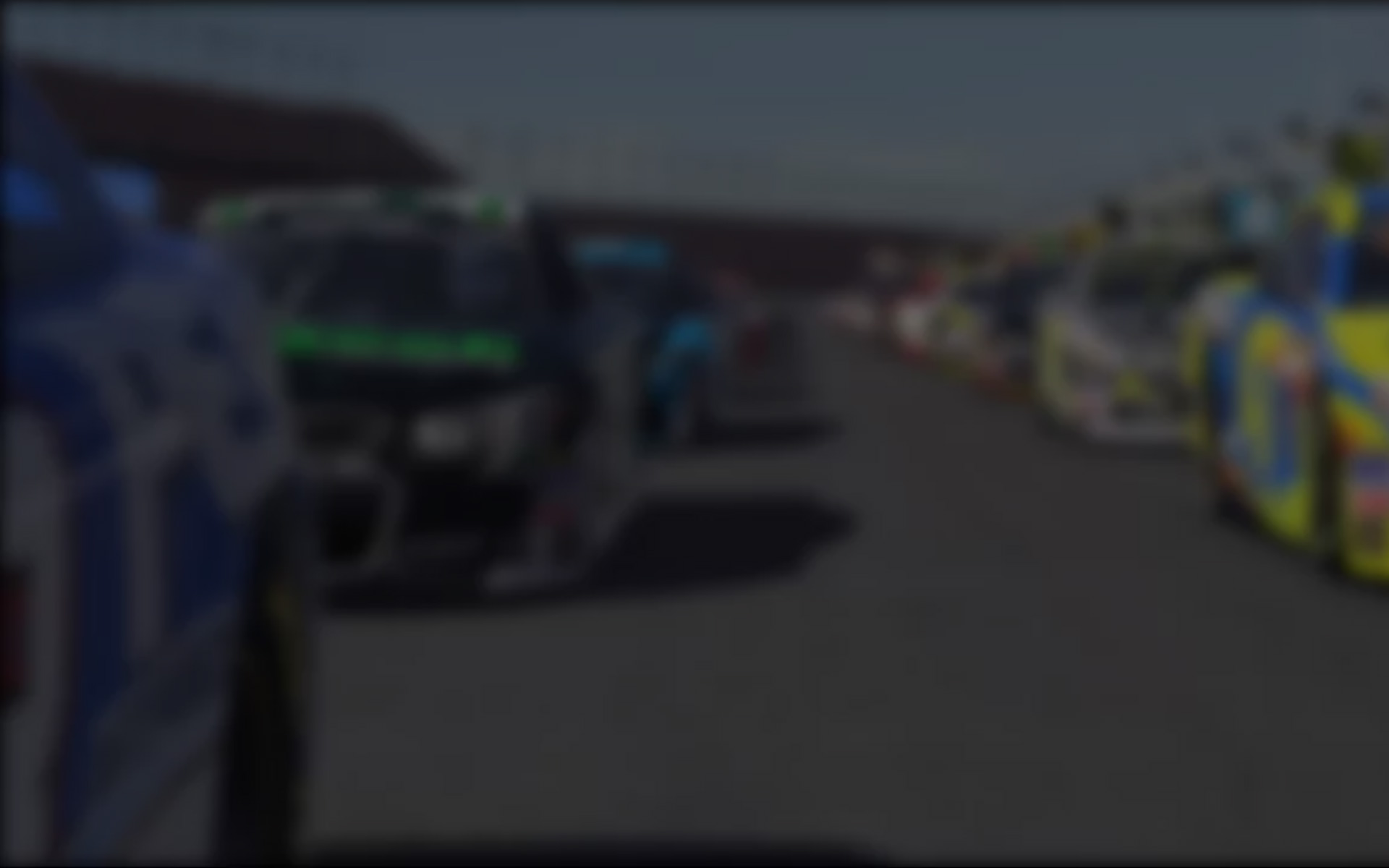 Round 22 of the iRacing Pro Series Road Racing took place at the awesome Virginia International Raceway where even the best drivers find all their skills are required just to finish a race before they even think of how hard they dare to push this monster of a track. But this does not stop the cream from rising and in fact probably serves to highlight the cream to a greater extent than usual.  Thus, the three big guns of the iPSRR showed their talent again along with a few others and the end of this week sees a series overflowing with intrigue as the last three races will be almost like a new season with the top three contestants attempting to win the run home. But it looks like Australia's Luke McLean and Canada's Shawn Purdy will need to do a bit more to turn the tide on the present seeming-invincibility of England's Richard Towler.
Saturday Race
The familiar pairing of McLean (pole) and Towler made-up the front row of the grid with Artur Turcu and Dom Duhan on the next row and Mauro Bisceglie and Matteo Calestani on the third. It has not been uncommon in this series for the pole-sitter to have a better race set-up at the cost of accelerating off the grid, and the trend continued here with Towler driving right around McLean into the first turn. McLean was challenged by Turcu but held on to second place whilst a daring Calestani attempted to split Bisceglie and Duhan into the first turn, narrowly avoiding contact and ultimately losing his sixth place to Richard Crozier. Bisceglie got the better start out of himself and Duhan and held fourth position approaching the Roller Coaster.  There, Duhan out-braked Bisceglie but could not make it stick as the duo went through turns 14a and 15, completing a lap that saw the field survive with fully-intact vehicles after a few minor incidents.
Lap Two had Daniel Almeida right on Calestani's tail as they headed into NASCAR Bend, with the former rear-ending the latter and then hitting him in the side as well. Calestani was slow after this and never completed the lap, his day ending at Hog Pen. This lap also saw Ales Simunek run off at Turn Eleven and hit the tire barrier near Oak Tree, requiring a tow to the pits.
By Lap Four Towler, McLean and Turcu had a few seconds from a group comprised of Bisceglie, Duhan, Crozier and Almeida. Almeida was about to have more excitement at NASCAR Bend where he ran wide and spun, losing five places. Duhan enjoyed a great run off Oak Tree on Lap Eight, positioning him to out-brake Bisceglie into the Roller Coaster for fourth position.  Then Lap Ten saw the impressive Turcu suffer an 'off' virtually identical to that of Simunek as he hit the tire barrier hard at Oak Tree, finishing his day after running third and keeping McLean and Towler honest to that point.
"VIR being my favourite track and some more time to practice than usual gave me good confidence in doing fast laps which showed in qualifiying," said Turcu. "Unluckily my race set wasn't to be used with such abuse and it showed just after nine laps when I slid gracefully past the oak tree into understeer then into oversteer (or was it four wheel drift?) and met barrier with my jaw completely dropped-out of disbelief. "
With Turcu out of the picture, McLean was right on Towler's tail and almost passed on a few occasions. But the Englishman was as solid as a rock.
It was roles reversed for me and Luke," said Towler. "He was on pole with a five gear setup I started second with a four gear set, so I blew by him at the start and set about trying to control the pace as well as i could. VIR is a death trap the moment you dare to really push the limit every lap but as it's so hard to pass I knew I'd be in with a good shot if I just didn't make an error."
McLean clearly had better track speed but was also showing signs of tire wear; no surprise considering how hard he was pushing.  He paid the toll on Lap 18 when he semi-spun at Oak Tree, losing two and a half seconds in the process. He and Towler pushed very hard over the next half dozen or so laps with Towler again winning-out as McLean spun coming off NASCAR Bend and dropped back to about a nine second deficit.
"Mid-race or so I had a major pc lock up almost and from that point I had some stutters which were causing me a lot of grief," Towler said. "But as soon as Luke got loose and lost some time dropping out of the view of my mirrors my game seemed to be fine again, so I wonder if my gpu was over-heating. So my pace picked up again while Luke, I think, made another mistake, so I was able to bring it home in first place."
Crozier had a lapse of concentration on Lap 25 when he completely missed his brake marker at Turn One and ran off the track, losing fifth to Ville Niemi. A few laps later whilst in hot pursuit of Niemi, Crozier ran off at Turn Nine after clipping the inside curb at Turn Eight, allowing Almeida into sixth. Crozier's fun was not over yet as he braked into Turn Eleven right behind Almeida and Niemi, got into the side of Almeida through Oak Tree and cheekily took back sixth spot behind Niemi's measured drive from fiftteenth on the grid.
"Qualifying went really crappy but before race I noticed my "brake curve" was totally wrong," Niemi explained.  "But I was 15th on grid so I made plan that I stay on the track and won't try too much.  I got few places on start and after that I just waited that every else would crash and my plan worked very well. From 15th to fifth place with one real pass, so good result for me. My pace was like that granny could go faster but every else seem to have lot of problems so… But good result at the end!"
However, the day belonged to Towler and at this moment he seems unstoppable.
Final Standings
1.    Towler
2.    McLean (-11.480)
3.    Duhan (-24.569)
4.    Bisceglie (-33.641)
5.    Niemi (-57.849)
6.    Crozier (-58.872)
Fast lap: Towler (1:41.837)
Sunday Race
Sunday's race marked the return of a few old faces looking to consolidate their top 50 positions for this series. Towler (pole) and Shawn Purdy earned front row honours ahead of the second row of Ilkka Haapala and Turcu, with Ben Cornett and Crozier a further row back.
Cornett got a fantastic drive off the line but ambitiously attempted to pass Haapala on the inside, getting on the grass and into the barrier. Crozier actually headed him as they approached the first turn but Cornett, seemingly undamaged by the barrier collision, was supreme under brakes and reclaimed fourth place after looking likely to also lose out to a charging Derek Wood.  Meanwhile, Haapala beat Purdy to the first turn making for an extremely eventful start.  Nor was the first lap action limited to Turn One.  Half the field simply drove by Turcu at the start and he was back in tenth after a few turns with Wood now in the top six from ? on the grid.
Elsewhere, Dario Frattini ran wide off Turn Three and hit the barrier, ending his day. Crozier later cut Turn Nine too much and spun, bouncing off the barrier and back across the track at Turn Ten on his way down to 23rd position.
I was just starting to settle into my groove, when I made a BONEHEAD mistake in the Esses – clipped the final kerb, spun and walled it at high speed, then bounced across the track," Crozier said.  "Amazingly nobody hit me, but figured the damage would mean my race was over. Thankfully discovered after a corner or two that it was actually fine, so set about trying to brawl my way back through from 23rd lol."
Cornett could not duplicate his Lap One braking effort into the first turn on Lap Two, simply overshooting this time under no pressure whatsoever and losing three spots! Meanwhile, Bryan Heitkotter took advantage of Matteo Calestani's wide running off the last turn and out- braked him to the outside of Turn One for what was now fourth place as both drove past the recovering Cornett. Cornett was determined to make up for his mistake and on Lap Five he and Calestani engaged in a braking duel heading toward the Roller Coaster, resulting in Cornett completing a brilliant pass around the outside of 14a.
By Lap 19 Towler had proven to be in a class of his own while Purdy remained stuck in his battle with Haapala.
"Shawn didn't have a perfect start," Haapala said, "and I was able to pass him into Turn One.  I was struggling a lot to get into rhythm and was quite a bit off pace. Richard was pretty much already gone after the first couple of laps, which meant I just had to concentrate on keeping Shawn behind me.  Had a few scary moments, especially on Lap Six coming out of last corner. Got a bit of sideways and went wide on to the exit curb. Had to lift quite a lot which allowed Shawn to get a run on me into Turn One. He got the inside line there, but I managed to get a pretty good exit out of that corner and was able to hold him off into Turn Three."
Wood and Heitkotter were keeping Purdy and Haapala close while, a bit further back, Turcu pressured Cornett.  VIR bit Wood hard as he cut the curb too much at Turn Eight, unsettling the car and sending him flying off the track at Turn Nine in a spin that must have seemed like an eternity to him before he finally came to rest in the infield.  He subsequently pitted that lap and eventually rejoined in 17th place.
Into the final stages of the race, Purdy made a few unsuccessful moves on Haapala as Turcu continued to hound Cornett even though the latter was setting a cracking pace. Cornett looked a little ragged through Oak Tree and Turcu had excellent drive off that corner allowing a good draft along the Back Straight. As they braked for the Roller Coaster, Turcu got wheels off to the inside and spun into Cornett, sending both off the track at turn 14a. Turcu would recover and win fifth place but Cornett's day was over, enabling Florian Godard to move into sixth place even as Heitkotter took a worthy fourth spot from eleventh on the grid.
"It was an eventful first lap for sure!" he said. "I was quite pleased and surprised to be sitting in fifth already . . . I wanted the race to be over right then. Derek Wood was up ahead but I didn't anticipate I'd be able to pass him, and Cornett was battling with Artur Turco 2-3 seconds behind me. I had to keep pushing like mad to stay ahead of them. Ben was damaged and I could still only match his pace – that's how unhumanly fast he is!
"I was in a nice groove through the middle phase of the race, doing the lap times I needed to maintain position. Then Derek had a moment in the esses and I caught up, losing my rhythm. The four second gap I had managed to slowly eke out over Ben was down to two seconds. A few laps later, Derek spun off in the Esses and I broke concentration again, nearly falling back into the clutches of Ben and Artur. I was fourth now (and) the laps couldn't go by fast enough… lap 21… lap 22… the gap was down to just over a second at times. My eyes were tearing up from concentrating so hard but I dared not blink until I got to a straightaway. With about 5 to go I saw that the pair of hunters behind me were now a lot further back. They had tangled, and so I could finally relax. I slowed down by about a second per lap just making sure I brought the car home. The trio of Towler, Haapala and Purdy were well ahead by this time. In the end, I finished with zero incidents, well ahead of my starting position. I'm quite happy with that."
But not quite as happy as Towler, who (again) demonstrated his class at the front even as Purdy remained frustrated in his race-long duel behind Haapala, unable to show if he had anything for Towler today.
Man what a race! Whew," Purdy said.  "Thanks to Ilkka for some fun racing.  We ran side-by-side a bit at VIR; not too many people you can do that with. No idea if I had anything for Rich as I was stuck on Ilkka's bumper for the whole race.  Kinda wish I didn't blow the start, but I had a blast even if it was third place.
"I was killing Ilkka into the braking zones of Turn One, and the one at the end of the back straight, but couldn't see anything into the final turns. So I couldn't really get a run off the last turn at all. Oak Tree was just death to get a run off that turn! I was waiting for a mistake, He did make one big enough one, off the last turn, which meant I could go deep on the brakes, but unfortunately he had the inside into Turn Three so I couldn't complete the pass. LOL Great stuff Ilkka. Fun too!"
Towler was happy to see that Purdy denied eleven points by himself and a further ten at the hands of Haapala, resulting in his continued reign as points leader after this week . . . as planned.
"I had to race again (today) as I knew Shawn was racing, so didn't want him to score more points than me this week," Towler explained. "The plan worked right off the line.  I got a great start and The Finn got by him which allowed me to pull a gap.  I was expecting Shawn to pass at one point so wanted the gap to be as big as possible without me doing enough to risk throwing it off the road. I was pretty happy around Lap 20 as I had built a 10+ second lead, so just did what I needed to do to bring it home. I think I gained a couple of points too, which was a bonus"
Final Standings
1.    Towler
2.    Haapala (-12.903)
3.    Purdy (-13.133)
4.    Heitkotter (-36.119)
5.    Turcu (-43.080)
6.    Godard (-59.653)
Fast lap:  Towler (1:41.910)
Weekly Wrap Up
Qualification fast lap of the week: Towler (1:40.437)
Race fast lap of the week: Towler (1:41.837)
England's invincible Richard Towler continues to lead the series with Australian Luke McLean and Canadian Shawn Purdy both exactly 20 points behind with only three races remaining. The true picture is even closer than this since McLean and Purdy have slightly worse results yet to be dropped, so the iPSRR has effectively become a three way battle mini-series. Slovakia's Tomas Kopnicky is still just outside the top 50 bubble and Frenchman Bastien Bartsch is a spot above him. To make matters worse for McLean and Purdy, we now head over the pond to Towler's home stomping ground at England's famous Silverstone circuit this coming week. Can they stop him?
About the iPSRR
The iRacing Pro Series for Road Racing (iPSRR) is, in this inaugural year, a 25 week series with six drop races (i.e. a driver's best 19 results will count toward his season tally). In addition to crowning a seasonal champion, the iPSRR qualifies its top competitors for the 2010 iRacing Drivers World Championship for Road Racing which will be worth $10,000 in money and prizes for the champion. There is a parallel series for oval racing (the iRacing Pro Series Oval – iPSO). The top 50 drivers in each Pro series will compete in the iRacing Drivers World Championship Road Racing and iRacing Drivers World Championship Oval set to start in February of 2010.
iDWC (Road and Oval) winners: Trophy, Jacket, $100 iRacing credit and additional cash and/or prizes valued at $10,000 U.S. dollars.
iDWC (Road and Oval) second place: Trophy, Jacket, $75 iRacing credit and additional cash and/or prizes valued at $3,000 U.S. dollars
iDWC (Road and Oval) third place: Trophy, Jacket, $50 iRacing credit and additional cash and/or prizes valued at $1,000 U.S. dollars
iPS (Road and Oval) winners: Trophy, Jacket, $100 iRacing credit
iPS (Road and Oval) second place: Trophy, Jacket, $75 iRacing credit
iPS (Road and Oval) third Place: Trophy, Jacket, $50 iRacing credit
iDWC (Road and Oval) rookie of the year: Trophy, Jacket, $50 iRacing credit
iPS (Road and Oval) rookie of the year: Trophy, Jacket, $50 iRacing credit
---
You may also like...
---