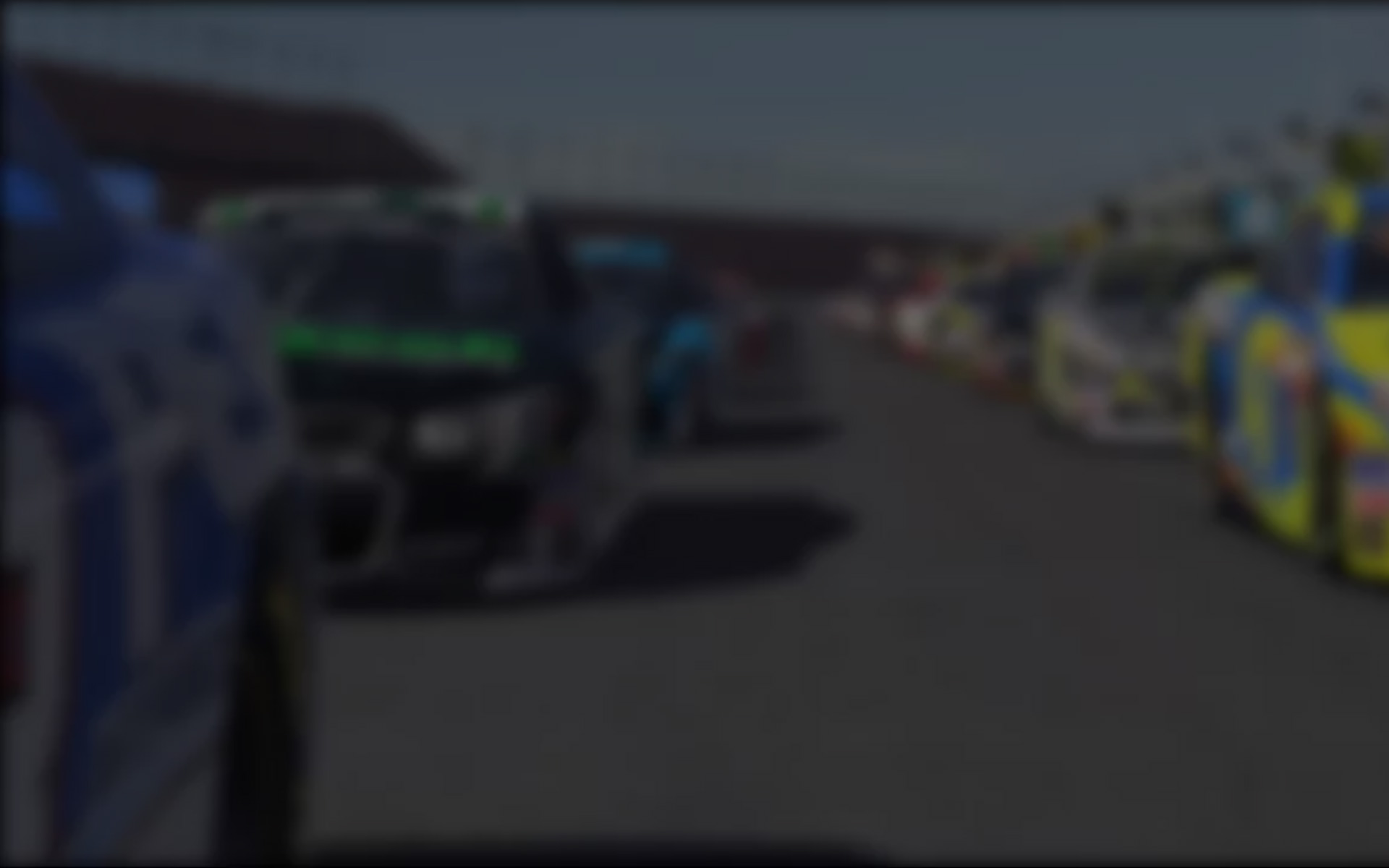 February 21st, 2017 by Dan Ensch
Pole sitter Brandon Trost accidentally chose the right pit strategy after a late yellow, then held off hard-charger Tim Holgate and his fresh tires to win the Lionheart Retro Series 150 at New Hampshire International Speedway on Sunday night.
Holgate, who started 31st after leaving his paint scheme on the turn two wall in qualifying, was leading Trost on lap 136 when Marco Aurilio Brasil spun out of eighth place.  Holgate pitted while Trost did not, although it was mind games that kept the Mario Kart machine on the track and into the lead.
"If he had (completely) committed, I probably would have followed him in," said Trost.  "But the way he was faking made me think that he thought he might be able to (stay out and) hold someone off. So I decided to stay out."
The common chess paradox of 'I thought that he thought that I was thinking' turned out to be the winning break for Trost, as Holgate suffered a mishap in the pits, then had to restart on lap 141 behind Tim Doyle and Tony Helminen, who also did not pit and so were on worn tires.
"We might have gotten a little bit of damage on that last pit stop," said Holgate. "I don't know if that caused us just enough drag to hurt us in a straight line."
"I knew at some point I would be racing against Holgate." – BrandonTrost
Adding insult to injury, Holgate later admitted that he probably didn't need to give up the lead at all.
"In the end, I think we were just a little bit too conservative on the fuel. We would have made it on fuel if the yellow had not come out. So while I was hoping for (a yellow), it actually cost us the race."
Trost was in control for the first half of the race, leading 88 laps along the way. But Holgate was already up to P5 by the quarter mark, and took the lead for the first time when Trost pitted on lap 61.
"I knew at some point I would be racing against Holgate," smiled Trost.
A key moment came when Trost managed to race back to the lead lap, passing Holgate just before the yellow came out on lap 66. From there, split pit strategies shuffled through several leaders over the next 28 laps until Holgate stayed out to take the lead from ninth place following a Wagner Pegoraro spin, setting-up the late yellow drama.
Andrew Kinsella was one of the sim racers caught out by the caution on lap 66, going a lap down along with several others. But he battled back, taking the Absolute Zero/KOOL car to third place with a last-lap pass on the high side around Paul Jennings in a move that was described by Racespot TV's Aaron Likens as the unofficial move of the race. Kinsella dialed up some extra downforce during the last stop, which he credits for the final charge from eighth to third in the last ten laps.
"After the last yellow I knew that I had a little bit more downforce and I could stick on the high side. That was a blast," remembered Kinsella. "For all the adventures of that race I am extremely happy. That was a wild way to get my first Elite series podium. With a couple of extra laps we may have been able to take Holgate and Trost, but they were doing a great job up front as well."
"That was a blast." – Andrew Kinsella
Jennings and fifth-place finisher Adam Dock made it a 1-4-5 day for Team Velocidaddy Special.
With his second consecutive runner-up effort, Holgate moved the Ludicrous Speed/Snake Pit/TBR/Sam Maxwell Custom car into the league lead, nine points ahead of Trost. Dock climbs to third while former leader Austin Espitee slides to fourth following an early exit and a 21st-place finish. Doyle, who nursed his scalded tires home for tenth, rounds out the top five in the standings.
Next stop for the Indy Oval Elite sim racing series is March 5th and the California 300 at Auto Club Speedway.
---
You may also like...
---