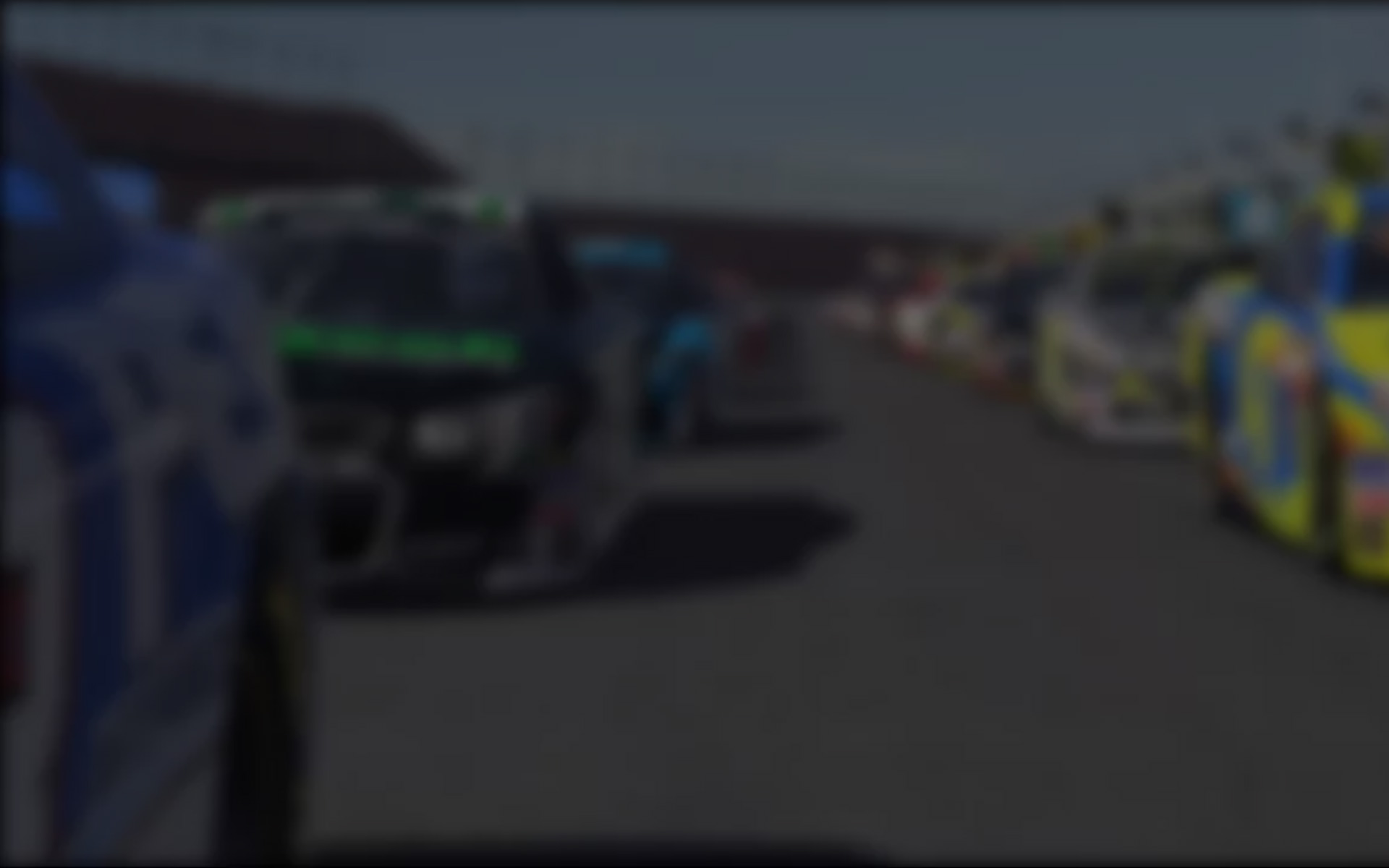 I'm sitting here thinking back to six months ago after the announcement of iRacing's virtual Jetta TDI Cup, and how I could have never envisioned it would bring me out here to Las Vegas for probably the most unforgettable experience I've ever had!
Things began to get hectic before the trip had even started. Flight cancellations were a major concern as the east coast was getting hit hard with record-breaking snow fall throughout the weekend. Luckily my flight arrived the night before the first day of the 2010 VW Jetta TDI Cup driver selection event, albeit over two hours late and to an uncharacteristically cold & stormy Las Vegas airport. My dad and I made a quick trip to the South Point hotel which is where the first two day's festivities would be held, just to know exactly where I needed to be at 6am sharp for the start of the event. The place was absolutely HUGE! I walked to the front entrance and there was a TDI Cup car parked right by the front doors, along with a big sign welcoming us drivers to the 2010 selection event.  Inside the place had literally every entertainment commodity you could think of: a huge casino as you just walk in, restaurants, movie theaters, 64 lane bowling center, and an indoor arena, among other things. The place just seemed endless!
The first day started off with registration and lots of paperwork . I got to chat with a few drivers whom I've known through karting for a few years, along with some new faces and drivers I recognized from last season's TDI Cup. We all introduced ourselves and everyone just seemed really excited to be there and get things started. As drivers from previous seasons were telling me, the VW hospitality is amazing. I got to see this first hand with the awesome breakfast we received before things got underway.
After a quick greeting from Clark Campbell, motorsports manager at VW, we split into groups which would rotate through the activities throughout the next two days. My group consisted of two drivers from last season, a karter, an autocross racer, a guy who came from Russia with sports car experience, a 16 year old coming from quarter midgets and a drag racer who had never had any road race experience. A pretty diverse group and it was really interesting to hear about everyone's upbringing in motorsports.
The first activity of the morning was a written test on racing lines, what to do in certain handling situations with the car, and the flags that SCCA uses. I basically visualized how I drive the Jetta in iRacing to answer most of the questions. For example, "What do you do when the rear end of the car begins to step out through a corner," and stuff like that.
Next up was a trip to the gym for some pretty strenuous workout activities. To my relief, I am in better shape than I thought. I outlasted most of the other drivers in the pushup and treadmill activities. Fitness is definitely a big part of racing and the VW series stresses the importance of that for any race car driver, so I will be sure to start working-out more and watching what I eat.
Finally, just before lunch we got to the good stuff: autocross! I had a blast getting to thrash around a 2010 VW GTi. The steering felt super tight and responsive, making it a real joy to drive… gotta love that German engineering! The layout of the course was tight but lots of fun. Each session I got a little bit better feel for the car but I was still right foot braking because that's really all I've done in a road car. I've heard that most drivers in the series left foot brake and I knew I had to get the technique down so I could really start to relate my sim driving technique to the real deal.
After lunch (and some sessions showing everybody up on iRacing), we had a great sponsorship seminar from Todd Steen, a member of the marketing team at VW. It's really cool to get all this knowledge about the business side of racing, because it is SUCH an important part of the sport. VW really stresses this and wants their drivers to succeed in the motorsports world, so I am really appreciative of all the things I've learned over the past few days.
Day 2
After a long and busy first day ended successfully, Day Two looked to be even more action packed. Following another awesome breakfast (Hey Wyatt, what was that about watching what you eat? – Ed.), we split into our same groups from yesterday. First off was a media marketing seminar in which Dan Lantowski, the PR guy at VW, talked to us about dealing with the media, from print to on-camera interviews, what to prepare for and how to handle different situations.  This was another VERY informative seminar that I got a lot out of, and will certainly be beneficial in the future.
Next it was back to the gym, though this time we did quite a few different full body stretches, and basically got a great workout without using any machines. It's good to know that a lot of the stuff I will be able to do anywhere on my own time. We also received a nutrition booklet and watched a presentation on proper diet and nutrition.
Autocross was next on the list of activities for the day and, as we headed outside I noticed they had changed up the track from Day One. It looked like they wanted to keep us a little further away from the parking lot poles, as I think there was a close call in one of the groups during the first day. The layout also had a slightly longer straightaway leading into a decreasing radius corner going into slalom before the finish. I enjoyed this layout, where trailing the car through the final sweeper would be the fastest way through there.
Early in the morning on our way to the track, I had told my dad I wanted to get a feel for left foot braking with ABS brakes. He nervously agreed to let me do this with him in the car. I took to some back streets and just got a feel for hammering the brakes with my left foot. Now during the autocross on Day Two, I decided to stick it out and just LFB during each session. It turned out to be not such a difficult change, and by the last session I felt really comfortable getting the car rotated through the corners. I was able to balance the car better with both feet, similar to how I drive the Jetta in iRacing. It would step-out on me under braking in a similar way, so it wasn't really too difficult to adapt.
After lunch and some more iRacing, we headed to the kart track. Now I do have quite a lot of experience in karts at a high level, but I have never driven a Rotax "Tag" kart. I knew that the power band would be different than the 100cc karts I have driven previously, but I wasn't sure how easy it would be to adapt. For most of the first session I was a bit all over the place; it took me some laps to get used to slowly easing onto the throttle coming-off of the tight corners. The thing had so much power that I was getting wheel spin on the exit of a fast horseshoe corner if I used too much throttle. Each session I just got more acclimated with the kart and the brakes. By the end of the session I was really having a blast driving the kart smoothly, and got a handle on it even through the tight corners.
The final activity before they announced the first round of cuts was another sponsorship seminar. This time it would be presented by IndyCar driver Townsend Bell. Going into this I was not expecting Townsend's seminar to absolutely blow me away like it did. His story on how he came up through the racing ranks was really intriguing, and really impressed me. He had developed such a great attitude and it was just a really motivating story to hear. Luckily I took good notes and I'm sure his words will stick with me as I try to pursue a career in motorsports.
Now the wait began, and you could feel the tension building in the hospitality center for what seemed like an eternity. I sat at the closest table to the podium, eagerly awaiting the instructors to come out and read-off the names of the 30 drivers advancing to the final day. I reflected on my performance the past few days, and was confident that I showed them I had what it takes, or at least would be able to learn and adapt efficiently, which I felt like I did. Eventually the instructors finished their long review process and everyone's attention was at the podium, where Clark Campbell started reading off the names. I was called seventh so I fortunately didn't have to panic like the last few drivers! Surprisingly both of the drivers in my group from last season didn't make it, but I sincerely wish the best for them in 2010.
The 30 selected drivers all went through a classroom session basically getting us familiar with the car, and the data acquisition used. We got weighed-in with all our gear, and fitted in the seats for the next day's events. I was pretty drained after the day was finally over, just glad to have made it this far and eagerly waiting to get to the Spring Mountain Motorsports Ranch to finally get some track time in the Jetta TDI.
Day 3
We left the hotel at around 4:30am in order to get to the race track before 6am. We drove through a large mountain range and there was actually snow on the road near the peak, something I certainly wasn't expecting in Nevada! Arriving at the track facility I could tell it was top notch, even though it was still dark. It was a full-blown resort for car enthusiasts; there was even a spa at the place. Anyways, it started to rain on the way there.  I was thinking it would ease up by the time we got to the track but it just seemed to come down harder. After breakfast we got suited up and began our track walk after a brief meeting. That ended shortly after the rain turned to hail and everyone ran back to the tent where Jan Haylen, the series' chief driving instructor, went over the layout of the track with us.
Now the fun begins; excitement was building up inside as we were assigned groups and cars we would be sharing throughout the day. There were three groups of 10, the first being drivers who had run the cars last season, the second group which I was in, had most of the karters joining the series for the first time this year. Conditions were pretty bad for the first "lead-follow" sessions. Basically an instructor would lead a group of five or six cars, and we would rotate positions behind the instructor every two laps, while the instructor picked-up speed each lap. Watching the first group who went out on rain tires, they all seemed to handle the conditions pretty well.  Of course they weren't going all-out and all of the drivers had experience in the car from last season.
Our group was the first of the new drivers to get on track. Finally we started to get ready as Group One came into the pits. The feeling of finally pulling out of the pits in the Jetta for the first time is something I'll never forget, I was so excited to see what the real deal was all about! Of course I still had a lot to learn about the car on the limits, but I immediately felt comfortable with the shift points, and the fact that it's front wheel drive gave me confidence in knowing what to do when the car would step-out on me in certain situations. The lead-follow session went really well.  I didn't spin but almost lost the rear end through one of the twisty corners when I coasted through a turn without applying any throttle and jabbing the brake a bit. I think one person in our train of cars had a minor spin, but everyone safely navigated the course for the first session.
Thankfully the rain had stopped, and it looked like we might actually get to run on slicks later on in the day once the track dried up. However, we still did our second session on the rain tires since the track was still pretty wet. This would be the first session where we could push the car as hard as we wanted, and the last session before the final 25 official 2010 drivers were going to be selected. I knew it was important not to overdo it in this next session. I didn't want to be one of the drivers who had an "off," because it would be the final impressions for the instructors to decide on who goes home and who stays.

As we began our first laps I started to get a feel for the true braking power of the Jetta TDI, and it was pretty astonishing how well the brakes can stop a 3,500 pound car! I began to find the limits of braking, right before the ABS would kick in. Each lap I dared myself to go a little deeper into the corners until I started to trail the brakes into the turns, just as I would in iRacing. I wanted to be able to take the turns using maximum braking power but not having to coast through them at any points, because that meant that I could go deeper. According to Jan, that is the ideal way to drive on the limit in the car; it just takes some time, and a little trust in the car and your abilities, to find those limits. So I felt really confident with the car after the first session.  Once it was over we headed to lunch, where the final announcements were made.
A few drivers in my group were curious about whether iRacing had really helped me, and if I had any previous time in a FWD car before, because I had evidently left an impression after that session.  I found out that I was the fastest of the Group 2 drivers during that second session before lunch, on the rains but on a drying track. I totally attribute this knowledge of what to expect from the car from what I had learned in the iRacing Jetta. There were some differences of course, but the feel of the car under braking and the way to get the car to rotate on the rear as much as possible was very much the same technique as used in iRacing. I couldn't throw the car around without upsetting it like I could sometimes in iRacing, but the steering was similarly light like my G27 wheel with the force feedback  at about 9 or 10, and the Windows Logitech profiler force feedback at 102%. The car also seemed to step out easier in some of the faster corners, but of course you have a greater feel for the real car stepping out.
After lunch, the final cuts were made and, needless to say, I was relieved and excited to learn I was one of the 25 who has been selected for the series.  Now we could all just focus on getting to know the car better; the stress of not knowing we were officially in the series yet was completely gone. It was a huge relief and I could just look forward to pushing the car to see what I could really do with it in the final two sessions.
The first session after lunch we were running about eight seconds faster on the slick tires and with a completely dry track. The car was such a joy to drive and at this point I already felt really confident in pushing its limits and trying new lines. It was a really good feeling to be able to almost keep up with a fast driver from last season, JD Mobley, for about 10 laps while I was following him from about 15 car lengths back. He ended-up unofficially setting the fastest time by the end of the day, so that was quite reassuring.
In the final session I was able to run with some traffic, and I learned firsthand how cold tires in the real Jetta can be very, very slick! Just about every driver warned me on how easily these cars will snap on you with cold tires. Well, they weren't lying. I ended up looping it while trying to correct getting loose coming out of a tight, cambered right-hander leading onto a long-flat out section. I went in for my safety check, and right back out with a few cars just ahead of me.
I figured instead of trying to go all-out hot lapping I would get a feel for driving close to other cars. I made a pass on one guy under braking, making sure that I was far enough along side to safely do it, once I realized he was braking quite a bit earlier than me. The instructors didn't want us to do anything stupid or making any dive bombs, so I made sure I could make the move safely. I followed another guy who I caught a couple laps later and noted how it was pretty hard to get a run on him anywhere because even though he was braking early, his exits were decent and I couldn't really get a good run because the straight wasn't long enough. I decided to hold-off on the dive bomb pass once again, because I didn't want to look stupid trying something that might not work. It turned out to be another really fun session though, just following closely, since in the races there will be 25 of us all around each other at the start. Racing in traffic is going to be a very important skill to be comfortable with.
One other similarity I noted from the real car to iRacing was the effect on overdriving the front tires and how easily it will slow you down. The car actually hops a bit more than the iRacing Jetta, believe it or not. A little bit of four wheel hop seemed to still be quick, but hopping on the front wheels I could just tell was overheating the front tires really quickly. I could only do a couple quick laps before my times would drop-off as the front end wouldn't grip as well, and I'd have to back it down a bit. The same technique of not steering with the front end really helped, and gradually applying throttle only when I'm able to fully get on power through the exit of the corner. I can see that a consistent and quick line conserving the front tires is going to be the key to being fast in the race, just like it was in the iRacing Jetta.
So, all in all the day honestly couldn't have gone better; the Jetta wasn't overwhelmingly hard to drive or anything and I felt pretty comfortable with the car in a short amount of time. I have a feeling that lots of the VW drivers are going to become iRacing members and get to practicing at VIR now! Late April can't come soon enough; I'm really excited to see now how accurate VIR is in real life – as it is one of, if not THE most technical tracks in iRacing.
Wyatt
---
You may also like...
---