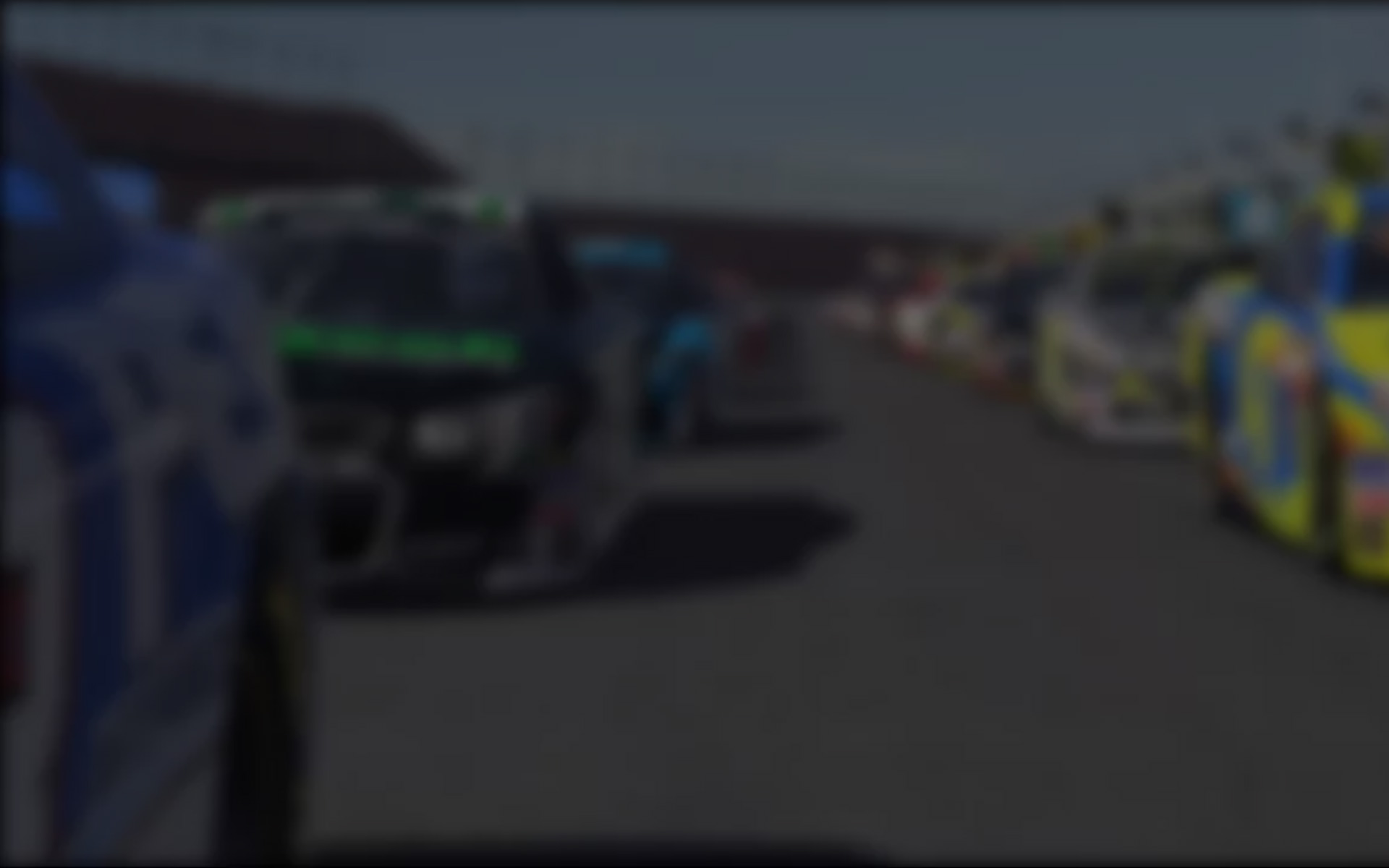 I've been around simracing for quite some time and I can safely say that I've only felt the way I did during Saturday's iRacing Rolex 2.4 at Daytona once before: It was back in 2003 when I tasked myself with re-installing Grand Prix Legends (one of the iRacing development team's previous creations) and running a full-length 1967 Grand Prix at the Nurburgring (Nordschleife). It was a challenge I felt equal to at the time and there really was no greater feeling for me in simracing after achieving it. I've read many posts with similar thoughts on the iRacing Member Forums and I can't say I am surprised. I loved it, too.
My 2009 Season 4 had been a tough one. I moved from Massachusetts to Illinois part way through and took a vacation in England (working at the Autosport Show, where we announced licensing of Williams F1 in the process). When I left for England I was in the top-three of both the Skip Barber Series and Late Model Tour for my division, but when I returned I was nowhere. I really had worked hard to find the time to race this season and – being the person who creates and sends out the certificates – really wanted one for myself! Going into Saturday I knew that if I could just eek out a Podium I'd have one…
Saturday morning was spent (much like the Autosport Show) running laps in qualifying mode. I didn't really care where I started the Rolex 2.4, I just wanted to beat the lap times that Steve Myers (iRacing's executive vice president and executive producer) kept taunting me with! I'd left Autosport with the upper-hand, but Steve ended up beating my final qualifying time of 1:41.253 by a tenth. As annoyed as I was that Steve had beaten me (and yes, I was truly annoyed), he had inspired me to knock a full second off my previous best and had also allowed me to become comfortable going that pace.
With my wife fully aware not to call home between the hours of 11am-2pm, I watched the clock count down to zero and saw a whopping 949 others would be racing with me. After getting into my split (one of 24 races containing 39-40 participants) I checked the entries and qualifying order to find that although I was rated as being the 17th best driver in the field, I had managed to qualify seventh. I suspected a lot of this was because some had chosen to start at the back, or start from pitlane, but I was fine with that!
Having seen how close the race was going to be on fuel (90 lap race, fuel predicted 45 laps per tank), I ran the entire pace lap coming to the green in fifth-gear. Everybody was saying the customary "good luck" messages and as the green flag dropped we all went racing like total gentlemen! From what I could see, the start looked remarkably clean and I slotted in behind Chad Coleman in the #20. We snaked our way through the infield and out onto the banking and avoided a spinning Bob Perona in the bus stop chicane to complete Lap One.
On Lap Two, Coleman and I flew past Andrew Hayes on the banking while I settled into what would become my first battle of the race: The battle for fourth-place with the #2 car of Glen Jerome.
Jerome and I ran nose to tail from Lap Two until Lap 30, exchanging position three times. We had a great fight and gave each other plenty of room during those 'sideways moments' the Daytona Prototype throws at you. Then on Lap 30, to my utter amazement, people started to pit! I checked my predicted fuel usage and it still said I was on-track to make it half-way, so I just reveled in the fact that not only had I moved into second-place, I had also lost Jerome in traffic.
As the laps wound down and I approached the half way point, I had run a remarkably clean race with just a couple of off track penalties at the chicane. My tires were really starting to struggle though and by lap 43 it became hard to keep consistent. I decided to try to save fuel, so started to run all the first-gear turns in second and the chicane in third. Coleman, who had pitted out of second-place earlier, had closed me down and I pulled-up on the banking to let him by before I eventually pitted on lap 46.
Coming out of the pits I found myself right in front of fourth-place man Augusto Gabaldoni. Gabaldoni became my second major battle of the race as we sparred even closer than I had with Jerome. We ran for 16 laps together, swapped position twice and pushed each other to our absolute limits: It was Gabaldoni who went over it first with a slow, lurid spin coming out of the infield.
By lap 63 I was really pushing hard so that I could end up in front of Coleman after his pit stop. I set my fastest lap of the race (1:41.743) during that charge and also started to close-in on the leader who had also pitted. I managed to get in front of Coleman and now it was a straight fight to the finish.
Unfortunately, on lap 69, my concentration broke. I lost the car coming into the chicane and had to let Coleman by before rejoining the track.  I started to obsess about how much that slide had worn my tires and really, that was it: Concentration was not going to return.
The rest of the race, for me, was about survival. I lapped as carefully as I could and watched Dan Caskanette and Chad Coleman pull away while I kept making small errors. I knew that if I didn't make a large error – I'd be fine – I'd finish on the podium, so I just settled into the third-place finish.
The buzz after the event is something I've really not witnessed in simracing ever before and as someone who came directly from that community I don't think I could express how enjoyable this event was any better than that. After everything was said and done, I was delighted with a third-place, it really made a difference to how I felt about 2009 Season 4 and has left me with a lot of excitement for the future Special Events and iRacing in general. I still have this feeling that I could have finished higher had I not made some errors, but looking at the results I think Coleman was genuinely faster, maybe he has his own Steve Myers somewhere.
---
You may also like...
---