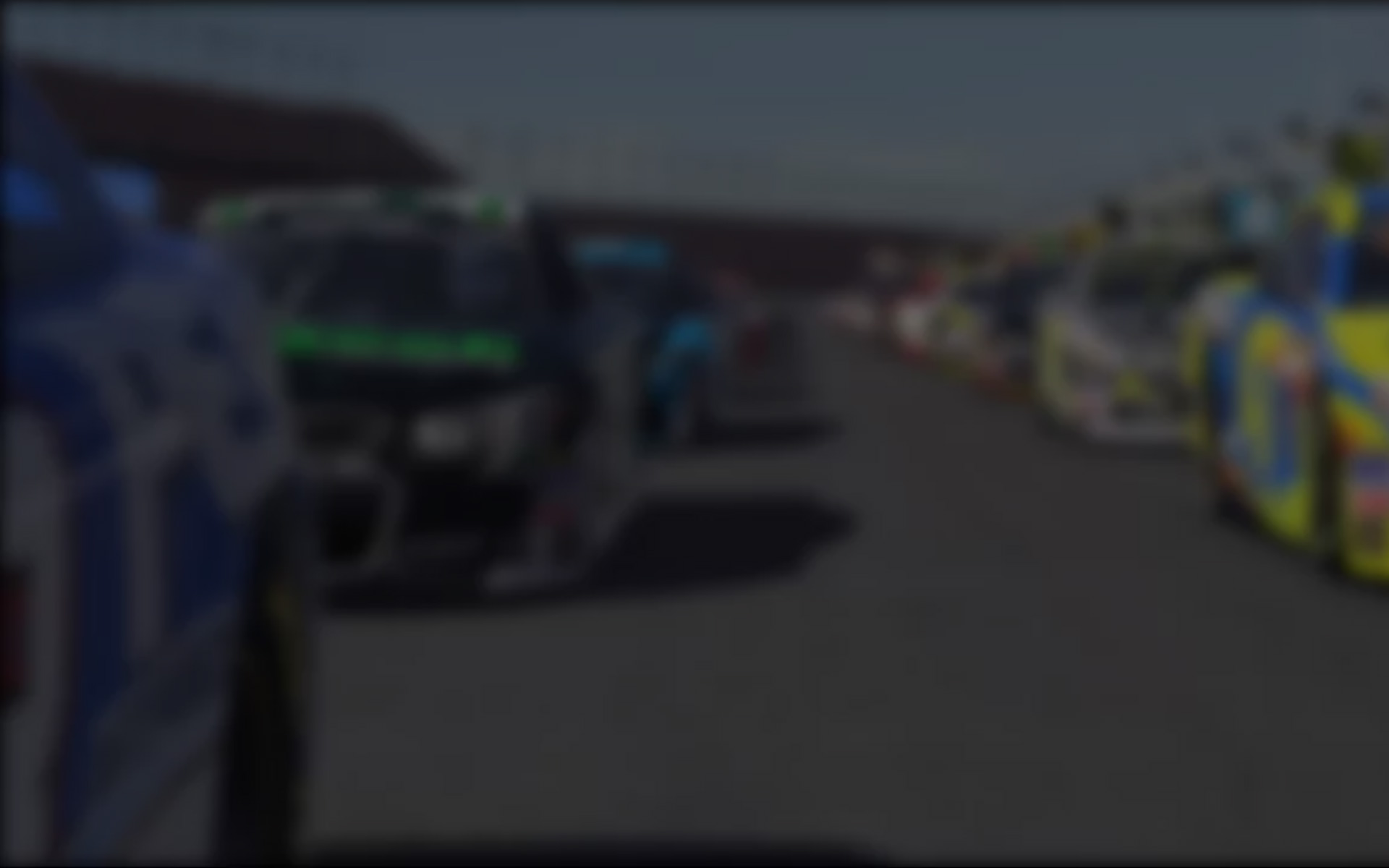 Derek Wood scored a dominant victory for himself and the Plains club in the World Cup of iRacing oval final at Michigan International Speedway on Saturday afternoon.  Wood started from pole and led 62 of 80 laps en route to his victory.  While he four other iRacers managed to lead at least one lap, as a practical matter, Wood was in control of the race from start to finish.  He led the final 15 laps and took the checkered flag (accompanied by a yellow flag in the wake of a multi-car crash three laps from the finish) ahead of Mid-South's duo of Nolan Scott and Jim Caudill, Jr.
Wood started from pole and led all but one of the first 30 laps, his quick pit stop during a caution on Lap Seven promoting fellow Plains driver Nick Neben to the front for a single tour.  Otherwise, it was Wood leading New York's Thomas Lewandowski and Scott through the first third of the race before Mid-South's Tyler D. Hudson jumped to the front on the second round of pit stops during another caution.
Hudson led several laps before he and Wood got together, slipping down to seventh behind Wood, Caudill, Lewandowski, DE-AT-CH's Martin Thiemt, Scott and New Yorker Mike Izzo as a result.  Thiemt would take the lead on Lap 52, following another round of yellow flag stops, but Wood was soon back in front, only to fall behind Scott and Lewandowski on yet another round of yellow flag stops on Lap 57.   Within six laps of the green flag, however, Wood was in the lead once more, destined never to be headed despite several remaining cautions and restarts.
Scott slipped as far back as fourth but rallied on a late restart to pass Caudill and Byron Daley to take second, while Ian D. Smythe came from sixth to fourth in the final laps, heading New York's Nelson Rivera.  Matthias Wurm scored some useful World Cup points for DE-AT-CH with a sixth place finish ahead Ohioans Dave Hoffman and Otis Aldridge, while Thiemt added to DE-AT-CH's oval tally with a ninth place finish ahead of Plains' Mike Kelley.
After challenging Wood in the early going, Hudson fell to an eighteenth place finish but at least garnered a single point for Mid-South, one more than Lewandowski collected for his nineteenth place finish.  Spare a thought also for Daley, as the New Yorker got caught-up in a Lap 77 melee that cost him a potential podium finish.  Izzo too lost a likely top five in the final going while California's John Prather fell to last in the early going, clawed his way back up to fourth only to get collected in the Lap 77 crash.
Although Wood collected the win for Plains, MidSouth left MIS with the World Cup points lead thanks to the podium finishes by Scott and Caudill, coupled with Hudson's result.   Plains took second in points with Wood's win, coupled with Kelley's run to tenth and Martin Busch's fourteenth place finish, while Smythe's fourth place helped propel England into third in World Cup points just ahead of Ohio, DE-AT-CH and New York, with California a distant seventh.
---
You may also like...
---