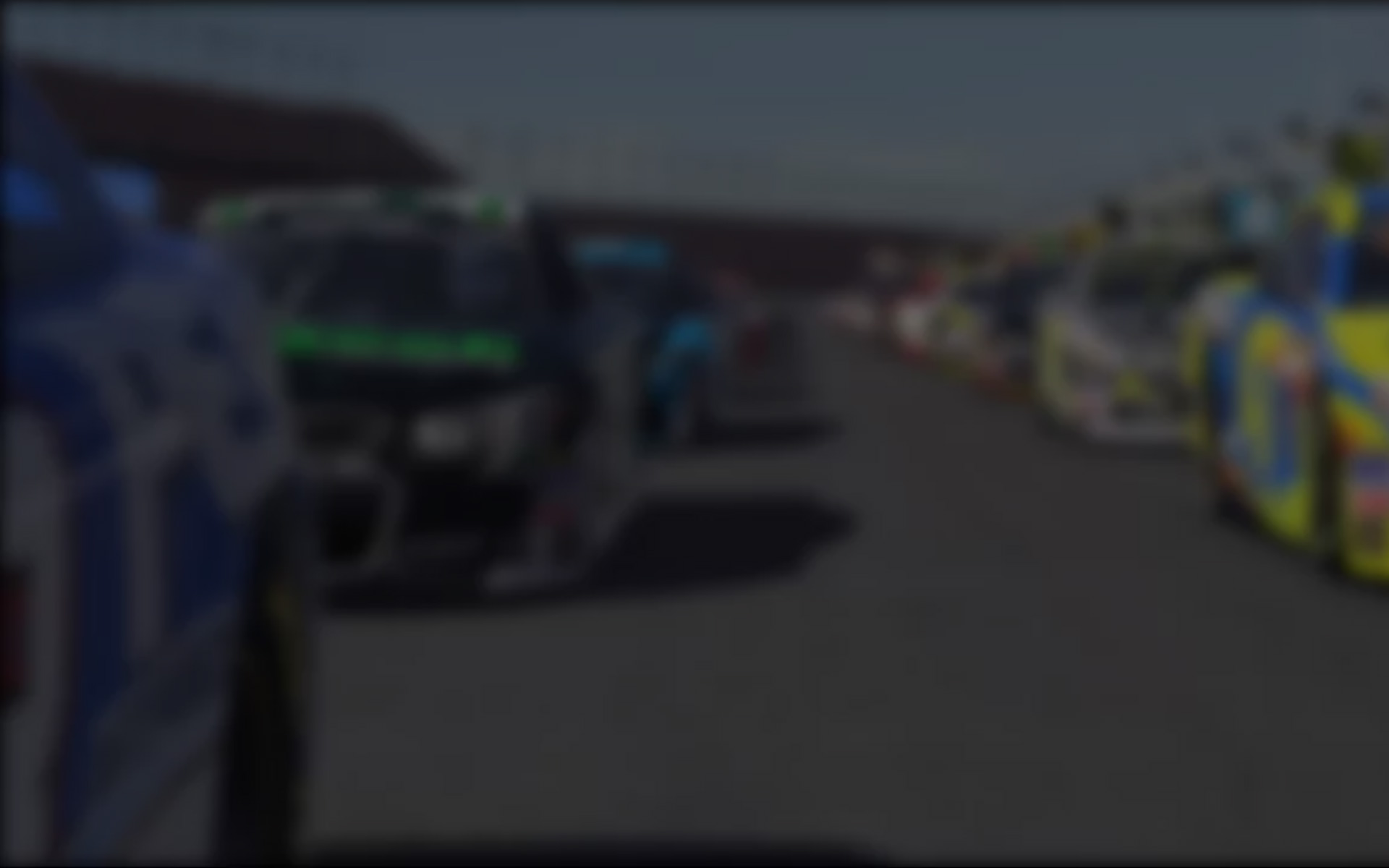 52 Laps.  Almost 2000 gear changes.  Over 70 minutes of intense, non-stop action.  This is what it means to race online in the SSCA Grand American Championship presented by O'Neil PC Systems at a virtual Brands Hatch in Kent, England.
Races at Brands Hatch tend to have a high attrition rate and this race would be no different.  Only 12 of the 23 starters brought home their cars in one piece:  Proof of the high level of skill and concentration required to navigate the treacherous swoops and turns of Brands Hatch.
Qualifying again showcased the incredible level of talent on display in this series.  The top three drivers overall all qualified under 1:21, a rapid pace indeed.  On pole on the Corvette C6.R class was Marc Payne followed by Chris Damron Jr and Daniel Graulty.  The Daytona Prototype class was headed by Mike Young with series newcomer David Sirois in second and defending champion Colin MacLean in third.  Current DP championship leader Jaymz Mynes was only one spot behind in forth.
Race starts are always a nervous time for the drivers but as with almost all GAC races, this one went without a hitch.  Payne was able to immediately work his way past Sirois into second place overall and retain first in the Corvette class.  Graulty would soon pass Damron Jr. on Lap Two after Damron followed MacLean off track exiting Dingle Dell.  Although MacLean held his position, Damron Jr was forced to give up the place to Graulty.  As Graulty checked his mirrors to verify his pass on Damron Jr, he undoubtedly got a great view of Alex Ulleri, Joe Vorndran and Jamie Freitas all getting it wrong through Dingle Dell.  Luckily no-one made contact with the barriers and all following cars were able to avoid the spinning trio.
The attrition would start early.  Series newcomer Daniel Quaroni slid wide through Paddock Hill Bend and into the wall after passing Karl Mumbower on the Brabham Straight.  Unable to continue, he had to retire his DP.  Then on Lap Six, MacLean's motor expired on the exit of Clark Curve, eliminating the Georgian from both the race and the championship.
Sirois would haul back Payne by Lap 12 making the pass for track position into Druids.  It's extremely tough for the Corvette drivers to hold-off DP's later in the race with their higher tire wear and heavier weight.  Sure enough, on Lap 17 an unforced error would claim Damron Jr's Corvette after a mistake in the challenging Surtees corner.
The remainder of the race played-out with little incident as all cars in both classes were spread out widely around the track;  so much so that at the checkered flag only the top two cars in each class finished on the lead lap — a testament to the unforgiving nature of this brilliant track.
No-one could touch Young and Payne as both cruised home to easy victories.
"What a challenging track," offered Young.  "The car just seemed to be hooked up for this race and I was really trying to get every 10th I could on every lap and managed to somehow keep it off the wall. The traffic kept me busy, but I want to thank everyone for being courteous and quick to communicate their intentions."
Sirois followed Young home in second place in an impeccable performance from the rookie.  Mynes rounded out the podium in the DP class and collected more valuable championship points.  The Corvette podium would also hold the familiar trio of Payne, Graulty and Vorndran.
"The 'Vette is actually a very fun car to drive here so it was quite an enjoyable race," said Payne.  "I made it through my stop at Lap 28 and had a nice cushion to Daniel and drove her home."
As the sun gets ready to set on what has been both a memorable and epic racing season, new and exciting changes are taking places within our online racing organization.  The Grand Am Championship (GAC) is currently being sanctioned by SSCA and will continue as such through the season finale at VIR.  Next season the GAC will move under a new banner – the International Sim Racing Association (ISRA) www.israleague.com.
Speaking of next season, the outlook is incredibly rosy!  The GAC will be bringing back the incredibly popular three class format with the Ford Falcon V8 Supercar, The Ford Mustang FR500S and the newly released Mazda MX-5.  This car combination will promote close, hard but always friendly competition.  iRacers and real-life racers alike are already lined-up for their seats on next season's roster.  With 15 spots per class and 45 total starters for every event the races are going to be extraordinary.
But let's not get ahead of ourselves!  Next for the GAC is the season finale at VIR, our own "green hell."  A test of man and machine unmatched by any other track in North America, VIR almost always produces great racing and brings the best out of the drivers.  Will last season's VIR winner Colin MacLean bring home the victory or will the current championship favorites lead the way?
In the Daytona Prototype class the championship comes down to current leader Mynes and the second-placed Young.  Young is only 16 points behind Mynes in the championship standings, leaving it all on the table in the last race.  Mynes has amassed eight top five finishes in eight starts with one win.  Young's record includes six top five has finishes with three wins, including Brands Hatch.  It's all to play for between these two drivers.  Young will surely be looking at nothing short of a victory while the order of the day for Mynes will be survival and consistency; his calling card for the season.  Young's impressive pace will need to be on display to ensure he claims pole position and sets himself up with the best chance he has to take both the victory in the race and the championship.
The championship picture in the Corvette C6.R class is wide open and has come down to the wire.  The top four drivers in the championship standings all have a credible shot at the title.  Payne, the current leader, has amassed an imposing six top five finishes, five of those coming as wins.  Although Payne is undoubtedly the favorite for the championship,Vorndran is a mere three points behind with seven top fives and one win to his credit.  Vorndran will present Payne with a stiff challenge, but he has some competitors in his own mirrors.  Only nine points behind Vorndran is Daniel Graulty closely followed by Dean Ayer.  All drivers have raced each other clean and hard all season but their skills and composure will surely be tested at VIR.  With everything to play for and the championship on the line expect fireworks!
Visit www.israleague.com to find out all about this wonderful series and to get in line for a coveted race seat next season!
---
You may also like...
---