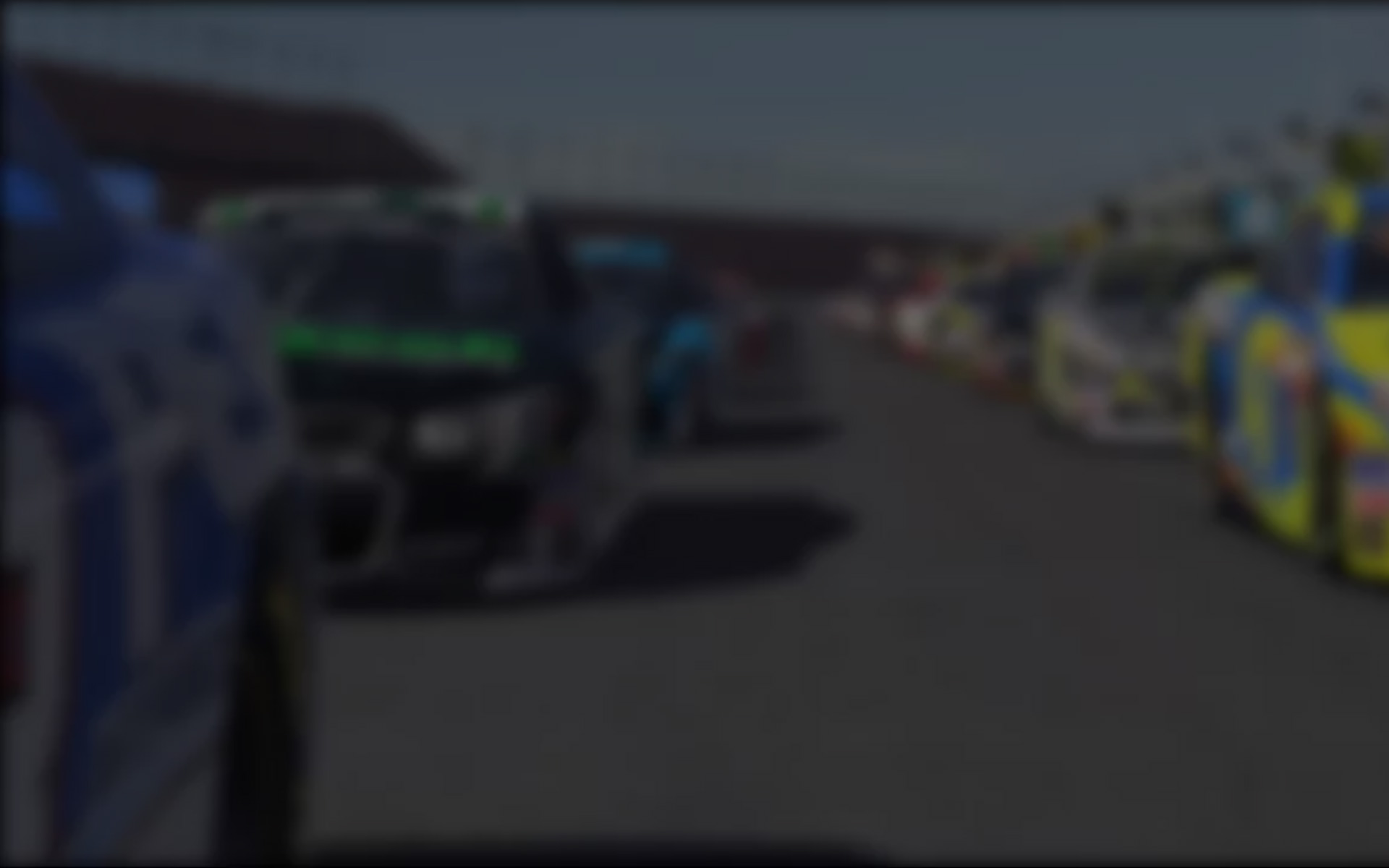 Brad Davies rebounded from a disappointing week of racing at Martinsville Speedway to score his fourteenth win of the iRacing Pro Series Road Racing campaign on Wednesday night at Atlanta Motor Speedway.  Davies started from pole and led 35 of 110 laps en route to a 15.9s win over Thomas Lewandowski who just managed to hold on to second place from Justin Kirby with Luke McLean, Theo Olson and Connor Mackenzie rounding-out the top six.
(I) was trying to stalk (Lewandowski) the last part of the race but he held on well," said Kirby.  "I had nothing for him. (Then) Thomas had to check up to miss a spinning car and I was able to keep my foot in it a little more.  He got me by about a foot at the line."
Wednesday's second  split was a much closer affair, as Derek Wood edged Josh Parker by just .189s with another Josh – namely Josh Berry – in third, little more than half a second behind Parker with Chris Main and Ray Alfalla completing the top five just ahead of Jim Caudhill, Jr.  Parker and Alfalla would also visit victory lane at Atlanta.  Parker got there on Friday, inches ahead of Luke McLean with Dale Earnhardt, Jr. right behind in third ahead of Kevin King, Richard Towler and Thomas Hazard with Martin Thiemt a "distant," as in 2.8s behind the winner, seventh.
The race featured a "green-white-checker" finish after Steve Sheehan, running in third at the time, crashed while  avoiding another competitor.
"There was a wrecked car that I had to dodge," he said. "I just barely whipped the right rear around the parked car, but that got my car headed towards the wall in the quad oval. BAM."
The resulting restart led to a hectic finish, one that saw Parker and McLean trade a little paint even as Earnhardt got around King for third place.
We all were pushing hard," Earnhardt said. "Some people had old tires, some had two new ones, others like myself had four new tires. We had a G/W/C finish and it was pretty wild."
Alfalla picked-up his AMS win the following evening by a similarly narrow margin, edging Patrick Fogel by .094s with Jacob Adler a tenth of a second further back in third ahead of Daniel Pope, II, Sandeep Banerjee, Rob Ackley and Justin Lowery.  Alfalla led 87 laps but dropped to third behind Lewandowski and Bryan Blackford when he spun his tires on a Lap 107 restart.  However, Lewandowski was subsequently black flagged while Blackford had a last lap incident that dropped  him to thirteenth, enabling Alfalla to claim the victory.
Sheehan rebounded from Friday's disappointment to capture taking his first iPSO win in Saturday's second split, beating  Berry by 1.671s with Alexander Horn in third ahead of Chris Main, Justin Trombley and Daniel Willis.
Greger Huttu collected his seventh win of the iPSO season on Monday, taking the checkered flag some ten and a half seconds clear of Theo Olson and Joshua Christman with Steven Steffen in fourth from Marcus Caton and Robert Hall.   Although Olson, Brian Schoenburg and Steffen kept him honest initially, Huttu gradually pulled to a comfortable margin as the race progressed.
To my surprise I was able to pull away early in the race even though I wasn't really trying or wanting to do that," he said. "I was just expecting the pack to catch me all the time. When Brian moved up to P2 he closed the gap some but I just thought I'll save the tyres a little at that point. After a while the gap started to increase again slowly."
As Huttu did his disappearing act, Schoenburg and Steffen engaged in a heated battle for second place, one that ended with a crash on the final lap that dropped Steffen to fourth, Schoenburg to ninth and resulted in some hard feelings.
Monday's second split saw another first time iPSO winner, namely John Prather.  But not before pole-sitter Florian Godard led 74 laps.  Indeed the Frenchman appeared on his way to HIS first iPSO win, enjoying a 4.7s lead over Jake Swanson with little more than ten laps remaining.  But a caution wipe-out that advantage and, although Godard initially led the from the final restart, Prather picked-off Swanson for second place on Lap 102 and breezed into the lead three laps later.  Swanson kept it close, but in the end it was Prather from Swanson and Greg Spears while a disappointed Godard fell to fourth ahead of Kirk Hapke and Wes Propst.
"I drove it for all it had and got to Prather's bumper," Swanson said.  "Didn't get it done though."
Although Davies remains atop the iPSO standings, his once gigantic lead has downsized to just 161 points over Parker with Olson in third a mere one point ahead of Alfalla with Berry not far behind in fifth.  Horn holds down sixth spot from Brian Schoenburg, who ran in the top three on Sunday before a late race incident dropped him to ninth, with Towler eighth ahead of Jordan Erickson (who collected 118 points for sixteenth place on Wednesday) and Bryan Blackford (tenth on Friday evening).
From Atlanta the iPSO heads west for a return engagement at Phoenix International Raceway in Week 18.
---
You may also like...
---