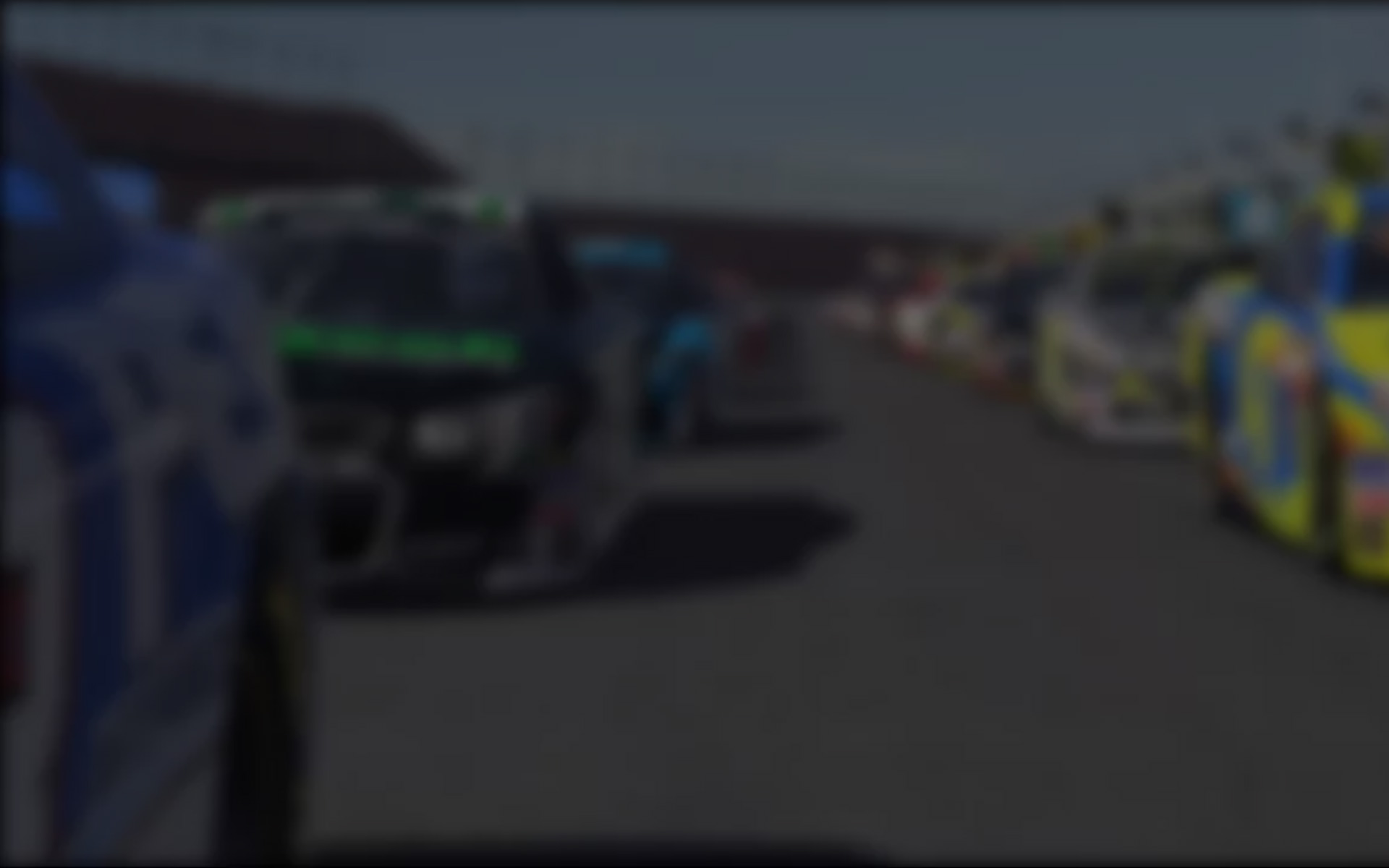 All News: racing
---
August 27th, 2018 by Doug Hunt
1. Ryan Michael Luza A broken collarbone and a mid-season relocation didn't slow the defending champ down. Even after missing nearly 1/4th of the regular season, Luza boasts some of the best stats in the league. Not afraid to do what he has to in order to win, Ryan is not a competitor you want … Read the Rest »
March 31st, 2014 by JaimeB
There is only one Circuit de Spa Francorchamps.  Few tracks boast the kind of  history of Spa; even fewer can match the exhilaration of a fast lap through the Ardennes.  When the four dozen competitors from the UK&I Skip Barber league lined-up for the run down to La Source the excitement was palpable.  Blake Townend … Read the Rest »
July 4th, 2013 by JaimeB
Week 9 of the iRacing Mustang Cup was the first time the series has ever run the short configuration at Okayama International Circuit, providing a 24-lap challenge in tight quarters.  The short laps required even the fastest of the series leaders to properly manage traffic and execute well-timed passes several times each race.  For the … Read the Rest »
April 25th, 2012 by In Racing News
The final week of the season saw the iRacing.com Class B Series travel to Richmond International Raceway, to run the final races of the season under the lights. Phil Juhring (New Jersey) came into Richmond as the point's leader and planned to leave as the champion. The final week of the season saw 566 drivers … Read the Rest »
October 18th, 2010 by DavidP
iRacing.com held its first open house on Friday, October 15 and, if the enthusiasm and good times generated by the event are any indication, it won't be the last time the Bedford, MA-based online racing service opens its doors to its membership.  The event attracted more than fifty members and, while most of the attendees hailed from in and around the Northeast, several members made longer treks to the home of iRacing.
September 19th, 2010 by DavidP
Looking for that private league feel in an official iRacing series?  Would you like to see bigger splits in "regular" races?  Or maybe you'd just like a little something extra from your weekly races. If you answered yes to any of the above (and even if you didn't), then iRacing's newest mini-series – JWH Racing League – is for you.  From now until the end of Season 3, the league will bring together iRacers with all levels of experience and skill for spirited but friendly competition in the regularly-scheduled NASCAR iRacing Class C Series race (Thursdays at 8:45 pm ET) and the Skip Barber Series race (Sundays at 3:45 pm ET). As with any other regular iRacing event, each split matches sim racers with similar skills and experience.  The beauty of JWHRL is that you'll also be competing with everyone in all the other splits – no matter the strength of field – for league points.   Otherwise the races will run exactly the same as always; nothing will be different apart from the fact that league points and standings will be calculated off-line and reported on the Member Site and inRacingNews.
July 30th, 2010 by DavidP
The second installment of iRacingTV is now available.  This month's webcast features iRacing marketing director Kevin Bobbitt and marketing manager Sean Siff discussing the 2010 Season 3 build.   The segment will also cover several iRacing series including the NASCAR iRacing Series World Championship and the iRacing World Championship Road Racing as well as the iRacing Pro Series, Mixed Class series and GP Master event along with an update on the progress of the Williams FW31 with iRacing vehicle dynamics engineer Eric Hudec.
July 29th, 2010 by DavidP
New Features Make World's Leading Online Racing Service Easier and More Fun For the more than 20,000 race gamers and other racing enthusiast members of iRacing.com, the online racing experience just keeps getting better.  The latest quarterly update to the iRacing.com service, released earlier this week, introduces new and enhanced features that will make the racing more fun, more convenient, and more realistic than ever. "One of the great things about iRacing's internet-based model is that it allows us to regularly add new features and content and tweak existing ones seamlessly, without inconvenience to our members," said Tony Gardner, iRacing.com's president.  "When a member logs on, his or her software is automatically updated." Gardner noted that while minor changes are made frequently, larger enhancements are normally implemented about every 90 days. "When we opened our doors to the public two years ago, iRacing.com was already the most accurate racing simulation available to the public, and provided the best racing experience ever," Gardner said.  "But we told those first subscribers that this was just the beginning, that we'd make the service better and better.  We've lived up to that promise.
June 25th, 2010 by DavidP
iRacing.com Offers Online Racing Instruction for Racing Game Enthusiasts There are books on how to drive a racing car and schools in the physical world where aspiring drivers can get hands-on instruction.  Now drivers who race in the virtual world have the iRacing.com Driving School, a modular 16-unit online race-driving instructional package.  Nearly two years in the making, the school is available free to all members of the iRacing.com racing simulation service.  The school is now live on the iRacing.com member Web site .  The first module of the iRacing.com Driving School is currently available to non-members on www.iRacing.com .
March 18th, 2010 by DavidP
Historic Connecticut Facility is Latest Online Racing Short Track For 70 years Thompson International Speedway has challenged New England's finest racing drivers.  With the announcement that iRacing.com will add the legendary Connecticut track to its inventory, fans of the legendary high-banked, five-eighths mile oval and short-track online racing enthusiasts around the world will soon be able to measure themselves against a track that in its history has sent drivers to the winner's circle in the Daytona 500 and success on the NASCAR Sprint Cup circuit. "I'm pleased that we've been able to put together this alliance with iRacing.com," said Jonathan Hoenig, the track's director of business development and marketing and the fourth generation of his family to be involved with Thompson International Speedway.  "The timing couldn't be better as we use innovative technology and other modern business management tools to move the sport of short-track racing forward for the benefit of both fans and participants." "Our fans are loyal and enthusiastic," Hoenig said.  "Many of them would be on the track racing if they could – and now through iRacing.com, they will be able to race on an exact digital duplicate of the speedway when they're not attending races. We look forward to our local fans and racing game enthusiasts from all over the world being able to participate in online racing series that include Thompson International Speedway." Hoenig, who holds an MBA degree from Pepperdine University and whose great-grandfather began construction of the speedway in 1938, also noted that as host to a NASCAR touring series and seven of its own racing classes, each year the track saw a number of drivers make their maiden appearances.  "Just as many NASCAR Sprint Cup stars such as Joey Logano and Martin Truex, Jr.