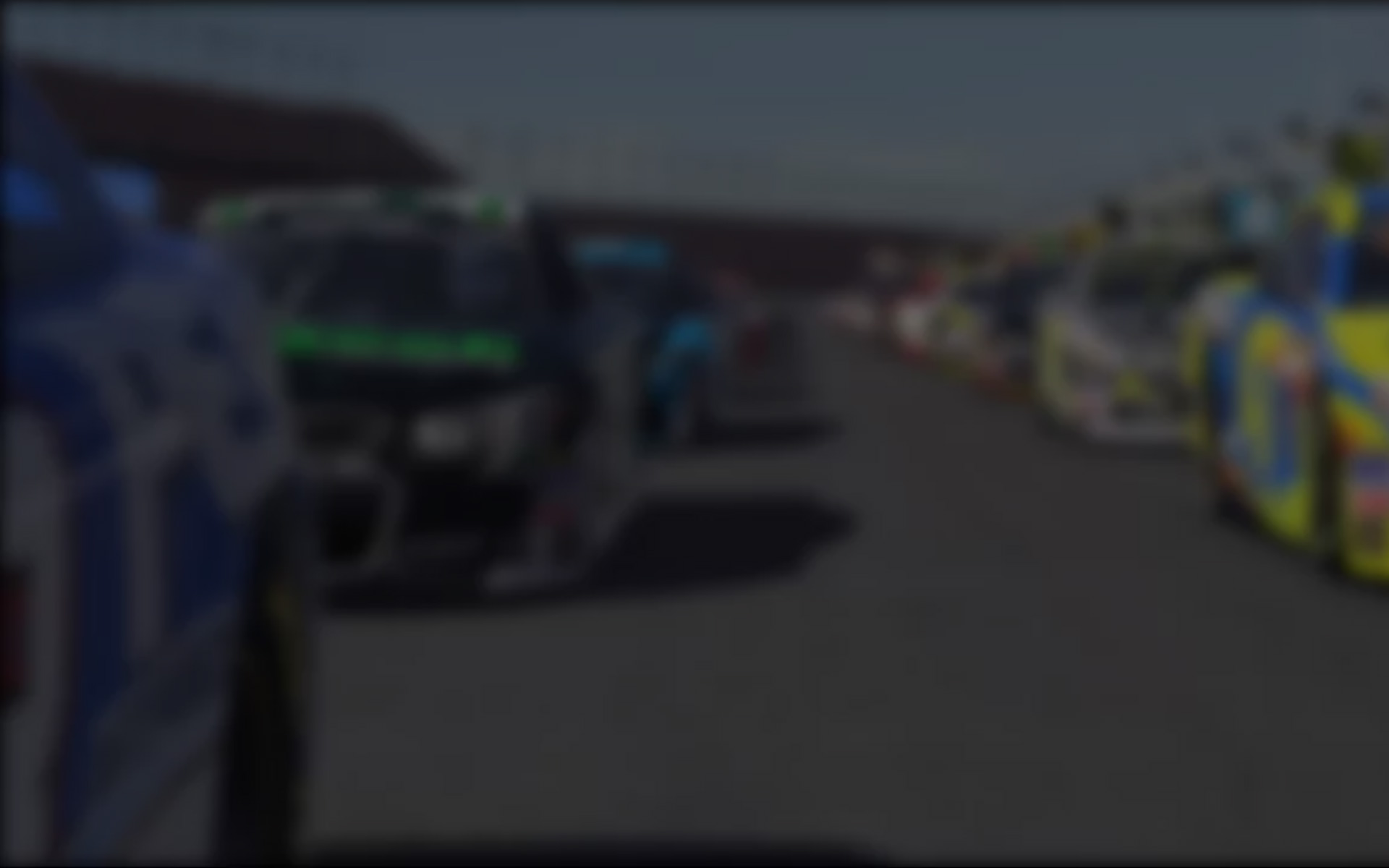 All News: service news
---
February 9th, 2010 by TimW
iRacing's Dave Kaemmer gets ready for his turn on camera. Dave Kaemmer and I spent a few days in Indianapolis last week filming portions of the soon to be released iRacing Driving School. The shoot was great, the weather, not-so-much.
December 10th, 2009 by DavidP
When it comes to race tracks that provide a road-racing driver with the perfect balance of challenge and pure fun, it's hard to beat Mid-Ohio Sports Car Course.  And soon this classic road-racing facility will be available for racing and practice to members of iRacing.com's motorsport simulation service. Mid-Ohio was about the last major permanent road-racing facility in North America not either in our inventory or in production," said Steve Myers, iRacing's executive producer, "and our members were pretty vocal in letting us know they wanted it.  So, we're pleased to be able to provide the many fans of Mid-Ohio Sports Car Course – both current and future iRacing members – with the chance to put themselves behind the wheel of a wide variety of race cars on a millimeter-accurate virtual version of this historic road-racing circuit." Myers noted that survey-accurate laser scanning of Mid-Ohio had been completed earlier this fall and said he expects the track to become available in the iRacing inventory sometime during the summer of 2010. All of us are pleased with the notion that racing fans all over the world will soon be able to race on a virtual version of Mid-Ohio Sports Car Course," said Michelle Trueman Gajoch, president of track owner TrueSports, Inc.  "And we think many of our existing fans will really enjoy the opportunity to see what it's like to drive on track.  That's why in addition to the traditional benefits of our VIP Race Pass – including general admission, grandstand seats, paddock passes, pit access and other benefits – for 2010 we're including a free 30-day iRacing.com membership.  Now our VIP Race Pass holders will really have an inside look at racing at Mid-Ohio Sports Car Course." One of the most active road-racing facilities in North America, Mid-Ohio is home not just to the sports cars that are in its name, but to virtually every form of road-racing machine around.  In addition to Sports Car Club of America and other amateur road-racing competition, in 2010, Mid-Ohio will host a round of the IZOD IndyCar Series, the American Le Mans Series, the Grand-Am Rolex Sports Car Series, AMA Pro Racing, the SVRA-sanctioned Vintage Grand Prix and the AMA Vintage Motorcycle Days.
December 1st, 2009 by DavidP
Two celebrated race tracks half a world apart are set to become a part of iRacing.com in 2010.  Circuit Zolder, a home of the Belgian Grand Prix during the 1970s and '80s, will join Silverstone, Brands Hatch, Oulton Park and Zandvoort among iRacing's first European circuits, while Oran Park Raceway will pair with Phillip Island as the first two Australian facilities on the service.
October 29th, 2009 by DavidP
Qualifying and Racing in Ultra-Realistic Racing Simulators Highlight Fans' Race Day Experience If the two living members of the NASCAR Hall of Fame's inaugural class of inductees, Richard Petty and Junior Johnson, are still wondering who's the better racer, they won't need to order new helmets and driving uniforms to find out; they can just show up on May 23, 2010, the day of their formal induction into the Hall of Fame, and answer the question behind the wheel of one of the 15 iRacing.com-powered NASCAR stock car simulators located in the Hall.
October 15th, 2009 by DavidP
Private Hosted Racing & Race Participation Program Introduced; Annual Subscription Cost Cut 37%; New Public Site Unveiled Members of iRacing.com's popular motorsport simulation service will now enjoy additional features as well as lower subscription and content prices.  The new pricing structure, which decreases the cost of an annual membership by 37%, goes into effect immediately.  The new features, including private-hosted sessions and a program that awards credits for regular race participation, commence with the November 3rd start of iRacing's 2009 – Season 4. The announcement was made by Tony Gardner, iRacing's president, who said the increased value for members was made possible by the service's remarkable growth since membership was opened to the general public in August, 2008.  Gardner also announced a brand new version of iRacing's public Web site ( www.iracing.com ) designed to introduce prospective members to the inexpensive fun of online racing with authentic virtual versions of popular race cars and tracks. "More than 15,000 people have joined iRacing.com since we fully opened our doors 15 months ago," Gardner said.  "Because our membership has grown rapidly, we are able to both lower prices and increase features.  We anticipate that by adding value, we'll increase the enjoyment of our current members and bring even more new members into our community
September 10th, 2009 by KevinB
The L & H 500 at Phillip Island, ninth round of the V8 Supercar Championship Series – top auto-racing attraction in motorsport-mad Australia – kicks off this Friday at the eponymous race track on the popular Australian island tourist destination. In celebration of the event, iRacing.com has announced agreements to include both the historic Phillip Island Grand Prix Circuit and the 2009 Ford Falcon "FG01" V8 Supercar in iRacing's internet-based motorsport simulation service. "One of our initiatives this year has been to expand our list of tracks and cars to reflect the international nature of our membership," said Steve Myers, iRacing's executive producer, noting that earlier this year the company had begun work on England's Brands Hatch and Oulton Park and Circuit Club Zandvoort in the Netherlands
August 27th, 2009 by Jay
Hard on the heels of last weekend's third-place finish in the NASCAR Sprint Cup race at Bristol, TN, and a second-place at Watkins Glen earlier in the month, iRacing's Marcos Ambrose makes his first-ever start in the Daytona Prototype class of the Grand-Am Rolex Sports Car Series.
August 22nd, 2009 by KevinB
iRacing.com to Put IndyCar Series Fans in the Driver's Seat: Virtual Indy 500 Next May Highlights Partnership with Indy Racing League, Indianapolis Motor Speedway and Dallara Sonoma, CA (August 22, 2009) – IndyCar Series racing fans won't just be able to attend the Indianapolis 500 in person next year, or watch the broadcast at home – on the 2010 Memorial Day weekend anyone in the world who has a PC and a broadband internet connection will be able to drive in a stunningly realistic virtual version of the race. It's not just the sleek lines of the Dallara I 09 IndyCar that are precisely captured in iRacing.com's virtual version, the digital race car's mechanical elements are all modeled with the highest possible level of fidelity such that the digital car's performance is essentially identical to its real-world counterpart. Under the terms of a multi-year partnership with the Indy Racing League, iRacing.com's motorsport simulation service will offer fans the opportunity to compete in virtual versions of IndyCar Series and Firestone Indy Lights races on a variety of tracks, including Indianapolis Motor Speedway, beginning this fall
July 30th, 2009 by ShannonW
In-sim image of Lotus 79s racing out of the Corkscrew at Mazda Raceway Laguna Seca. Three decades on from their Olympic-winning performances, human athletes are invariably long past their prime
April 17th, 2009 by TonyG
NASCAR's fastest race track, Talladega Superspeedway, is now available to iRacing.com members, and a new version of Chevrolet's racing stock car – the Impala SS, as raced in NASCAR's Nationwide Series – will join the iRacing fleet within the next two weeks. "Talladega Superspeedway is host to some of the legendary races in the history of motorsport, and now our members will be able to make personal racing history of their own," said Tony Gardner, iRacing's president. "And we expect our members to enjoy competing at Talladega and elsewhere with this new version of the Chevy Impala SS.